Baylor Bears
Top Five Performances From Big 12 Players in the 2022 Senior Bowl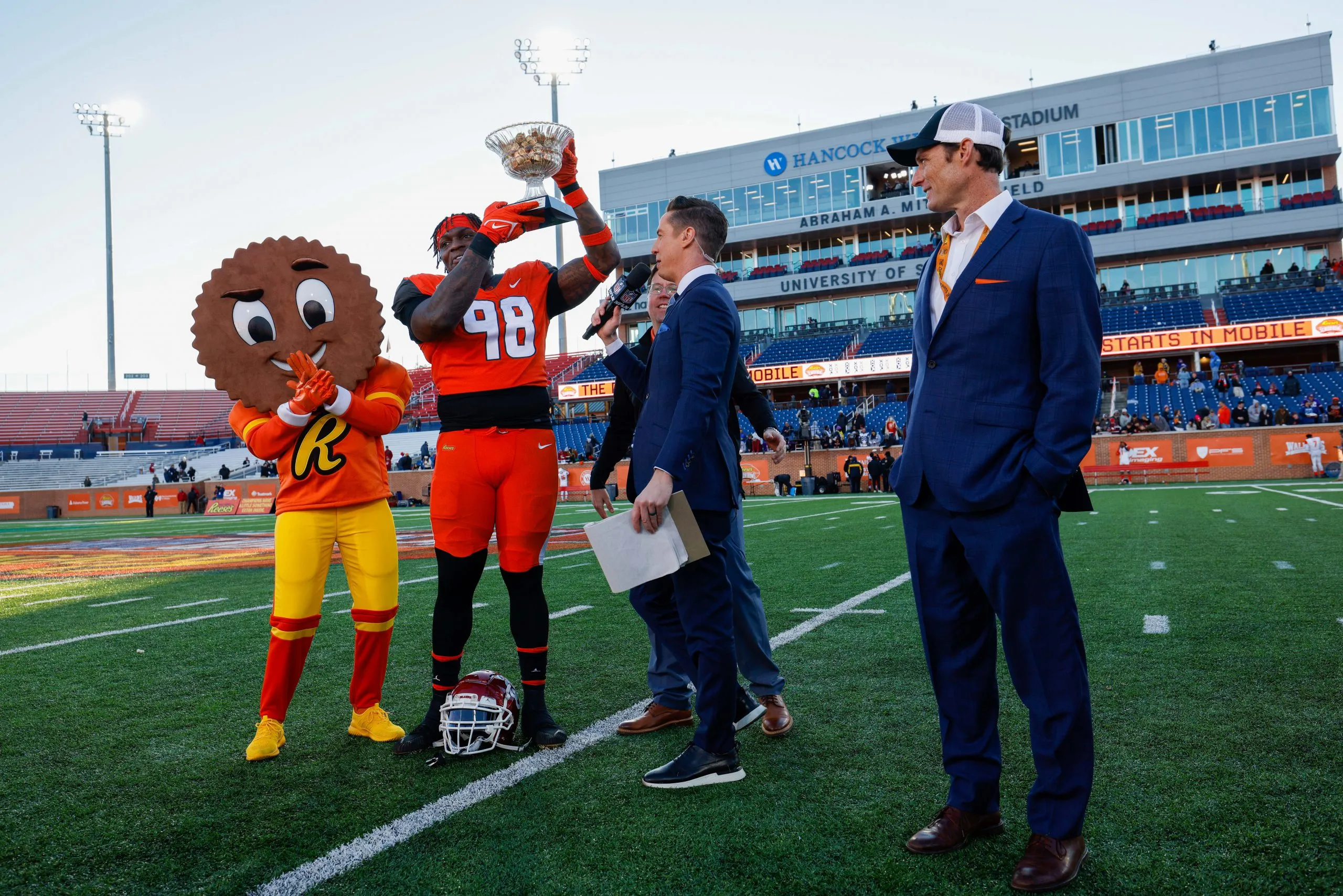 The NFL Draft is over two months away but before the first name is called players still have opportunities to rise up those draft boards. A week ago, we had the NFLPA Collegiate Bowl, and this past week was East/West Shrine Bowl on Thursday Night. On Saturday, the most prominent college football all-star game took place in Mobile, Alabama for the Reese's Senior Bowl.
There was plenty of talk throughout the week about certain players, but you never know what can happen when the game starts. Some players rise up to the challenge while others fall short. Here are my top five Big 12 performances in the Senior Bowl.
1. Oklahoma DL Perrion Winfrey
Not only was Perrion Winfrey the best Big 12 player in this game but he was also the best player overall. Winfrey had two sacks on Saturday and had a total of three tackles for loss. He was a force out there and no offensive lineman was able to slow him down. Charles Davis raved about him during the broadcast about his practice performances and Daniel Jeremiah added that he just got better as the week went on. Perrion capped off his week not only with a big performance but with the 2022 Senior Bowl MVP award as well. He definitely made some money on Saturday afternoon with his play.
2. Baylor RB Abram Smith
There were plenty of good running backs in the Senior Bowl, but I don't think any running back outplayed Abram Smith. He finished the day with 48 rushing yards and caught a touchdown pass from Pittsburgh quarterback Kenny Pickett. Abram has always been a player who can run through arm tackles and keep his legs churning though contact and he showed that on Saturday. Not only that but he also showed scouts that he can catch the football out of the backfield as well.
3. Baylor DB Jalen Pitre
It's not surprising to see the Big 12 defensive player of the year make the list. Jalen is a talented player who can cause problems for any offense, and he did that throughout the game. Pitre had a total of five tackles on the day and showed he isn't afraid to get his hands dirty when it comes to stopping the run. The two plays that really stood out to me was when he sniffed out a screen play and his hit on SMU tight end Grant Calcaterra.
4. Oklahoma OL Marquis Hayes
Offensive linemen don't always get a ton of praise in these all-star games, but I really liked what I saw from Marquis Hayes on Saturday. Marquis got the start at left guard for the National Team, and he was one of the players up front who caught my attention on several occasions. Hayes was able to finish a few blocks and what I really enjoyed was seeing him play through the whistle. He consistently stayed on his man and played with a mean streak which is something you want to see from an offensive lineman.
5. Baylor DB JT Woods
I almost stopped at four players but then JT Woods made a great play towards the end of the game. We all remember his pick six in the Sugar Bowl that changed the game against Ole Miss and he did it once again in the Senior Bowl. Late in the game as the American Team was driving down the field, JT came up with the big interception that helped seal the deal for the National Team.
Other Notes
Big 12 Kickers
There were two Big 12 kickers in the Senior Bowl as Iowa State's Andrew Mevis and Texas' Cameron Dicker got a chance to display their skills. Unfortunately, neither kicker had their best day out there. Dicker missed a rushed kick in the first half and later in the game Andrew Mevis missed a 24-yard attempt.
Quarterback Prospects
This game had no shortage of quarterbacks and they all had opportunities to impress the scouts all week long. The quarterbacks who stuck out to me where North Carolina's Sam Howell, Pittsburgh's Kenny Pickett, Liberty's Malik Willis, and Cincinnati's Desmond Ridder. Pickett had the best day passing the football going 6/6 but I came away impressed with Desmond Ridder from Cincinnati. He had two touchdown passes and did a fantastic job commanding the offense. But when it comes to athletic ability it was hard to ignore Sam Howell and Malik Willis who is capable of making plays like this.