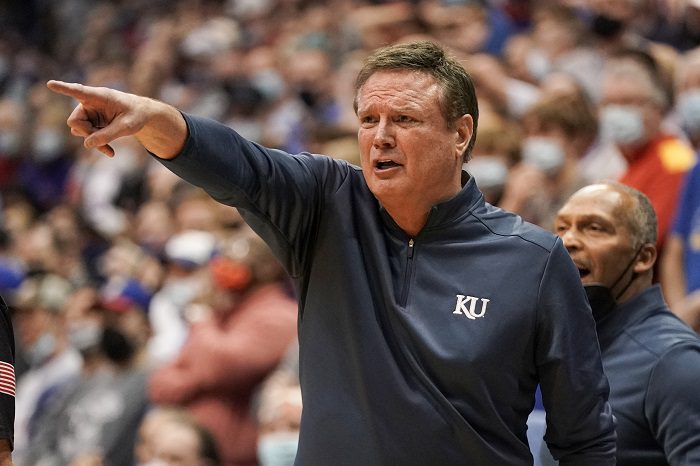 Here is everything you need to know about the Kansas Jayhawks and the Texas Longhorns in our Kansas vs. Texas Big 12 men's basketball preview.
Game Info
8 p.m. Central Time, Monday, Feb. 7, 2022, Frank Erwin Center, Austin, Texas.
TV: ESPN
Records: Kansas: 19-3 (8-1 in Big 12); Texas: 17-6 (6-4).
Ranking: Kansas: No. 10 (Associated Press as of Feb. 6); Texas: No. 23 AP as of Feb. 6).
Last game: Kansas: def. Baylor, 83-59 (Feb. 5); Texas: def. Iowa State, 63-41 (Feb. 5).
Previous meeting: First meeting this season.
Key players
Kansas
G Ochai Agbaji: Agbaji got out of COVID-19 health and safety protocols the day before the game against Baylor, and he had a solid game, scoring 18 points in 31 minutes with nine rebounds and two assists. The Big 12's leading scorer continues to produce, even if he has to take a game off. What will be interesting is to see how he bounces back with just 48 hours of rest.
F Jalen Wilson: Wilson continues to make his presence felt in Big 12 play after a slow start to the season. He scored 15 points against Baylor, but what was striking was how efficient he was — 7-of-10 shooting, seven rebounds, four assists, two steals and a block. With double-digit points in three of his last five games, Wilson's scoring average for the season is creeping up closer to where we thought it would be from the get-go — 9.4 points. Just as important are his 6.8 rebounds per game.
G Joseph Yesufu: Agbaji's absence and the injury to Remy Martin meant head coach Bill Self had to lean on some untested players the past week. Yesufu was a huge beneficiary of that on Saturday against Baylor, scoring three points in 18 minutes. The minutes played is the key stat here. He wasn't getting playing time in garbage time. This came off the Iowa State game where he had seven points, five rebounds, four assists and three steals in 23 minutes. Yesufu took advantage of the chance to gain Self's trust last week.
Texas
G Andrew Jones: Texas went with a three-forward lineup for the second straight game, and that put Jones on the bench for the second straight game. But head coach Chris Beard won't complain if Jones pours in 14 points, as he did against Iowa State. Jones has been a sixth man before, and he was productive in that role two years ago. The key for Jones is something he's struggled with at times — his 3-point range. Jones had four of them against ISU, and he's a 33.8 percent 3-point shooter for the season.
G Marcus Carr: He had 14 points against Iowa State, firing 50 percent from the floor while dishing out eight assists and grabbing five rebounds. Given the way Texas plays, Carr's assists are key. His numbers against ISU are the perfect balance — scoring enough to keep defenses honest and facilitating enough to make the rest of the team better. When Texas relies on Carr to BE their offense, it usually means things aren't working the way Texas wants it.
F Christian Bishop: Bishop started for the second straight game on Saturday, and for the second straight game he produced quality numbers — 10 points, seven rebounds, an assist and two blocked shots. Against Texas Tech on Tuesday, he had 11 points, eight rebounds, one assist and one steal in just 17 minutes. Bishop has come along slowly for Texas this season, but he's picking a good time to produce like this, given that defenses are paying more attention to Timmy Allen.
Key storylines
Kansas
With Ochai Agbaji back, the Jayhawks are nearly full strength. Guard Remy Martin probably won't be back for the Texas game due to the bone bruise he sustained in late December. He's not practicing with the team and mainly doing rehab work, according to head coach Bill Self. He wants Martin at "90 to 95 percent" when he returns to the floor. For now, Self has the luxury of giving Martin time to get right, between Agbaji, Christian Braun, Dajuan Harris, Jalen Wilson and the emergence of Joseph Yesufu off the bench. Inside, David McCormack ended up with a quality game against Baylor — nine points and eight rebounds — after a double-double against Iowa State. That'll do, if you're Kansas.
Texas
The Longhorns rebounded nicely after the emotional roller-coaster of their two days in Lubbock last week. Texas needed to prove it could bounce back from that, honestly. Texas shot well (44 percent), connected on nine 3-pointers and outrebounded Iowa State on Saturday, albeit by one. Chris Beard's move to a three-forward starting lineup is an interesting choice, given how guard-driven the Big 12 is. But both Christian Bishop and Timmy Allen have guard skills, so you don't lose that much on offense. It's defensive mismatches that can be of concern. Beard played eight players double-digit minutes against ISU. That sounds like the right mix. The Longhorns are about to enter an insane stretch with games against Kansas, Baylor, Oklahoma and Texas Tech, with the last game in Austin.
Fun fact
You could say Texas went 3-0 against Kansas last season. Texas won both of its regular-season meetings with the Jayhawks. Then, at the Big 12 Tournament, Texas' matchup with Kansas in the semifinals was canceled due to a COVID-19 outbreak for Kansas. So the Longhorns advanced to the championship game the next day against Oklahoma State.
Prediction
Kansas 70, Texas 63. Texas has been great at home this season, but their offense can be really inconsistent. Even without Remy Martin, Kansas has the best offense in the Big 12 right now.
You can find Matthew Postins on Twitter @PostinsPostcard.