Baylor Bears
Three Thoughts From Baylor's 63-55 Win over Texas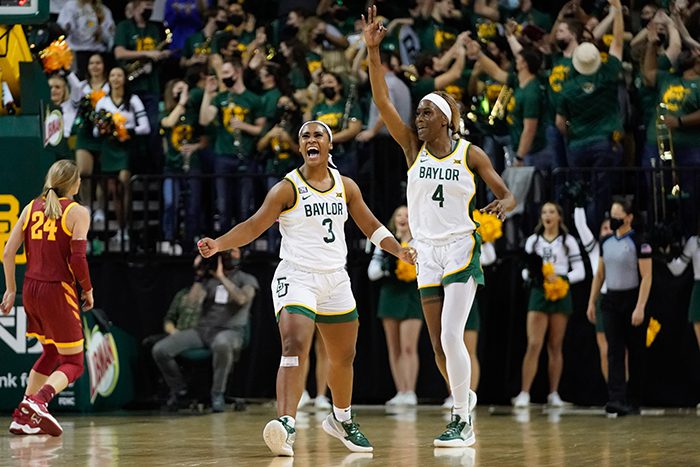 The Baylor Bears defeated the Texas Longhorns, 63-55, in a Big 12 women's basketball game at the Frank Erwin Center in Austin, Texas, on Sunday.
Baylor (17-5, 7-3 in Big 12) swept the Longhorns in three days, as the two teams played on Friday in Waco, with Baylor winning, 75-63. Baylor also preserved its winning streak over Texas (15-6, 5-5) as the Bears have now won 13 straight over Texas. Baylor also stayed in the overall Big 12 race, one game behind both Iowa State and Oklahoma.
Texas is now three games back of the field and would appear to be out of the race with eight games to play. But, Texas still has another meeting with Iowa State and Oklahoma ahead.
Here are our three thoughts from the game.
NaLyssa Smith, No. 1 Pick?
Smith had another big game on Sunday, racking up 28 points and 13 rebounds. On Friday, she poured in 25 points against Texas. Obviously, she likes playing against Texas.
Smith is playing a ton of minutes since Baylor doesn't have much depth period. The Bears are doing well if they can go three players deep on their bench. In fact, Smith had to play the final seven minutes of Sunday's game with four fouls. She managed to avoid getting that fifth foul, though that blocking foul on Texas' Rori Harmon as she tried to defend Smith on a fast break was a close call.
I was asked by King McClure on Sirius/XM's Big 12 morning show earlier this week which player I would take — Smith or Kansas State's Ayoka Lee? I love Lee's game, but I took Smith. It's her versatility that makes her as near a complete player as you'll find in college basketball. She can play inside or outside, shoots a quality mid-range jumper and can get out on the break, and if you watched Sunday's game you saw everything. Because of that, you can use Smith in just about every way imaginable. Playing for Nicki Collen, who has coached in the WNBA with the Atlanta Dream, is putting Smith in a position to elevate her game and be the No. 1 overall pick in the WNBA Draft. If she is, that would be two years in a row for the Big 12. Texas forward Charli Collier was the No. 1 overall pick last year, going to Dallas.
In case you're wondering, Washington has the No. 1 overall pick.
Texas' Offensive Ceiling is Apparent
Texas head coach Vic Schaefer prides himself on his team's defense, and this Texas defense plays extremely well most of the time. But the Longhorns need to score points, and it's clear the past few weeks that the chemistry on offense is, well, off.
Texas is guard-driven offensively. They have one clear weapon beyond the arc in Aliyah Matharu. Joanne Allen-Taylor, Rori Harmon and Audrey Warren are all solid players off the dribble. When Matharu is off, as she was on Sunday, scoring just 10 points, the Longhorns are really dependent upon the other three guards to give them more offense. On Sunday, Allen-Taylor led with 18 points. But, Harmon only had five points and Warren didn't score.
So, what can Texas do? My humble suggestions:
Give Harmon the green light to shoot more 3-pointers. She's 11-of-34 from there this season, and while you'd like that percentage to be better, giving her move volume might help.
Keep giving minutes to Shay Holle and Kyndall Hunter. They probably don't need a ton more, but both are capable of connecting from deep and Holle has shown real basketball savvy lately, especially knowing when to run the court and take advantage of bad defense. Hunter strikes me as a player who can get hot with enough reps.
Integrate Aaliyah Moore back into the offense. The Big 12 Preseason Freshman of the Year, to me, is the Longhorns' most dynamic potential weapon inside. But she's lightly used. She's been back from her injury for about three weeks. Unless she is still feeling the impact of that injury, it's time for Schaefer to let her rip.
Finally, play a little bit faster. I know that's not what Texas likes to do offensively. But they could use more volume in terms of possessions and squeezing an extra five to 10 possession a game would help.
Can Baylor Keep This Up?
Baylor's lack of depth puts some limits on whether they can win a share of the Big 12 title for the 12th straight year. The Bears have already lost both meetings with Oklahoma, which is a big problem when you consider that they're a game back of both Oklahoma and Iowa State. The Bears have one game remaining with Iowa State in Ames. Plus, Oklahoma and Iowa State still have to play each other again. And, Iowa State has one more with Texas.
By sweeping Texas, the Bears kept themselves in the race. But they must keep winning. Baylor can't have a slip-up against a team like Kansas State, which beat Baylor earlier this year and comes to town on Wednesday. If things break right, Baylor can still win at least a share of the league title. The best thing about sweeping Texas is that it can still control its own destiny.
As for Texas, the Longhorns are three games back and basically out of the race. Now, it's about trying to get a Top 4 seed in the Big 12 Tournament and being a game back of Kansas State for fourth place means the Longhorns have work to do.
You can find Matthew Postins on Twitter @PostinsPostcard.