Baylor Bears
Big 12 Basketball Power Rankings: Texas Tech Maintains No. 1 Spot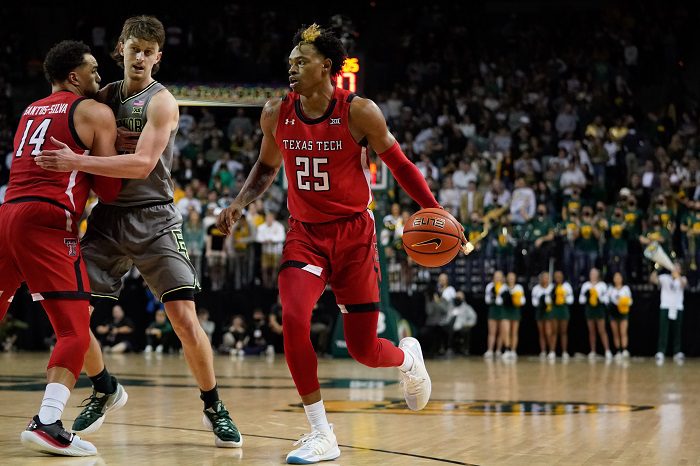 The Texas Tech Red Raiders remain No. 1 in the Heartland College Sports Big 12 men's basketball power rankings after Week 13 of the 2021-22 season.
Our Power Rankings will appear every Monday.
1. TEXAS TECH (18-5, 7-3) (Last Week: 1)
The Red Raiders stay on top for a second straight week. Yes, our No. 2 had a great week coming off its loss to Kentucky. But, Texas Tech dominated Texas at home and then took care of business in Morgantown with another balanced performance.
2. KANSAS (19-3, 8-1) (Last Week: 2)
Yes, the Jayhawks have a two-game cushion in the Big 12 standings now, after wins over Iowa State and Baylor. Our top two teams split for the season and each won at home. The Jayhawks did a great job recovering from their Kentucky drubbing. Once Remy Martin is back, Kansas will be back at full strength.
3. TEXAS (17-6, 6-4) (Last Week: 5)
I guess? I mean, the Longhorns beat Iowa State pretty handily, but ended up losing to Texas Tech earlier in the week. Their new three-forward starting lineup is intriguing and I'm really interested to see how it works this week against guard-driven teams like Kansas and Baylor.
4. BAYLOR (19-4, 7-3 in Big 12) (Last Week: 4)
Based on how Baylor did last week — beating West Virginia and falling to Kansas — and what happened behind Baylor last week, I can't drop the Bears any further right now. They're in a trough, that's for sure. The last two weeks have shown just how reliant the Bears were on L.J. Cryer before his injury. And they're still not quite certain how to balance out the offense yet.
5. KANSAS STATE (12-10, 4-6) (Last Week: 8)
These Wildcats are selling out for head coach Bruce Weber (even though some want to move on from the long-time coach) and Nijel Pack is playing some of the best basketball in the Big 12 right now. Plus, the Wildcats won the week, defeating Oklahoma State on a Pack buzzer-beater at mid-week, followed by beating TCU on the road. Kansas State is doing just enough to keep themselves in the NIT conversation right now.
6. TCU (15-5, 4-4 in Big 12) (Last Week: 6)
Kansas State went into Schollmaier Arena and cooled off the Horned Frogs on Saturday. TCU's win on the road at Oklahoma was certainly impressive. This is another case where what's happening around TCU is the primary driver of keeping the Horned Frogs in the same place. Jamie Dixon is now a dark horse in the Big 12 Coach of the Year discussion.
7. IOWA STATE (16-7, 3-7) (Last Week: 3)
The Cyclones fell to a pair of ranked teams, but they've also lost four of their last six. I still think they're an NCAA Tournament team, but how far they get will be dependent upon whether Izaiah Brockington gets more consistent help on the offensive end. The Cyclones can't just keep playing 'running buddy roulette.'
8. OKLAHOMA STATE (11-11, 4-6) (Last Week: 9)
The Cowboys looked great in the second half of the Bedlam game, and their interior tandem of Kalib Boone and Moussa Cisse can be dominant next season. The Cowboys can't play in the NCAA or the NIT Tournament. But, if they're eligible to play in the CBI — and I'm still researching whether they're allowed to do so — I'd do it, if for no other reason to keep developing this young core.
9. OKLAHOMA (13-10, 3-7) (Last Week: 6)
The Sooners have now lost seven of their last eight, including the first Bedlam meeting. The Sooners are in a major slump. Maybe we bought in a little too soon on the Sooners being an NCAA Tournament team? Is this just the Big 12 being the Big 12? Or is there just too much reliance on Tanner Groves? It's perplexing because of the talent level.
10. WEST VIRGINIA (13-9, 2-7) (Last Week: 10)
The Mountaineers nearly beat Baylor and weren't able to overcome Texas Tech. The Mountaineers have lost seven in a row. At this point they look like nothing more than an NIT team, so long as they stay above .500. Right now, that's not a given.