Baylor Bears
Five Takeaways from Week 13 of the Big 12 Men's Basketball Season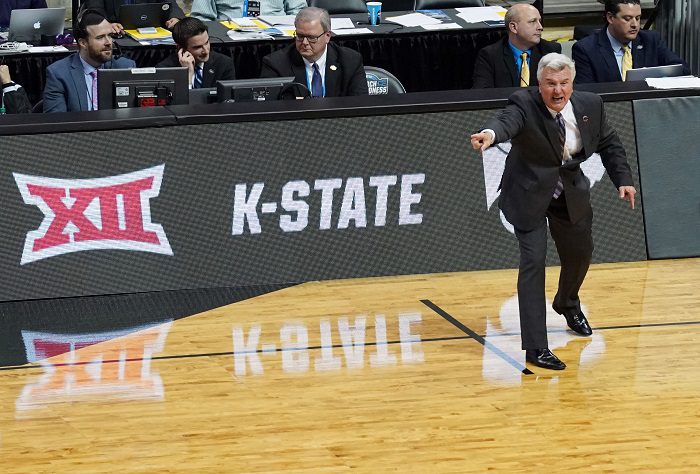 The Big 12 Conference is done with Week 13 of the 2021-22 men's basketball season. So let's dive in and check out our five takeaways for the week.
Losing LJ
The Baylor Bears have been without guard LJ Cryer since after the Kansas State game on Jan. 25. Since then, Baylor is 1-2. That doesn't seem like a coincidence anymore.
The strength of Baylor's guard lineup last season was not only the fact that Baylor had four great guards on offense, but the Bears weren't super-reliant on any one of them. The Bears still have a great guard lineup this year in Cryer, Adam Flagler and James Akinjo. But, Cryer's best asset is his 3-point shooting, as he's poured them in at a Big 12-leading 46.7 percent for the season.
Some perspective. Cryer's overall shooting percentage is 47.8 percent. Flagler, who was Baylor's 3-point specialist last season, is shooting 37.9 percent from that distance as of Sunday. Akinjo is 34.1 percent. Last year, three of Baylor's four guards shot better than 40 percent from the 3-point line — Jared Butler (41.6), Davion Mitchell (44.7) and Flagler (43.4).
So you can see the problem that Cryer's absence presents to Baylor. He is the only Bear shooting at a clip similar to last year's guards. In fact, he is three percent better than Mitchell. Without his consistently high percentage, the Bears look a little ordinary from the arc, which is a place they've consistently made a living at during this three-year stretch when they've been one of the best teams in the country.
In the last three games, the Bears are shooting 35.2 percent from the 3-point line. But, that percentage has gone down each game — 47.4 percent to 36.4 percent to 25.9 percent.
Hopefully Saturday's loss to Kansas represents the bottom of Baylor's recent valley. Hopefully, Cryer gets back on the floor soon. This three-game stretch has shown starkly just how important he is to Baylor's chances in the Big 12 and the NCAA Tournament this season.   
Kansas State and … Sixth Place?
Am I crazy to think that Kansas State could end up being the sixth-place team in the Big 12 going into the Big 12 Tournament? I am crazy, right? Talk me out of it, would you? Heck, our Joe Mathieu wrote a piece last week that it was time to send head coach Bruce Weber packing. In fact, the most consistently-asked question in my weekly mailbag is about Weber and his job security.
But, I mean, look around.
Kansas State beat TCU on Saturday. The Wildcats are now 4-6 and tied for sixth place in the Big 12 standings with Oklahoma State. Behind KSU and OSU is Oklahoma, Iowa State and West Virginia, all of which have seven losses.
I mean, Kansas State MIGHT be playing the best basketball of those five teams. They're the only one of the five with an actual winning streak (and, no, there is no such thing as a one-game winning streak, Oklahoma State).
Nijel Pack, Kansas State's sophomore guard, is playing like he's playing for a new contract (if this were the NBA). He hit the game-winner at the buzzer against Oklahoma State, and he's now averaging 17 points per game, which is third-best in the Big 12. And, if you're looking at Pack's numbers in Big 12 games only, he's averaging 18.8, and the only player better is Kansas' Ochai Agbaji.
The Kansas State offense has actual punch this year with the additions of Mark Smith and Markquis Nowell. Both are averaging at least 11 points in Big 12 games, and Smith regularly hits double-doubles. The Wildcats are in the middle of the road when it comes to points scored and points allowed in Big 12 play, but their margin of winning and losing is just minus-2.2 points, which is the best among the teams in the negative.
Yes, the Wildcats still have a tough schedule ahead. But that's the Big 12. And, now, the Wildcats look really competitive with Iowa State, West Virginia and Oklahoma State, and that's half of their remaining schedule (KSU plays ISU twice).
There's now a chance Kansas State could be a better-than-.500 team going into the Big 12 Tournament, and if they are, well, I think there's a good chance that they'll head to the NIT, regardless of what happens in Kansas City.
The Analytical Lineup
No analytics site is more associated with college basketball than Ken Pomeroy's KenPom rankings. Look no further than Baylor head coach Scott Drew, who sometimes gives KenPom the infomercial treatment while talking about the Big 12. And there's plenty of reason for him to praise the rankings. As of Sunday, all 10 Big 12 teams are in the Top 60 in KenPom.
But there are other rankings out there, too, and I came across one late last week that I found really interesting. EvanMiya.com does several different ratings for basketball, but the one that stuck out to me was its 'Top Five-Man Lineups.' The idea is to take each lineup's adjusted offensive efficiency, adjusted defensive efficiency and the adjusted efficiency margin of the two helps rank the lineups.
When I came across it on Friday, Texas Tech was the only Big 12 team with a five-man lineup in the Top 10 — Adonis Arms, Kevin McCullar, Kevin Obanor, Davion Warren and Bryson Williams. By Sunday, there was still a Big 12 team in the Top 10, but it had changed to Kansas — Ochai Agbaji, Christian Braun, Dajuan Harris, David McCormack and Remy Martin. And, Kansas had TWO lineups in the Top 10. The other lineup was Agbaji, Braun, Harris, McCormack and Jalen Wilson, which has been the starting lineup in the wake of Martin's injury struggles.
What's interesting is that the two lineups have played approximately the same amount of possessions together — 238 for the first and 221 for the second.
What I take from it is what is apparent if you're watched either team this season — both Kansas and Texas Tech really good on both ends and it wouldn't surprise me if they're the two teams that get the furthest in the NCAA Tournament.
This Pass
I've watched this about a half-dozen times and I'm still not entirely sure how Kansas forward Jalen Wilson made this pass before he stepped out of bounds.
Three Games That Intrigue Me This Week
Kansas at Texas, Monday: Can the Longhorn defense slow down the Jayhawk offense?
Texas Tech at Oklahoma, Wednesday: The Sooners are at a point in the season where they need a win like this really bad.
Kansas State at Iowa State, Saturday: This could be a sneaky-fun game.
You can find Matthew Postins on Twitter @PostinsPostcard