Big 12 News
Iowa State Leads Four Big 12 Teams in Women's AP Top 25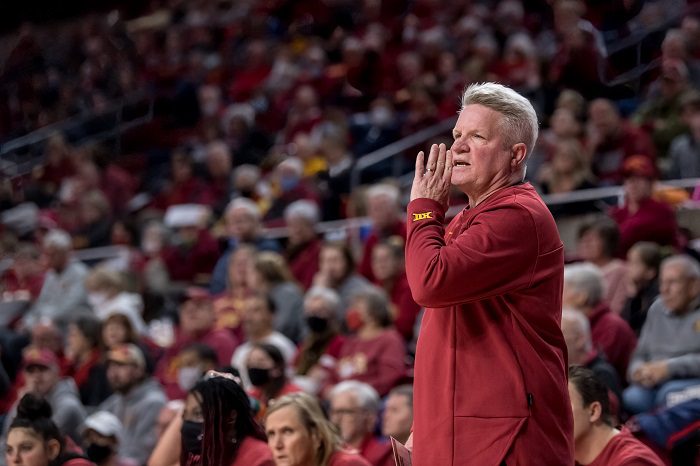 The Iowa State Cyclones are back to being the Big 12's highest ranked team in the newest AP Top 25 Women's Basketball Top 25 released on Monday.
The Cyclones moved up after a 2-0 week, and overtook Baylor, which fell one spot after a 2-1 week against three ranked teams.
The ranked Big 12 teams include:
Iowa State at No. 9 (the Cyclones were No. 11 last week).
Baylor at No. 10 (the Bears were No. 9 last week).
Oklahoma at No. 12 (the Sooners were No. 18 last week).
Texas at No. 16 (the Longhorns were No. 13 last week).
Kansas State dropped out of the poll and received 44 votes (the Wildcats were No. 25 last week).
Baylor (16-5, 6-3) had a busy week, hosting Oklahoma on Wednesday, which turned into a 78-77 loss. That was followed by two games in three days with Texas. On Friday, Baylor won, 75-63, in Waco. Then, on Sunday, Baylor beat Texas, 63-55, in Austin. Baylor is at home all week, hosting Kansas State on Wednesday and West Virginia on Saturday.
Iowa State (20-3, 9-2) claimed two victories last week, defeating Kansas State, 70-55, and Oklahoma State, 76-58. The Cyclones get a bit of a break this week, as they won't play a game until Saturday when they face TCU in Fort Worth. After that, the Cyclones head to Austin to face Texas.
Oklahoma (20-3, 9-2) scored a big win on the road on Wednesday by beating Baylor, 78-77, in Waco. The Sooners followed that by having to sweat out a 101-99 win over West Virginia in double overtime. The Sooners are off until Saturday when they go to Texas for a rematch with the Longhorns, who the Sooners beat on Jan. 29.
Texas (15-5, 5-4) was off until Friday when it started a back-to-back with Baylor over three days. Texas lost the first meeting, 75-63, on Friday in Waco, and then fell to Baylor on Sunday in Austin, 63-55. The Longhorns are at Texas Tech on Wednesday and host Oklahoma on Saturday. The Longhorns lost the first meeting with both teams.
Kansas State (17-6, 7-4) lost its mid-week game against Iowa State, 70-55, but bounced back to beat Texas Tech, 82-75. The have a two-game road trip this week, starting with a Wednesday game with Baylor, followed by a trip to Lawrence for a rematch with Kansas. The Wildcats won the first meetings with both teams.
The entire poll featured No. 1 South Carolina, No. 2 Stanford, No. 3 Louisville, No. 4 Michigan, No. 5 NC State, No. 6 Arizona, No. 7 Indiana, No. 8 UConn, No. 9 Iowa State, No. 10 Baylor, No. 11 Georgia Tech, No. 12 Oklahoma, No. 13 Tennessee, No. 14 LSU, No. 15 Maryland, No. 16 Texas, No 17 Georgia, No. 18 Notre Dame, No. 19 Florida, No. 20 BYU, No. 21 Ohio State, No. 22 Florida Gulf Coast, No. 23 North Carolina, No. 24 Oregon and No. 25 Iowa.
You can find Matthew Postins on Twitter @PostinsPostcard.