Baylor Bears
Kansas State vs. Baylor Women's Basketball: Preview and Prediction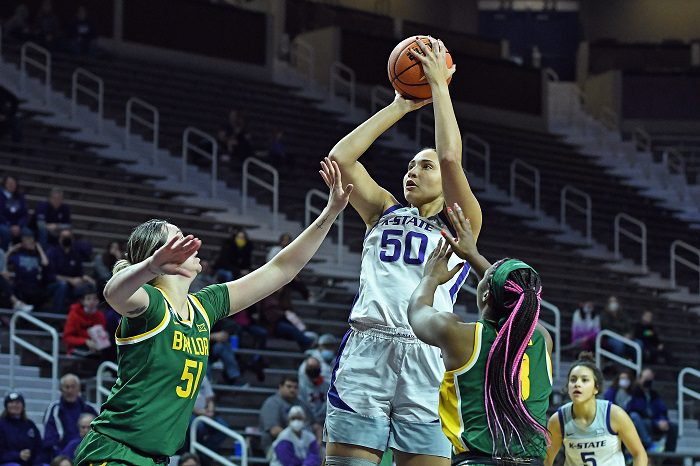 Here is everything you need to know about the Kansas State Wildcats and the Baylor Bears in our Kansas State vs. Baylor Big 12 women's basketball preview.
Game Info
7 p.m. Central Time, Wednesday, Feb. 9, 2022, Ferrell Center, Waco, Texas.
TV: Big 12/ESPN+
Records: Kansas State: 17-6 (7-4 in Big 12); Baylor: 17-5 (7-3 in Big 12).
Ranking: Kansas State: Receiving votes (Associated Press) Baylor: No. 10 (Associated Press).
Last game: Kansas State: def. Texas Tech, 82-75 (Feb. 5); Baylor: def. Texas, 63-55 (Feb. 6).
Previous meeting: Kansas State 68, Baylor 59 (Jan. 2).
Key players
Kansas State
C Ayoka Lee: Along with all of the accolades that Lee has already collected this season, there is now this little nugget. Her 31 points against Texas Tech on Saturday made her the 13th player in Kansas State history to score at least 1,500 points for her career. She was also the fastest to do it (just 77 games). Plus, she's the first Wildcat to reach 1,000 career points and 1,500 career points in the same season.
G Brylee Glenn: Glenn became the second Wildcat, and the third Big 12 player, to earn three Big 12 Freshman of the Week honors after her performances last week for the Wildcats. Glenn averaged 16.5 points, 3.0 assists, 2.5 rebounds and 2.0 steals in those games.
G Serena Sundell: Here's the OTHER Wildcat to earn three Big 12 Freshman of the Week honors this season. Sundell has emerged as the offensive trigger at point guard. She averages 10.1 points and is the team's top 3-point shooter with 35 made baskets. Her 136 assists is second in the Big 12 and she averages 5.9 dishes per game.
Baylor
F NaLyssa Smith: If you watched either game with Texas last week, then you received a primer on why Smith might be the No. 1 overall pick in the WNBA Draft later this season. She had a double-double in the second Texas game on Sunday, and one could argue she was more offensively dynamic in the win on Friday. Either way, Smith averages a double-double this season — 20.8 points and 11.4 rebounds per game.
C Queen Egbo: She's started every game but has played just 22 minutes per game. Her biggest issue is foul trouble, and that followed he through both Texas games. Still, she's a quality rebounder when she's on the floor, averaging 7.9 boards to go with 9.9 points. And when she gets in a groove, look out. She had 21 rebounds against Iowa State. She played 30 minutes that game and avoided foul trouble. There is a connection.
G Jordan Lewis: She was the Big 12 Player of the Week last week after a triple-double against West Virginia, and she's now on the Top 10 list for the Nancy Lieberman Point Guard of the Year award. The sixth-year senior is averaging 11.4 points and has a team-leading 115 assists. Something that isn't talked about enough is her 28 steals, which is tied for the team lead.
Key storylines
Kansas State
The Wildcats fell out of the Top 25 this week after two straight weeks at No. 25. While Kansas State can compete with anyone in the Big 12, the Wildcats have lost their last two games against ranked teams. K-State won its first meeting with Baylor, but the Bears were not at full strength for that game due to COVID-19. We all KNEW Ayoka Lee was a great player. But the revelation is how quickly the freshmen have grown, especially Serena Sundell and Brylee Glenn. The Wildcats are probably out of the regular-season title race, and now it's about trying to grab a Top 4 seed in Kansas City.
Baylor
Baylor's start to Big 12 play was rocky — two straight losses and a 10-day COVID-19 pause. Since then, Baylor's only loss is to Oklahoma, which was last Wednesday. And that was a one-point game. Baylor isn't deep — they play seven or eight players at most — but first-year coach Nicki Collen has them firing at the right time. All five starters average at least 9.9 points per game, but forward Caitlin Bickle is unsung outside of Waco. She plays hard minutes in place of Egbo and averages eight points and 4.3 rebounds. The Bears are a game back of Iowa State and Oklahoma at the top of the Big 12 — and is 1-2 against those two teams. Every win is important if the Bears want another Big 12 regular-season title.
Fun fact
Ayoka Lee scored 33 points on 11-of-17 shooting in their first meeting with Baylor. The rest of the Wildcats made 12 field goals, just one more than Lee.
Prediction
Baylor 77, Kansas State 71. Expect a spirited game. Expect Ayoka Lee to bring it. Expect Queen Egbo to get into foul trouble. Expect NaLyssa Smith to be the difference.
You can find Matthew Postins on Twitter @PostinsPostcard.