Big 12 Previews
Texas vs. Texas Tech Women's Basketball: Preview and Prediction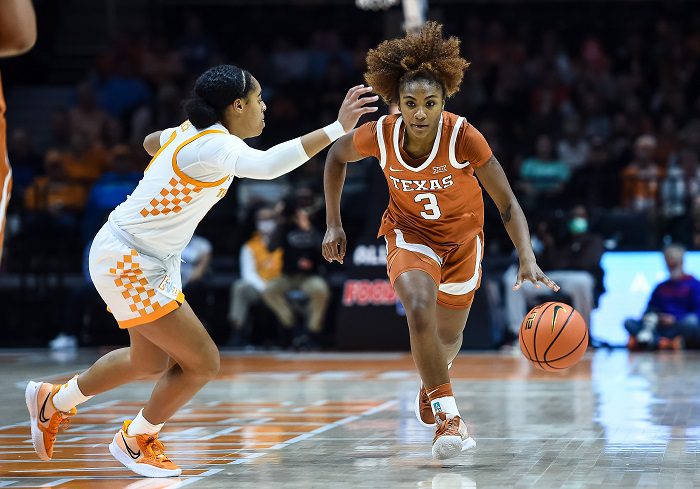 Here is everything you need to know about the Texas Longhorns and the Texas Tech Lady Raiders in our Texas vs. Texas Tech Big 12 women's basketball preview.
Game Info
7 p.m. Central Time, Wednesday, Feb. 9, 2022, United Supermarkets Arena, Lubbock, Texas.
TV: Big 12/ESPN+
Records: Texas: 15-6 (5-5 in Big 12); Texas Tech: 9-12 (2-8 in Big 12).
Ranking: Texas: No. 16 (Associated Press) Texas Tech: Not ranked.
Last game: Texas: lost to Baylor, 63-55 (Feb. 6); Texas Tech: lost to Kansas State, 82-75 (Feb. 5).
Previous meeting: Texas Tech 74, Texas 61 (Jan. 5).
Key players
Texas
G Aliyah Matharu: She's Texas' leading scorer at 15.1 points per game. But head coach Vic Schaefer has made some curious decisions with her playing time lately, most notably not starting her in Friday's game with Baylor. Matharu is prone to foul trouble, and she was there again in both games. If Texas can keep her on the floor, she can overwhelm any team with her 3-point shooting.
G Rori Harmon: The freshman is emerging as one of the conference's most versatile guards. She averages 10.1 points, 4.9 rebounds, 4.2 assists and 1.1 steals per game. Harmon is a talented defender and free-throw shooter, runs the point well and Texas could afford to let her shoot the 3-pointer just a bit more.
G Joanne Allen-Taylor: One of Texas' gritty veteran players, Taylor averages 10 points per game and is coming off an 18-point game against Baylor on Sunday. No one plays more minutes for Texas than Allen-Taylor, who gets nearly 33 minutes per game. Her play makes her worth every second she gets.
Texas Tech
G/F Vivian Gray: The three-time All-American dumped 36 points on Kansas State in a loss on Saturday. It was two points off her career high and her second game of 30 points or more in the last few weeks. She averages more than 19 points a game (26.5 points in her last four games), and in the first meeting with Texas she scored 23 points. The Longhorns can't afford to lose track of Gray.
F Taylah Thomas: She is Tech's primary interior presence, as she averages 9.8 points and 8.6 rebounds per game. The senior had just six points against Kansas State, but she had 22 points in the previous game against Iowa State.
G Bre'Amber Scott: Injuries have dogged Scott all season, unfortunately. But in the nine games she's played she's averaged nearly 10 points. She's a solid 3-point shooter and is 50 percent from the arc in her last two games. Her season best was 23 points against — guess who? — Texas on Jan. 5.
Key storylines
Texas
The Longhorns are in a valley. They've lost their last three games, and all three losses have been to ranked teams. Between the loss to Oklahoma, and the back-to-back losses to Baylor, Texas has dropped from No. 9 to No. 16 in the country and has dropped to sixth place in the Big 12. A conference title seems out of reach, so now it's about trying to improve seeding. Texas wants to ensure it stays out of the first day of the Big 12 Tournament. Texas needs more interior scoring. That was a big deficiency against Baylor.
Texas Tech
The Lady Raiders hadn't beaten Texas in Austin in nearly a decade when they beat the Longhorns on Jan. 5. Unfortunately, that was their high-water mark in Big 12 play. Texas Tech has lost seven of the last eight games. While Vivian Gray is having another quality season, it won't mean much in terms of getting the Lady Raiders back to the postseason. Watching the status of guard Lexy Hightower is important. She is the all-time active 3-point shooter (percentage) in the entire NCAA (D-I, D-II and D-III). She's been out three of the last five games.
Fun fact
Bre'Amber Scott dropped her 21 points on Texas and on her former coach, too. Scott played for Texas head coach Vic Schaefer when both were at Mississippi State.
Prediction
Texas 77, Texas Tech 69. Texas needs the win and I think the Longhorns will get it. But Tech won't make it easy, and the Lady Raiders will make them score points to do it. Note: Texas has 70 or more points in just three Big 12 games this season.
You can find Matthew Postins on Twitter @PostinsPostcard.