Baylor Bears
Big 12 Softball: 2022 Season Preview and Predictions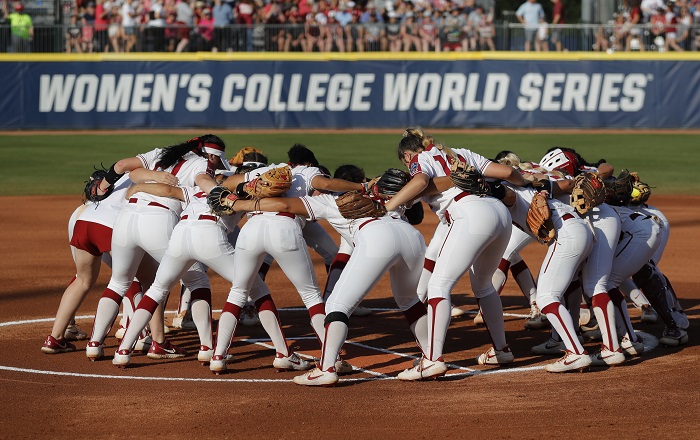 The 2022 College Softball season is just about ready to get started with the first pitch just hours away at this point.
Everyone starts with the same 0-0 record, and every team's goals and aspirations are still intact, but over the coming weeks and months, the elite teams will start to separate themselves from the pack. I believe there are three teams in the Big 12 that are more than capable of making a run to Oklahoma City, and two that are championship-caliber teams.
With that being said, here is how I see the 2022 Big 12 Softball season going and each team's regular season record*.
1. Oklahoma
It looks like Head Coach Patty Gasso has loaded up for another championship run in 2022. The defending-champion Oklahoma Sooners travel to Santa Barbara, California to take on UC Santa Barbara on Thursday, but the big early-season matchup comes on Saturday. Just four games into the season, the No. 1 ranked Sooners will face No. 3 UCLA in what could be a preview of a WCWS matchup in May. Both teams look like title contenders and will look to add a statement win to their 2022 resumes.
Oklahoma may have gotten better coming into 2022, and that's a scary statement if you kept up with last year's team. The Sooners return almost their entire lineup that set several NCAA records, and they added two All-American caliber pitchers in Hope Trautwein and Jordan Bahl. It's not really fair that the Sooners have four members of Team USA on their roster, but that is the kind of program that Coach Gasso has built.
Jocelyn Alo, Jayda Coleman, Tiare Jennings, and Kinzie Hansen lead this star-studded lineup that is as good a collection of players that anyone has ever had in college softball history. The question is, can they stay focused on the goal at the end of the year?
The Big 12 and National Championships still run through Norman, but I expect Oklahoma State to make things interesting in the final series of the regular season.
Projected Regular Season Record: 48-1
2. Oklahoma State
In any other conference, this team would be the "team-to-beat." I think Oklahoma State is better than anything that the SEC or Pac-12 could throw at them, yes, even Alabama. That's how good I think OSU, and OU for that matter, will be in 2022.
The Cowgirls start their season on Thursday when they travel to Tempe, Arizona, to take on the Arizona State Sun Devils. The Cowgirls are ranked fifth by the USA Today/NFCA Coaches Poll, while the Sun Devils come in at No. 21. This should be an electric start to the 2022 season and will immediately be a measuring stick for two teams with high hopes this year.
The trio of Hayley Busby, Miranda Elish, and Kiley Naomi will take this team far; throw in Kelly Maxwell and Morgan Day in the circle and you have a dangerous dugout.
According to head coach Kenny Gajewski, the Pokes could be special in 2022. I see a second-place finish for the Pokes and another trip to the Women's College World Series.
Projected Regular Season Record: 47-7
3. Texas
No. 10 Texas opens up their season against 14th-ranked Clemson on Friday in yet another measuring stick game for the Big 12. On February 18 and 19, the Longhorns play 2021's national runner-up Florida State, and No. 3 UCLA one day later. Texas will know exactly what they have before March, but I expect the Longhorns to hold their own against the nation's best.
Janae Jefferson is an All-American second baseman and 2022 Team USA selection, plus the duo of Shea O'Leary and Hailey Dolcini give Texas a dangerous pitching staff in 2022.
A midseason visit to Alabama for two games with the Tide, along with a backloaded schedule that includes playing Oklahoma and Oklahoma State six times combined in 10 days will define the Longhorns schedule and determine whether or not they will host a Super Regional tournament.
If they don't, and they end up in Norman or Stillwater, it could mean a shorter season than the Longhorns deserve. However, I think Texas is capable of winning games against nearly anyone in the country and they will do enough to host a Super Regional and be one of the final eight in OKC.
Projected Regular Season Record: 44-10
4. Baylor
The Big 12 has three elite teams, and question marks after that but Baylor is expected to be the fourth-best team in the conference. The Bears face UT Martin on Friday and have their first true test against No. 16 Oregon in Waco. The two teams have a three-game series scheduled on February 18-19.
Baylor went 0-2 in the Gainesville Super Regional last season and looks to regain some magic from early last year when they recorded wins over No. 25 Mississippi State, No. 13 Louisiana, and No. 9 Arizona State. An eight-game losing streak to end the season took a team that was 27-15 and looked like a dangerous No. 2 seed in the NCAA softball tournament, to 27-23 and disappointing.
Now, the Bears look to be in a bit of a rebuild with 10 new faces on a 21-player roster. Head Coach Glenn Moore, who is in his 22nd year in Waco, says that his team is hungry and ready to get Baylor back to the WCWS for the first time since 2017.
"I've compared this team – I've been here a long time – to one of my earlier teams before we had much respect in our program. I think we were overlooked a lot, and this team could be one of those that flies under the radar a little bit. It's certainly a hungry team."
If they are to surprise some people, it will be because of a group of super seniors: pitcher Gia Rodoni, first baseman Goose McGlaun, and third baseman Taylor Ellis.
Projected Regular Season Record: 36-18
5. Iowa State
Iowa State opens up its season against Omaha on Friday and Nebraska on Saturday. The Cyclones are expected to fight Baylor for the fourth spot in the Big 12 standings but will need to find a way to replace Sami Williams after a 2021 season in which she crushed 21 home runs and had a batting average of .446.
The good news is that All-Big 12 catcher Mikayla Ramos is back for the Cyclones as are outfielders Milaysia Ochoa and Skyler Ramos, first baseman Carli Spelhaug, and utility Alesia Ranches. All five return after starting the entire 2021 season for the Cyclones.
If the Cyclones can find production to replace the loss of Williams, I think they will be a dangerous team that could take out one of the lower seeds in the tournament at the end of the season. However, that is a big if, because we're not just talking about replacing a veteran player.
Williams set the Iowa State single-season records for batting average, runs scored and home runs last season and finished her career as Big 12's all-time leader in career hits, doubles, and total bases.
I'm going to give Iowa State a fighter's chance of taking the fourth spot from Baylor, but I just have a hard time seeing them reach the level of success they had last year. Who knows, maybe they'll prove me wrong.
Projected Regular Season Record: 34-20
6. Texas Tech
The Red Raiders finished 2021 on a high note, upsetting a top-10 Texas team in the third-place game of the Big 12 tournament.
Tech returns quite a bit of experience in the infield, but has five new faces in the bullpen and only one returner, Morgan Hornback, in the circle. They do add Kendall Fritz, a three year starter at Nevada who has a healthy 371 IP under her belt.
Olivia Rains, who won a national title with Oklahoma last season, joins the pitching staff after a 2021 season in which she finished with a 1.17 ERA, 20 strikeouts, and held opponents to a .148 batting average in 17 appearances.
The outfield has returning senior Peyton Blythe to anchor the position with 45 starts in 2021, but returns little experience behind that. UCLA transfer Carson Armijo has been turning heads since the fall season and looks to make an immediate impact in Lubbock.
I think this team has the pieces to string together some wins in 2022 under second-year head coach Sami Ward, but I think the top of the Big 12 is nearly impossible to break through and non-conference matchups with No. 14 Clemson, No. 7 Washington, No. 17 LSU, No. 10 Missouri, and No. 3 UCLA provide little room for error on the schedule.
Projected Regular Season Record: 26-20
7. Kansas
I don't really know what to think of Kansas going into 2022 and that makes me cringe having them at the bottom of this list. The Lady Jayhawks had a few upsets to their name last season, namely a series-opening win over Oklahoma State.
However, KU finished just 2-16 in conference play and lost their top three hitters from that team; which is why I have them at seventh in the Big 12 for 2022.
They do have a manageable nonconference schedule prior to Big 12 play and should do enough to pull off an upset or two by season's end.
A two-game stretch with Arizona State and UCLA on March 4th will be tough, but will tell us what to expect from Kansas going into conference play.
Projected Regular Season Record: 21-33
*Records are based on the scheduled games at the beginning of the season.