Baylor Bears
Kansas State vs. Baylor Basketball: Preview and Prediction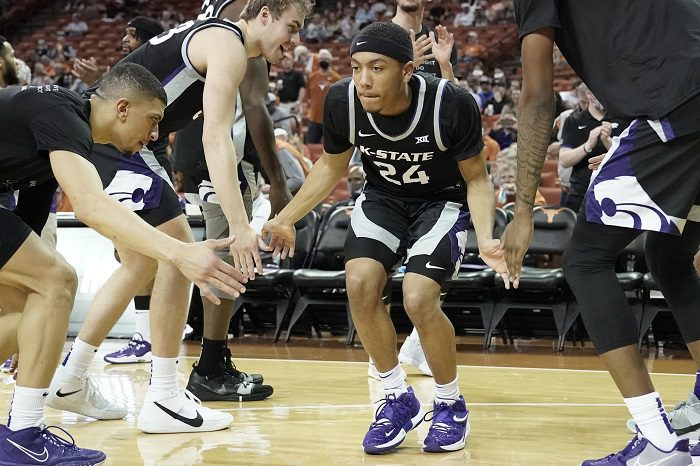 Here is everything you need to know about the Baylor Bears and the Kansas State Wildcats in our Baylor vs. Kansas State Big 12 men's basketball preview.
Game Info
7 p.m. Central Time, Wednesday, Feb. 9, 2022, Bramlage Coliseum, Manhattan, Kansas.
TV: Big 12/ESPN+
Records: Baylor: 19-4 (7-3); Kansas State: 12-10 (4-6 in Big 12);
Ranking: Baylor: No. 10 (Associated Press); Kansas State: Not ranked.
Last game: Baylor: lost to Kansas, 83-59 (Feb. 5); Kansas State: def. TCU, 75-63 (Feb. 5).
Previous meeting: Baylor 74, Kansas State 49 (Jan. 25).
Key players
Baylor
G James Akinjo: He's been exceptional for Baylor all season, but man Kansas did a number on him on Saturday. Akinjo was 0-for-11 from the floor in Baylor's worst loss in who-knows-how long. Still, the Bears need Akinjo on the floor. He's averaging 12.9 points per game and leads Baylor with 115 assists. I think some probably underestimated his facilitation skills.
F Adam Flagler: Flagler returned from injury for the Kansas game, and he had a solid outing, scoring a team-leading 16 points and making three 3-pointers. Flagler is averaging 12.8 points per game. But his 3-point percentage is down from a year ago, when he was one of three Bears guards to hit at least 40 percent of his 3-pointers.
F Jonathan Tchamwa Tchatchoua: He's elevated his game while still doing the things that the player they call 'Everyday John' is known for. He's averaging 8.1 points and 7.1 rebounds per game, and he hasn't even started a game this year.
Kansas State
G Nijel Pack: Pack is the Big 12 Player of the Week for the second time in three weeks after leading Kansas State to a 2-0 week, and that included his cold-blooded 3-pointer for the win against Oklahoma State. Park is now the third-leading scorer in the Big 12 (17.0 points per game) and the second-leading scorer in Big 12 games (18.8). And he's a sophomore. Don't leave him alone for a second.
F Mark Smith: He's been a Big 12 Player of the Week this season, too. The Missouri transfer is averaging 11.7 points and 8.5 rebounds per game. He's had six double-doubles this season, and he's recorded two in his last three games. In the victory over TCU on Saturday, Smith had 16 points and 10 rebounds.
G Markquis Nowell: The Little Rock transfer has come to Manhattan and stolen some playing time from other players, like holdover guard Mike McGuirl. But, Nowell is averaging 11.9 points per game and leads the team with 103 assists. His ability to run the point and run the offense is part of the reason that last season's point guard, Pack, has emerged as one of the Big 12's top scorers.
Key storylines
Baylor
The Bears have now lost two of their last three games. That's quite the news flash for the defending national champions. Granted, the losses have come against a quality Alabama team on the road and against Kansas on Saturday. But, even the win in between, against West Virginia, was by just four points. If guard LJ Cryer isn't able to play on Wednesday, the Bears will have to continue find ways to compensate for the loss of their best 3-point shooter.
Kansas State
The Wildcats are playing their tails off right now, and with a winning record and some manageable games ahead, there's a chance they could be .500 or better by the end of the Big 12 Tournament, which could help them get into the NIT. That would be a big win after the last two seasons. Head coach Bruce Weber's choices of transfers have worked out well (Smith, Nowell). But the development of Pack in his second year is the biggest single reason the Wildcats are respectable right now.
Fun fact
Baylor and Kansas State are two of four Big 12 teams with at least three true road wins this season. K-State has three and Baylor has five.
Prediction
Baylor 81, Kansas State 72. Baylor should win this game. But until LJ Cryer comes back, the Bears are going to have a harder time putting teams like Kansas State away. The Wildcats have won two straight and are playing with a lot of confidence.
You can find Matthew Postins on Twitter @PostinsPostcard.