Baylor Bears
Oklahoma Takes Over No. 1 Spot in Big 12 Women's Power Rankings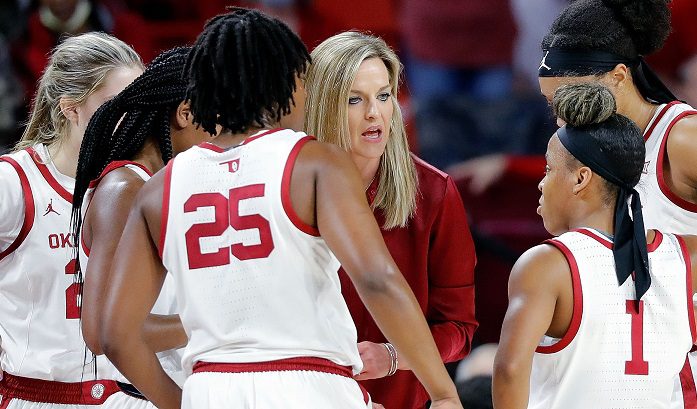 The Oklahoma Sooners move to No. 1 in the Heartland College Sports Big 12 women's basketball power rankings for Feb. 8. Our Power Rankings will appear every Tuesday.
1. OKLAHOMA (20-3, 9-2) (Last Week: 3)
The Sooners beat Baylor on Wednesday, sweeping the Bears for the season series, and then needed double overtime to beat West Virginia at home, 101-99. At this point, I don't see any way Jennie Baranczyk isn't the Big 12 Coach of the Year.
2. BAYLOR (17-5, 7-3; Last Week: 1)
I went back and forth on this after Baylor beat Texas on Sunday. How much credit do you give to Baylor after going 2-1 during a week in which it played three ranked teams? You have to give them a bunch. But, head-to-head has always been a bit of a differentiator for me, especially when it's the previous week. Baylor lost to Oklahoma. So the Bears nudge back a bit.
3. IOWA STATE (20-3, 9-2; Last Week: 2)
Iowa State with four straight wins after that lost week against Texas and Baylor. The Cyclones mastered how to defend Kansas State's Ayoka Lee. The Cyclones are off until Feb. 12 when it faces TCU. After that, it's a critical stretch — a trip to Texas and then they host Oklahoma. It's a stretch that could help the Cyclones claim the Big 12 crown.
4. KANSAS STATE (17-6, 7-4; Last Week: 5)
Kansas State split again last week, falling to Iowa State and then beating Texas Tech, the latter of which avenged a loss to the Lady Raiders from earlier this season. The Wildcats probably aren't a Top 16 seed anymore, but they're still in the running for a Top 4 seed in the Big 12 Tournament. The rematch with Baylor is big because if K-State wins, it would be a sweep.
5. KANSAS (15-5, 6-4; Last Week: 6)
Kansas had a perfect week, beating Oklahoma State and TCU. That may not sound that impressive. But collecting three wins over teams with losing records in the past week and a half helped the Jayhawks pad their NCAA Tournament dossier.
6. TEXAS (15-6, 5-5 in Big 12; Last Week: 4)
This is quite the turn for Texas, which was No. 1 just a couple of weeks ago. Two losses to Baylor and they're now sixth. All of Texas' issues right now are offensive, and head coach Vic Schaefer has time to work through them, now that the Big 12 regular-season title is basically out of reach.
7. WEST VIRGINIA (11-9, 4-6; Last Week: 7)
The Mountaineers took care of TCU at home and then lost that incredible double-overtime game to Oklahoma. The Mountaineers could have upended the Big 12 race and they'll kick themselves for letting that slip through their fingers. If you believe the Mountaineers can still be an NCAA Tournament team, the opportunity to prove it is ahead with a road game at Baylor, sandwiched inside two games with Kansas.
8. TCU (6-13, 2-8; Last Week: 8)
The individual accolades keep racking up for Lauren Heard. But the wins remain elusive for TCU, which has now lost five straight as games against Oklahoma State and Iowa State await this week.
9. TEXAS TECH (9-12, 2-8; Last Week: 9)
The Lady Raiders have now lost five straight. Early in the season I thought they were a dark horse NCAA team. It's clear they're not there yet. But, there are pieces that will allow Texas Tech to keep building next season. The Texas game gives the Lady Raiders a chance to sweep the Longhorns.
10. OKLAHOMA STATE (6-14, 1-10; Last Week: 10)
Oklahoma State has now lost eight straight games. TCU and Texas Tech come to Stillwater this week, and Texas Tech was Oklahoma State's last win.
Note: An earlier version of this story incorrectly referred to Jennie Baranczyk as Michelle Baranczyk.