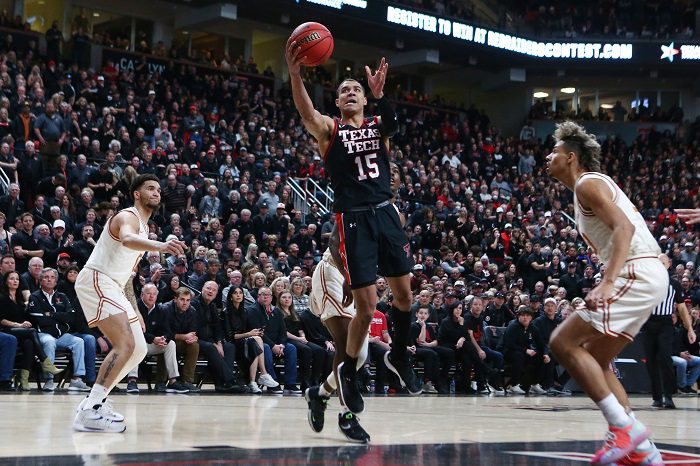 Here is everything you need to know about the Texas Tech Red Raiders and the Oklahoma Sooners in our Texas Tech vs. Oklahoma Big 12 men's basketball preview.
Game Info
8 p.m. Central Time, Wednesday, Feb. 9, 2022, Lloyd Noble Center, Norman, Oklahoma.
TV: ESPNU
Records: Texas Tech: 18-5 (7-3); Oklahoma: 13-10 (3-7 in Big 12);
Ranking: Texas Tech: No. 9 (Associated Press); Oklahoma: Not ranked.
Last game: Texas Tech: def. West Virginia, 60-53 (Feb. 5); Oklahoma: lost to Oklahoma State, 64-55 (Feb. 5).
Previous meeting: First meeting this season. The two teams meet in Lubbock on Feb. 22
Key players
Texas Tech
F Bryson Williams: Well, I didn't have Bryson Williams as Texas Tech's leading scorer entering February on the Big 12 bingo card, but here we are. Williams, the UTEP transfer, leads Tech with 13.7 points per game. What's interesting is he's doing it with a season average of 24 minutes. His 33-point game against Kansas aside, he's posted a range of 10 to 16 points in seven of his last nine games. He fits perfectly into Tech's balanced attack.
G/F Kevin McCullar: He's basically this team's Ginsu knife — 10.9 points, 5.8 rebounds, a team-leading 66 assists and 28 steals. Red Raiders head coach Mark Adams leans on McCullar in the big moments, and no player as logged more minutes (32.3) for Texas Tech this season.
G Adonis Arms: Arms has his legs under him on this team after a slow start. And, even when he doesn't score many points, he finds ways to help. Take the Texas game. Arms scored just one point. But he was by no means a failure. He played 31 minutes, grabbed nine rebounds and dished out four assists. McCullar has emerged as Tech's primary ball-handler, but Arms is a good alternative. He can shoot, pass and get the Red Raiders in their sets.
Oklahoma
F Tanner Groves: The offense runs through the talented senior, and even though he's averaging a team-leading 13.1 points, one could say he's played with inconsistency the past few weeks. Since Jan. 11, he's been held under 10 points (four) as many times as he's scored 10 or more points (four). He had a big game against Oklahoma State, where he scored 23 points. But the Sooners couldn't close the deal because he didn't have much help.
G Elijah Harkless: Former Sooners head coach Lon Kruger loved this guy, and first-year Sooners coach Porter Moser has learned to love him, too. Harkless' game has grown from designated defender to someone who can deliver on offense, too. He averages 9.4 points per game and is coming off a 15-point game against Oklahoma State.
G Umoja Gibson: Gibson is the Sooners' best 3-point shooter, making 36 percent, and averaging 12 points per game. But his two-point performance against Oklahoma State ended a five-game streak of scoring in double figures and was the first time Gibson failed to make a 3-pointer since Nov. 19 against Indiana State. Oklahoma needs him to be on if they want to win.
Key storylines
Texas Tech
The emotional powder keg of the Texas game aside, the Red Raiders are still in the Big 12 race, two games back of Kansas. Naturally, the Red Raiders need help. Ranked No. 9 in the country, head coach Mark Adams is now the oldest coach to lead a team to a Top 10 ranking in his first year at the helm. Tech is on a three-game winning streak after beating West Virginia, and Adams now has the best first-year record through 23 games of any Tech head coach in history. With a win on Wednesday, Tech would exceed last year's 18 wins.
Oklahoma
The Sooners are in a rough spot right now. They've lost seven of their last eight games and while they're still looked at as a potential NCAA Tournament team, this team is suffering from inconsistency on the offensive end. While Tanner Groves has had spurts of not scoring, players like Jordan Goldwire, Jacob Groves, Jalen Hill and Umoja Gibson have been up-and-down the past few weeks too. Having to play the country's No. 1 team in Auburn a couple of weeks ago certainly didn't help. But the loss to Oklahoma State on Saturday stung, and not just because it was Bedlam. It was a chance to get right before a brutal stretch against three ranked teams.
Fun fact
Texas Tech swept the season series last season.
Prediction
Texas Tech 79, Oklahoma 72. The slump continues for the Sooners. Note: The Red Raiders are 2-4 on the road this season. Both wins have come in Big 12 play. Oklahoma is only 8-4 at home.
You can find Matthew Postins on Twitter @PostinsPostcard.