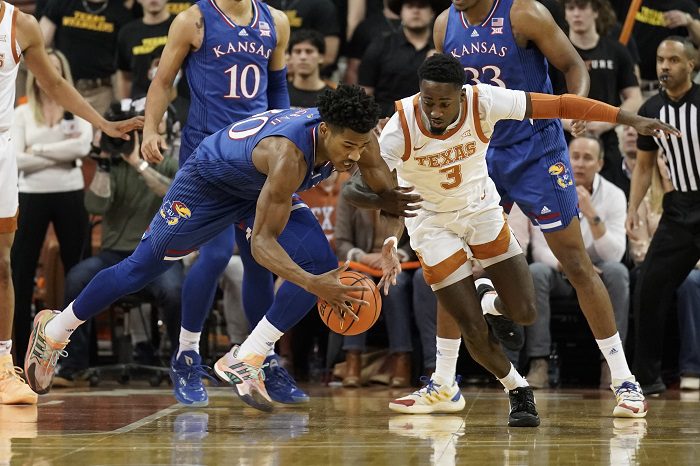 The Texas Longhorns defeated the Kansas Jayhawks, 79-76, in a Big 12 men's basketball game at the Frank Erwin Center in Austin, Texas, on Monday.
The Longhorns (18-6, 7-4 in Big 12) went on a 7-0 run in the final minute of the game, and it was Timmy Allen that led the way. His mid-range jumper gave Texas the lead for good with 18 seconds left and gave him a season-high 24 points. Texas had the ball because Kansas guard Ochai Agbaji failed to execute an alley-oop to forward David McCormack, as his pass hit the rim and led to a change of possession.
Kansas (19-4, 8-2) still had a chance to win. But, on their next possession, Dajuan Harris lost the ball on a drive, and then Texas guard Marcus Carr claimed the loose ball and drew a foul. He made both foul shots and Texas was up three with six seconds left.
After that, Texas made the strategic move to foul Kansas forward Jalen Wilson with less than three seconds left to prevent a 3-point attempt that might have tied the game. After Wilson missed the first free throw, he missed the second on purpose and Texas guard Courtney Ramey grabbed the loose ball and threw it up into the air as time expired. Texas fans poured onto the court in celebration for the biggest home win of the season to this point.
Plenty of players scored points on Monday. For Kansas, Wilson had a double-double — 18 points and 11 rebounds. David McCormack had 16 points. Christian Braun had 13 points. Ochai Agbaji had 11 points, and it was a difficult 11 points.
Along with Allen's 24 points, he also had nine rebounds. Tre Mitchell had perhaps his best games of the season, scoring 17 points. Marcus Carr and Andrew Jones each had 10 points. Christian Bishop had 10 rebounds.
Here are our three thoughts from the game.
Slowing Down Ochai
You know the old catchphrase, "You can't stop him, you can only hope to contain him?" Well, Texas contained Kansas guard Ochai Agbaji on Monday. The Big 12's leading scorer only had 11 points, and even then it looked like he might have put in the game-winner on a leaping put-back rebound in the final minutes.
Texas really DID contain Agbaji. How can you tell? Agbaji attempted just seven shots on Monday. Texas accomplished this by paying a ton of attention to Agbaji, and guard Courtney Ramey was the primary tool the Longhorns used. Ramey basically followed Agbaji around all night. He didn't appear to have any help-side responsibilities, which would have taken him away from Agbaji. He face-guarded him. On the game's key possession, the Harris drive that turned into a turnover and two Marcus Carr free throws, Carr was in full denial when Agbaji sprinted out to the wing to get the ball. Agbaji had no shot.
Texas did as good a job as anyone could have on the presumed Big 12 Player of the Year. But, Kansas did what it needed to do in a situation like that offensively — three other Jayhawks hit double figures and the team, as a whole, shot nearly 60 percent. Food for thought for other teams that try the same strategy.
Is Texas Figuring it Out?
Just a couple of weeks ago I wrote that it was time for Texas head coach Chris Beard to pick his 'ride or dies.' It seemed like the chemistry he was trying to create with 10, or even 11 players, was becoming stagnant. The loss to Texas Tech in Lubbock didn't help matters.
But, after wins over Iowa State and Kansas, both at home, do we re-evaluate? I mean, Texas has now won five of its last six games, with the last two over ranked teams.
The biggest difference on Monday, to me, was how the frontcourt played offensively. That's the group that has been more inconsistent, and it's the part of the team filled with transfers — Timmy Allen, Tre Mitchell, Dylan Disu and Christian Bishop. A few games ago, Beard went to a three-forward starting lineup. He's stuck with it. And it's starting to work.
Starting Brock Cunningham as one of those forwards seems odd to me, but he only played seven minutes. What's really key is getting Christian Bishop more time on the floor. He's clearly a game-changer on the glass. He had 10 rebounds on Monday and has had at least seven rebounds in three of his last four games. If Allen hits like he did on Monday, they don't need that much offense from Bishop.
The last two games Mitchell has come off the bench, and maybe that's a role he's better suited for right now. He played his best game of the season, in my opinion, and he really made his money at the free-throw line, making all eight.
And, as for the ride-or-dies? Well, guess what? I think Beard has found them. Seven players played more than 10 minutes, and six played 18 or more minutes on Monday night. Maybe the chemistry experiment is finally starting to percolate in Austin.
Turnovers
One of the starkest statistics in this game was turnovers and points off turnovers. Texas had just seven turnovers and Kansas turned those mistakes into just six points. But Kansas turned the ball over 15 times — 10 in the first half — and Texas couldn't have been much more efficient, scoring 24 points off those turnovers.
That differential was probably the biggest reason that Texas was able to overcome a night in which Kansas shot nearly 59 percent from the floor. Frankly, when Kansas shoots like that, they're basically unbeatable.
You can find Matthew Postins on Twitter @PostinsPostcard.