Baylor Bears
Two Big 12 Players on Dawn Staley Award Late-Season Watch List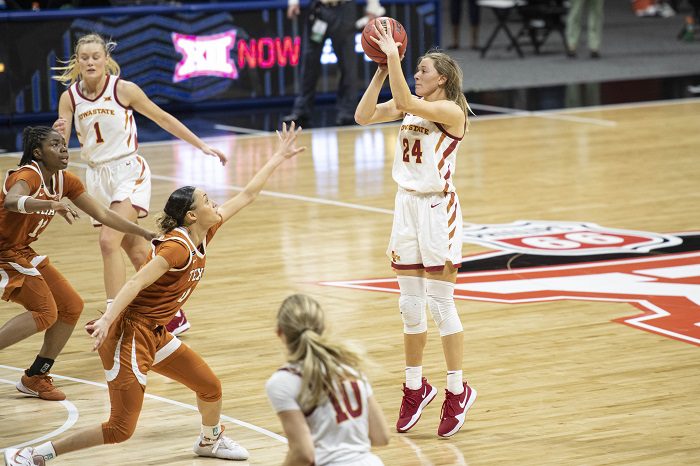 Iowa State's Ashley Joens and Baylor's Jordan Lewis are the two Big 12 players on the 2022 Dawn Staley Award Late-Season Watch List released on Tuesday.
Joens and the No. 9 Iowa State Cyclones are off until Saturday, but she is third in the Big 12 in points per game at 19.4 and has scored 20 or more points in nine games this season. She is 44 away from becoming ISU's all-time leading scorer. She also averages 9.1 rebounds per game and is 40 rebounds away from becoming the fourth player in Iowa State history to reach 1,000 career rebounds.
Lewis, a super-senior who played last year at Alabama before transferring to the Baylor Bears, recently became the third women's player in Baylor history to record a triple-double, which came against West Virginia.
As of Monday, Lewis is second in the Big 12 with a 2.17 assist-to-turnover ratio and third in the league with 5.2 assists per game. Lewis is No. 15 in the nation among active Division I players with 1,832 career points and second with 625 career assists. She leads the country with 152 career games played.
2022 Dawn Staley Award Late-Season Watch List
(Big 12 Players in Bold)
Rhyne Howard , Kentucky
Ashley Joens, Iowa State
Destanni Henderson, South Carolina
Olivia Miles, Notre Dame
Caitlin Clark, Iowa
Jasmine Dickey, Delaware
Nia Clouden, Michigan State
Khayla Pointer, LSU
Kierstan Bell, Florida Gulf Coast University
Dyaisha Fair, Buffalo
Jayda Curry, California
Makenna Marisa, Penn State
Cierra Hooks, Ohio
Jordan Lewis, Baylor
Que Morrison, Georgia
Diamond Johnson, NC State