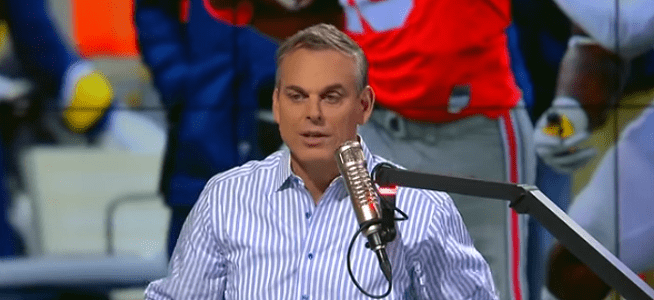 Colin Cowherd, a sports media personality that is widely known for his on-air antics and hot takes. His recording studio, which is located in Los Angeles, California, is often filled with echoes of names like Baker Mayfield, Lincoln Riley, and Caleb Williams; names that will elicit backlash from Sooner Nation, depending on which side of the argument one stands.
Cowherd has made it clear, on numerous occasions, that he stands opposing Oklahoma fans on every subject listed above. For example, around a month ago Cowherd had a message for Oklahoma fans.
"I see Oklahoma Sooner fans are obsessed again today w @LincolnRiley. What's it been 6/7 weeks? Oh wait, I forgot, he's no good and they were glad to see him go. No, my bad, it's "the way he left." Just trying to keep up."
Just about the time that the resentment starts to subside, Colin flippantly spouts off something that catches the ears of Oklahoman's, and it's time for another twelve rounds. Now, I understand what he is doing; his endless dialogue in OU's direction only intensifies the rivalry, and it increases viewership and interactions.
Oklahoma is an easy target right now, as the program has been the epicenter of negativity, in the media's eyes, since Lincoln Riley left around two and a half months ago. While that may not be the entire truth, it's all the ammunition Cowherd needs to start his next scuffle.
Today, former Sooner quarterback Caleb Williams made an appearance on Good Morning America and discussed the events that led him to USC, among other topics. Cowherd obviously saw this as his next opportunity to stoke the fire.
Well, Colin, Oklahoma's media availability policies under Lincoln Riley didn't allow Williams to speak with the media due to him being a freshman. Now, you know where he did make an appearance? The Podcast on the Prarie.
Now, Riley may have withheld him from the media for being a freshman, or it could've been for ulterior motives, as Butkus Award Winner Teddy Lehman suggests.
There are plenty more responses to his tweet, most of which I decided I wouldn't post here, but one thing is clear. OU fans have grown awfully tired of Cowherd's B.S. (That, of course, stands for Bologna Sauce).