Baylor Bears
Seven Big 12 Players Make Todd McShay's 2022 NFL Draft Top 10 Players at Each Position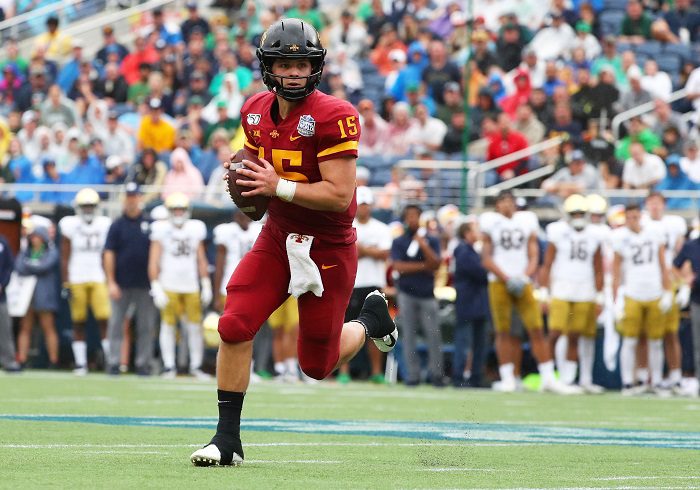 The 2022 NFL Draft is a little less than three months away, but it is never too early to talk about it.
There is plenty of tape of there for NFL hopefuls, but some players were able to get a chance to impress the scouts up close in person after competing in different all-star games over the last week.
We just wrapped up the East/West Shrine Bowl last week and this past weekend was the Senior Bowl. While some players saw their stock rise, others still have some work to do. As the mock drafts continue to pile up, ESPN's Todd McShay released his top ten player at each position on Tuesday. The Big 12 did not have any Top 10 players at wide receiver, offensive line, defensive end, cornerback or inside linebacker. I know the conference doesn't have shoe in offensive line prospects, but I felt like Tyrese Robinson and Marquis Hayes deserve some praise after some good performances in their all-star games. I am not saying they belong in the top ten, but they should be fringe guys who can make an NFL roster next season.
Meantime, how Iowa State's Mike Rose didn't make the top ten at inside linebacker is beyond me. I get that he isn't an athletic freak, but the man can play some darn good football. When you watch him play, he is everywhere on the field, and he even won the Big 12 defensive player of the year award back in 2020. If Mike Rose isn't drafted in the first few rounds of the draft, then someone will be getting one heck of a bargain.
But, there were plenty of Big 12 players to make the Top 10 list, so here's a look at them.
Quarterback
#8 Skylar Thompson (Kansas State)
If there was a Big 12 award for the Shrine Bowl last week it would have gone to Skylar Thompson. He led the offense with authority and did an excellent job moving the offense for his team. Skylar has done a terrific job taking care of the football over the last couple of seasons and his decision making has gotten better as well. He may not be the flashiest player out there, but the guy is simply a playmaker and can extend plays with his feet. Some will question his arm strength, but it is not something I worry about too much at the next level.
#9 Brock Purdy (Iowa State)
I don't think there is any question about Brock Purdy's arm talent. He has shown that he can make NFL caliber throws but the question is how consistent can he be? There are times where he makes head scratching decisions, but it is hard to deny his talent. Much like Skylar Thompson, he can mover around and buy some time and at one point in his career, many thought he could end up as a first-round pick. I believe Brock would be a great steal for any team later in the draft.
Running Back
#3 Breece Hall (Iowa State)
No surprise here as Breece Hall has been the best running back in the Big 12 over the last two years. In his last two seasons Breece Hall has combined to rush for a whopping 3,044 yards while piling up 46 touchdowns. He is electric with the football in his hands and there shouldn't be any question when it comes to his talent translating to the next level. Breece can make any cut and any move that good running backs have and will be a star at the NFL level.
Tight End
#8 Charlie Kolar (Iowa State)
I am a little surprised to see Charlie Kolar this low on the list considering his production at Iowa State. Kolar has been the best tight end in the Big 12 over the last several years and has become one of the best tight ends in the entire country over the past two seasons. He didn't have his best performance in the Shrine Bowl, but I still feel like him being ranked as the eighth best tight end in this draft is a little low.
Fullback
#2 Jeremiah Hall (Oklahoma)
Fullbacks are still a thing in the NFL and Jeremiah Hall is a good one. Whether it is in the run game or making a play out of the backfield in the passing game, Jeremiah Hall can do it all.
Defensive Tackle
#3 Perrion Winfrey (Oklahoma)
He is the only Big 12 defensive lineman ranked in Todd McShay's top ten and he certainly belongs here. Winfrey may be a little undersized but he more than makes up for it with his play. He is someone who can cause havoc and that is exactly what he did in the Senior Bowl as he racked up two sacks and won the MVP award.
Outside Linebacker
#8 Nik Bonitto
When it comes to pressuring the quarterback there aren't many players at the collegiate level who did it better than Nik Bonitto. He has a knack for making plays on the edge and the NFL loves players who can rush the passer. Without question, Nik deserves a spot in the top ten.
Safety
#3 Jalen Pitre (Baylor)
There aren't many sure things in the NFL, but I believe that Jalen Pitre is one of them. Whether it is in pass coverage or helping out stopping the run, Jalen Pitre is simply a playmaker. He isn't afraid to get his hands dirty and make tackles in the run game. Also, he has nose for the football and is a game changing player. Jalen was the Big 12 Defensive Player of the Year last season and without a doubt is one of the best safeties in this draft class.