Oklahoma Sooners
Three Reasons Oklahoma Football Can Be Even Better in 2022 and Beyond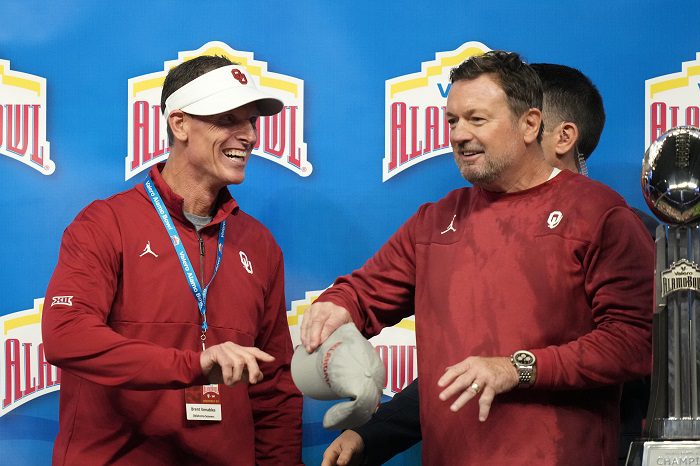 The Sooners lost one of the top coaches in the country back in November, but I'm done talking about that guy. That horse is dead and beaten six hundred times over. However, if you think that losing Bob Stoops' successor is a sign that Oklahoma is going to be down in 2022, you need to rethink some things.
Now, at first glance, it's easy to say, "yeah, Oklahoma's done for a while. They just lost their head coach, starting quarterback(s), several defensive starters, and half their staff. How could they not be due for a down year?"
Well, take a deeper look and you will find that the football program in Norman is thriving, and it all started a couple of months ago. Allow me to catch you up.
Oklahoma Donors Are Invested Again
At the end of the day, what is the lifeblood of a successful football program? Yes, recruiting is a correct answer, but I'm looking for money in this scenario. You need funds to recruit at a high level. The best teams in the recruiting game (Alabama, Georgia, Ohio State, Texas, Texas A&M) have massive recruiting fund pools to pull from in order to bring in the top talent in the country. Oklahoma hasn't been able to match those schools in years past, and it just boils down to revenue. Four of the five schools I just listed were ahead of Oklahoma in reported revenues last year, and the one that isn't ahead of the Sooners (Georgia) is just behind them at seventh (Oklahoma is sixth). "It takes money to make money." We've all heard that, and it's true in most cases. In Oklahoma's case, they were almost doing more with less.
Donors had become "stagnant" with Oklahoma's program under the previous regime. The Sooners were winning at an elite level and it seemed as if things were rolling along just fine without major donations being pumped into the program. When the news broke that there was a change in leadership coming for the program, it shook those donors awake and made them realize the mess they could have on their hands if they didn't act fast. Shortly after Brent Venables was hired and he began to assemble his staff it was clear that funds wouldn't be an issue. Increased Staff. Facility Upgrades. Recruiting Funds. Increased Assistant Coach Money Pool. Anything that Venables and his right-hand man (more on him in a second) need to be successful, Oklahoma has vowed to get it done ahead of the Sooners' move to the SEC.
Staff Upgrades Across the Board
With his mind on getting Oklahoma ready for the SEC, Venables went out and hired Thad Turnipseed as Oklahoma's Chief of Staff and his right-hand man. Turnipseed is the man behind the scenes that got things done at Clemson. Remember the $55 million football complex that Clemson unveiled back in 2019? Turnipseed is the man that got that built. The man gets things done, and he's among the top names in the country at his position (you'll be hearing that a lot). In just a few weeks' time, Turnipseed had a team chef brought in and has plans to make facility changes and upgrades in the works. Among the rumored changes
Brent Venables' first hire as Oklahoma's head coach was former Ole Miss offensive coordinator Jeff Lebby. Lebby is, you guessed it, among the nation's best when it comes to running an offense. Lebby's offenses at Ole Miss and UCF have outperformed Oklahoma's in each of the past three seasons in terms of total offense. Now, with access to better talent, where can Lebby take an Oklahoma offense that has been prolific under its last four offensive play-callers?
Venables then hired Jerry Schmidt, the S&C Coach at Texas A&M. Schmidt was in charge of the strength and conditioning program at OU for the entirety of Bob Stoops' tenure. He is revered in his field and is a huge upgrade over Bennie Wylie, who is now at USC. His implementation of condition and weight training will show immediate dividends for Oklahoma along the offensive and defensive fronts, a point of weakness for Oklahoma at times during the 2021 season.
Oklahoma's entire defensive staff from 2021 departed after the season, but the Sooners upgraded with nearly every position coach that they hired. Ted Roof was hired as the defensive coordinator, but it is well-known that this will be Venables' defense. Roof was brought on because he is an excellent teacher with decades of experience and a low ego approach; someone that Brent can trust to implement his scheme. Brent Venables vs. Alex Grinch? Upgrade.
Former Alabama defensive backs coach Jay Valai vs. Roy Manning? Upgrade. Roy Manning was a linebackers' coach working with the secondary. Todd Bates/Miguel Chavis vs. Jamar Cain/Calvin Thibodeaux? I could see this one being an argument, but I would still lean upgrade. Thibodeaux was probably the Sooners beat coach, outside of Riley, and Cain was the Sooner's top defensive recruiter. Bates was the 2019 National Recruiter of the Year and has several first-rounders in his development tree, while Chavis has already signed two four-star defenders in his short time with Oklahoma. Add in former Troy DC Brandon Hall as the Safeties coach, and you have a top-notch defensive staff.
Roster Overhaul is Over-Blown
Let's get this out of the way: the Sooners lost several contributors from the 2021 team. Stewert Mandel of The Athletic listed the losses for Oklahoma here:
Yes, that is quite a list. But to say that the Sooners won't be a Top-25 team next season is nothing more than click-bait and an attempt to rile up one of Twitter's most active fanbases. Oklahoma has one of the 10 most-talented rosters in the country, even with those losses.
At the time this article was written, the Sooners have added 31 scholarship players, including 10 transfers that are expected to be immediate contributors. Jeffery Johnson and Jonah La'ulu were pursued by the likes of Georgia, LSU, Michigan, Miami, and USC among others when they hit the portal. Defensive backs Trey Morrison and CJ Colden were multi-year starters before transferring to Oklahoma, and bolster an already talented DB room.
On offense, Cal transfer OL McKade Mettauer immediately fills the void left at LG for the Sooners, and Tennessee transfer Wanya Morris is in the fold for RT. The Sooners also added two of the top running backs in the 2021 class along with having Eric Gray and uber-talented Marcus Major already in the backfield. The tandem of wideouts Marvin Mims and Theo Wease is among the best in the country, even with Mario Williams and Jadon Haselwood gone. You also have a quarterback in Dillon Gabriel that has thrown for nearly 8,000 yards and 70 touchdowns in 2 1/2 seasons of work.
Conclusion
Oklahoma has been a fixture of elite college football for the vast majority of the 21st century. Sure, coaching changes are a good reason to worry at most places, but not at a place like OU. Brent Venables doesn't have any experience as a head coach, sure. I'll give that to you. With that, I have a question for you. When has that mattered at Oklahoma?
Brent Venables has coached in 30 bowl games and eight national title games; he is as experienced as they come for first-time head coaches. With the times changing in Norman, as well as the culture, it's easy to look at the surface and see turmoil and that's your prerogative. But don't expect Oklahoma to just slip into the void and become a middle-tier Big 12 team in 2021. The Sooners will be favorites to be back in the Big 12 Championship in 2022, so don't say I didn't warn you. So if you're excited about the future in Norman, don't be ashamed of it. There will be a lot of deleted tweets come December 2022.