Big 12 News
Oklahoma, Oklahoma State Start off Big 12 Softball Season With Big Wins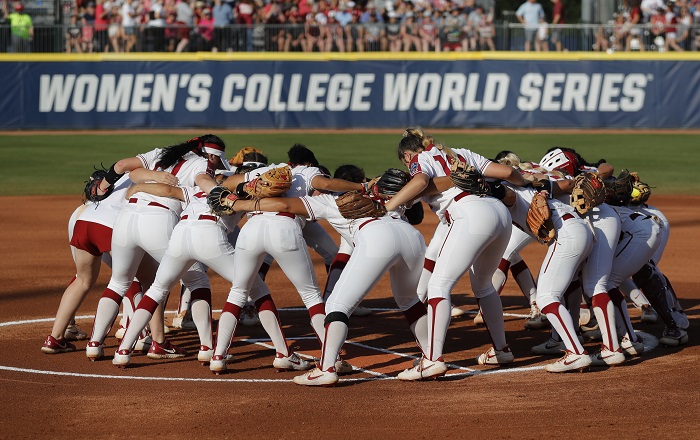 Both teams from the Sooner State got a one-day headstart on their Big 12 foes in getting the softball season underway, and both came out victorious.
Oklahoma got things started against UC Santa Barbara and they picked up right where they left off in 2021. The Sooners rolled through the Gauchos with ease, as they should've, winning 14-0. The bats remained on fire, as they were last year, belting four deep, including a grand slam from Jocelyn Alo in the first that put the Sooners up 9-0.
Alo is now just six away from tying the all-time record for career home runs in college softball, a record currently held by former-Sooner great Lauren Chamberlain (95).
We all knew that Oklahoma could swing the bat, but the pitching staff was the biggest "weakness" last year and it appears that is no longer the case. Freshman Jordy Bahl made her debut in the circle and struck out four of the eight batters she faced. Nichole May and Hope Trautwein also got in on the action, and the three combined for a perfect game.
The Sooners will open up play in the Mark Campbell Invitational today against Loyola Marymount (5:45 p.m.) and Mississippi State (8:30) before the big one tomorrow night; a date with No. 3 UCLA at 6:00 p.m. CT.
Oklahoma State had a much stiffer test to open their season than their in-state rivals, taking on No. 21 Arizona State. The game was scoreless until the top of the third inning when Chyenne Factor laid down a beautiful bunt to bring in Chelsea Alexander from third. Then, later in the inning, All-American Haley Busby connected for a three-run moonshot that put the Cowgirls up 4-0.
In the fifth, Chyenne Factor got involved again with a solo shot over the centerfield wall, giving the Cowgirls a 5-0 lead. Arizona State was able to get a run on the board in the fifth and sixth innings respectively, but Miranda Elish stepped in the circle for relief duties and stymied any comeback attempt by the Sun Devils. Morgan Day was in the circle for the final three outs of the contest and secured the 5-2 win for Oklahoma State.
The Cowgirls will resume action today in the Kajikawa Classic, taking on the reigning ACC champions, No. 20 Duke (12:30 p.m.), and then Utah at 3:00 p.m.