Big 12 Previews
Oklahoma vs. Texas Women's Basketball: Preview and Prediction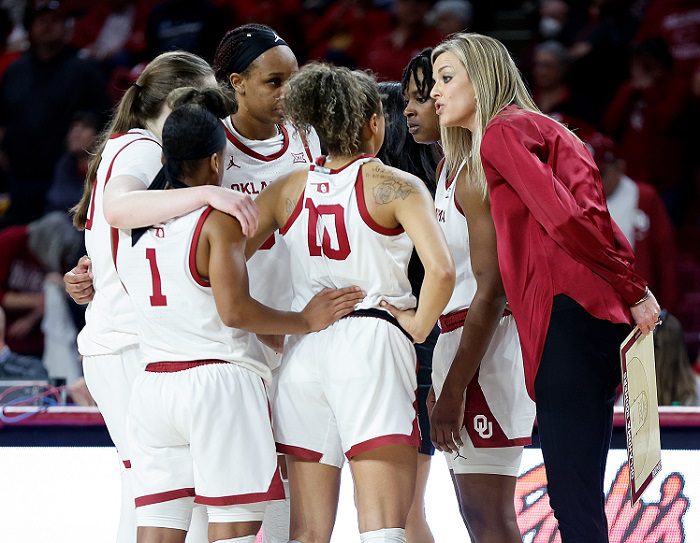 Here is everything you need to know about the Oklahoma Sooners and the Texas Longhorns in our Oklahoma vs. Texas Big 12 women's basketball preview.
Game Info
7 p.m. Central Time, Saturday, Feb. 12, 2022, Frank Erwin Center, Lubbock, Texas.
TV: Longhorn Network
Records: Oklahoma: 20-3 (9-2 in Big 12); Texas: 16-6 (6-5 in Big 12).
Ranking: Oklahoma: No. 12 (Associated Press) Texas: No. 16 (Associated Press).
Last game: Oklahoma: def. West Virginia, 101-99 (2OT) (Feb. 9); Texas: def. Texas Tech, 61-56 (Feb. 9).
Previous meeting: Oklahoma 65, Texas 63 (Jan. 29)
Key players
Oklahoma
G Taylor Robertson: Robertson is on the Drysdale Shooting Guard Watch List as one of the Top 10 guards in the country. She averages 18 points, 4.5 rebounds and 3.5 assists per game. She's the second-best 3-point shooter in the country by percentage (46.8) and she leads the nation in made 3-pointers per game (4.09). At the free throw line, Robertson shoots 94.9 percent, third best in the country, and her 92.3 career percentage is best among all women's players.
F Madi Williams: She's tracking as one of the best small forwards in the country, and she's on the Cheryl Miller Small Forward Watch List as one of the Top 10 in the women's game. Williams leads the Sooners in points and rebounds per game, scoring 18.6 and grabbing eight, respectively. The Sooners are having their best season in a decade and are tied with Iowa State for the Big 12 lead. Williams was named the Big 12 Player of the Week on Monday, making her the fourth Sooner to win the award this season.
F Liz Scott: Need a game-winning basket? Call Scott. She's hit the game winners in the final seconds against both Texas and Baylor in the past two weeks. She averages seven points and 4.7 rebounds per game. But, when it's crunch time, don't lose track of her.
Texas
G Joanne Allen-Taylor: She's turning into the player that head coach Vic Schaefer trusts the most. Her 14 points against Texas Tech came with opportune baskets down the stretch. She's didn't shoot a great percentage against the Lady Raiders, but she canned a couple of 3-pointers and was perfect at the free-throw line.
G Audrey Warren: Schaefer slid the senior to the bench against Texas Tech and she responded with 12 points and three steals in the five-point victory. Plus, she ended up playing 37 minutes, the same amount of time as Allen-Taylor. She had six rebounds, but she also had five turnovers, something Schaefer will want her to cut down on.
G Rori Harmon: Harmon continues to put together quality games, even if she's not scoring in double figures every night. Against Tech, Harmon had eight points, but also had four rebounds, five assists and two steals. Harmon's consistency in running the offense and her growing overall game makes her impossible not to start these days.
Key storylines
Oklahoma
Head coach Jennie Baranczyk may be the favorite for the Big 12 Coach of the Year award. In her first season at OU, the Sooners are off to their best start in a decade and are considered a Top 16 team in the NCAA Tournament per ESPN Bracketology. The Sooners do it with offense. They've been No. 2 in scoring in the country and they've scored more than 100 points three times, including 101 in their double-overtime win over West Virginia. Skylar Vann adds 11 points a game, and her playing time and production have gone up since the Sooners lost Ana Llanusa, who was averaging 17 points per game at the time. Six Sooners average more than six points per game.
Texas
Texas coach Vic Schaefer had some pointed criticism for his team after their loss to Baylor last Sunday, which was their third straight. Against Texas Tech on Wednesday, he put Shae Holly into the starting lineup, rewarding her for some hard work, but also trying to jolt his starting lineup. It's not certain that it worked, because the usual suspects led the way. But, Holle did score four points in 14 minutes and played good defense while on the floor. Schaefer also put forward DeYona Gaston back in the starting lineup, but she only had four points and three rebounds. The Longhorns are still trying to figure out the right rotation to crash the glass, outside of Lauren Ebo.
Fun fact
The Longhorns and Sooners will change conferences in 2025, but the Red River Rivalry will be going with them, as they're both moving to the SEC.
Prediction
Texas 68, Oklahoma 65. It's a high-volume offensive team against a high-volume defensive team. The high-volume offensive team won in Norman. Seems like the high-volume defensive team wins in Austin.
You can find Matthew Postins on Twitter @PostinsPostcard.