Oklahoma State quarterback Spencer Sanders has had an up-and-down career in Stillwater through three years as a starter. He's not a bust, but he hasn't been the resounding success Cowboys fans hoped for when he came in as the eighth-ranked QB out of Denton, Texas, in the class of 2018. At points, fans have called for him to be replaced, with some even pleading that he would transfer. 
I'm here to make a case for Sanders and prove that he is not to blame for the misfortunes he has faced during his time at OSU. I think he has caught way too much flack for Oklahoma State's problems the past few seasons and while yes, he has been reckless and turnover-prone at points in his career, there are many reasons for the team's struggles outside of Spencer's control.
Interceptions are Concerning, But Not All on Sanders
I think most college football fans look at this year's Big 12 Championship game when making their assessment of Sanders, a game that saw him throw four interceptions and no touchdowns in a down-to-the-wire 21-16 loss to Baylor at AT&T Stadium. Not all of those picks were Spencer's fault, with one being the result of him being hit as he was throwing and another ricocheting off of his receiver's hands. Still, the other two were on him and just one less interception could have been the difference between winning and losing that game.
Sanders finished the year with 12 interceptions, the most in any of his three years as the starter, though seven of those came in both games against Baylor. If you take away those Baylor games, Sanders was on pace to have the most efficient season of his career with 20 touchdowns and only five picks. For his career, Sanders has thrown 50 touchdowns and 31 interceptions while adding 1,565 yards and 10 scores on the ground.
That Big 12 Championship pulled in eight million viewers, making it the eighth most-watched college football game of the season not counting playoff games. So naturally, this is where the college football world saw Spencer Sanders on full display and this is where they base their assessment of him from. After that, everyone saw him as a turnover machine and the reason the Cowboys were not Big 12 Champions, when in reality there were a multitude of factors that went into the Pokes losing that game.
Inconsistant Play-Calling an Issue Throughout His Career
Sanders' time at OSU has been plagued with very questionable offensive play calling. Since 2018 (Spencer's freshman year) when Taylor Cornelius manned the helm at QB, Oklahoma State's play calling and play design has been noticeably worse than years before. Three different offensive coordinators have been through Stillwater since 2018 and all of them have struggled consistently putting the ball in the endzone. OSU fans need to be thankful for the meteoric rise of the Cowboys' defense, because this 2021 team could have looked a lot like that 7-6 2018 team; a mediocre offense and a defense that had trouble stopping anyone.
If you were to put Spencer onto one of Brandon Weeden's or Mason Rudolph's teams, I guarantee that he easily churns out one of the best seasons by a quarterback in OSU history. And it's not like those past teams had way more talent on the roster than Sanders' teams. Spencer has enjoyed the likes of Tylan Wallace, Chuba Hubbard, Dillon Stoner, Teven Jenkins, L.D. Brown, Tay Martin, and Jaylen Warren among others. It's not the talent around him that's been lacking, it's the coaching.
Just four years ago, in 2017, Oklahoma State averaged 45 points a game under Mike Yurcich and behind Rudolph, James Washington and Justice Hill. Only three seasons later, that average went down by 20 whole points, at just above 25 points a game in 2020. This drop was not due to Spencer Sanders at quarterback, as much as Spencer haters would love to tell you. OSU had fired Yurcich and brought on Sean Gleeson from Princeton, who spent only one season in Stillwater before being hired on at Rutgers.
Kasey Dunn was promoted to offensive coordinator for that aforementioned 2020 season after serving as the wide receivers coach since 2011, and the same problems have persisted. The offense has had no stability in play calling with Sanders and other players constantly having to learn a new system every year, and it doesn't help that the systems themselves have been lackluster and uninspired. OSU's identity on offense over the last few years has been: throw to Tylan Wallace/Tay Martin OR hand the ball to Chuba Hubbard/Jaylen Warren. The Pokes have become incredibly predictable to the point where I'm sure every opposing defensive coordinator OSU faces probably reacts like this when he sees Oklahoma State on the schedule: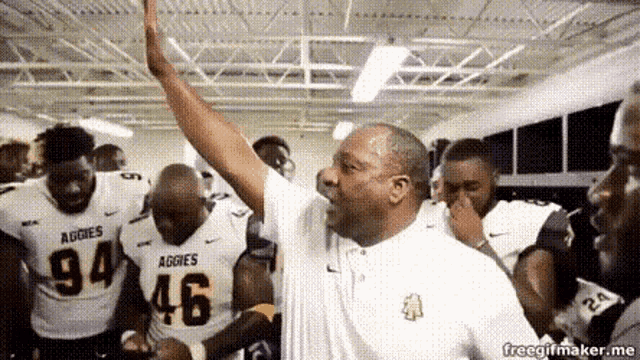 Sanders is Built for the Run-and-Gun Offense
Fortunately, the Cowboys' offense seemed to be figuring things out toward the end of this season, scoring consistently with 37 points versus both Oklahoma and Notre Dame and 63 against TCU in week 11. Specifically in the Fiesta Bowl, OSU went back to its roots with a high tempo, hurry-up offense where Sanders thrived. He finished the game with 371 passing yards with four touchdowns and zero interceptions while also rushing for 125 yards on 17 carries. It's evident that that style of offense is his bread and butter. He excels when he can keep his foot on the gas and make instinctive, familiar throws rather than step into the shoes of Weeden and Rudolph and become a pocket passer like the Cowboy coaching staff is trying to turn him into.
Sanders is a run and gun quarterback with the added benefit of elite running ability, so if Mike Gundy and Kasey Dunn finally realized that after seeing it against the Fighting Irish, he might be poised for his best season yet in 2022.
I'm willing to admit that Spencer Sanders has had some consistency issues throughout his time in Stillwater, but with one more season to go he is carving out a very impressive career that I fear will be overshadowed by the memories of interceptions and all the throws that he didn't make. By the end of his tenure at Oklahoma State, I hope that Cowboy faithful look back on his run as OSU QB as one of the greatest in school history, which was unfortunately marred by mediocre play-calling and a few growing pains.
As mentioned earlier, the Pokes looked like they were beginning to fix their offensive woes toward the end of the season. Perhaps the Oklahoma State coaching staff will make the right schematic adjustments in 2021-2022 and produce an offense that measures up to the stellar defense of recent years, an offense led by No. 3.