Baylor Bears
Oklahoma Rises to No. 3 Seed In NCAA Women's Tournament Bracketology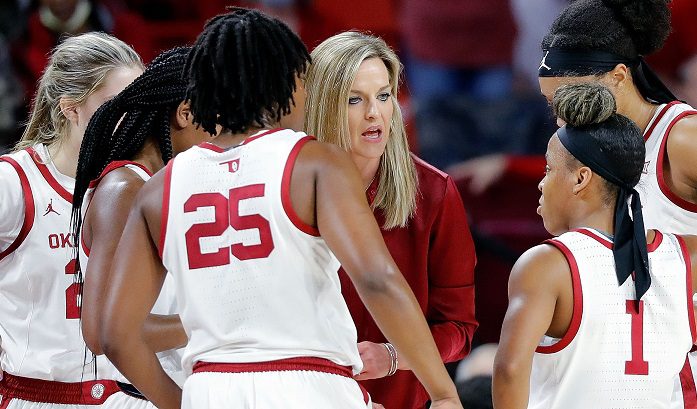 The Oklahoma Sooners are now a potential No. 3 seed for the NCAA Women's Basketball Tournament in ESPN's latest Bracketology, released on Friday. 
The Sooners made the move after the NCAA Tournament Selection Committee released its update of the Top 16 seeds for the tournament, if it started on Thursday. The Sooners were No. 9 overall, meaning that ESPN used that as a template for its Top 4 seeds in each region.  
It also meant that Iowa State, Baylor and Texas remained Top 4 seeds in this edition of the 68-team field.  
The biggest game this weekend features Oklahoma traveling to Texas on Saturday. Also games to watch for NCAA Tournament purposes are West Virginia vs. Baylor and Iowa State vs. TCU. Both the Bears and Cyclones can solidify their current seeds with victories. 
Other Takeaways: 
Moving up: The Oklahoma Sooners were the only team to make a move up in seeding from the last update on Tuesday.   
Moving down: Kansas State was the only Big 12 team to drop in seeding based on Wednesday's games. The Wildcats are now a projected No. 6 seed.    
Holding steady: The other four Big 12 teams held steady, including Kansas, which right now is a No. 11 seed and is considered one of the 'last four byes' into the tournament.    
How the bracket looks for the Big 12 as of Feb. 11: 
Bridgeport Region 
No. 4 Texas vs. No. 13 UNLV 
No. 6 Kansas State vs. No. 11 Missouri 
Greensboro Region 
No. 3 Baylor vs. No. 14 Illinois State 
Wichita Region 
No. 3 Oklahoma vs. No. 14 UT-Arlington 
Spokane Region 
No. 2 Iowa State vs. No. 15 Mercer 
No. 11 Kansas vs. No. 6 North Carolina 
Future Big 12 members 
Bridgeport Region 
No. 5 BYU vs. No. 12 Marquette/Arizona State winner 
No. 9 UCF vs. No. 8 Arkansas 
You can find Matthew Postins on Twitter @PostinsPostcard.