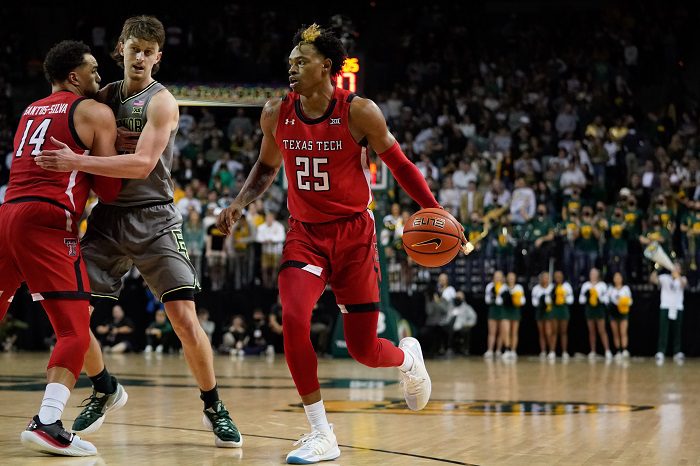 Here is everything you need to know about the TCU Horned Frogs and the Texas Tech Red Raiders in our TCU vs. Texas Tech Big 12 men's basketball preview.
Game Info
3 p.m. Central Time, Saturday, Feb. 12, 2022, United Supermarkets Arena, Lubbock, Texas.
TV: Big 12/ESPN+
Records: TCU: 16-5 (5-4); Texas Tech: 18-6 (7-4 in Big 12);
Ranking: TCU: Not ranked; Texas Tech: No. 9 (Associated Press)
Last game: TCU: def. Oklahoma State, 77-73 (Feb. 8); Texas Tech: lost to Oklahoma, 70-55 (Feb. 9).
Previous meeting: First meeting this season. The two teams meet in Fort Worth on Feb. 26.
Key players
TCU
G Damion Baugh: He might be the biggest reason the Horned Frogs are contenders for the NCAA Tournament, all things considered. His emergence as a great counter to Mike Miles has allowed him to rise to become TCU's second-leading scorer with 10.8 points per game. But, without Miles on Tuesday night against Oklahoma State, he pitched in 15 points and had a team-high eight assists.
F Emanuel Miller: He is TCU's key player inside, and the evidence was on display against OSU when he scored 19 points, a team-high. The emergence of Eddie Lampkin inside has taken some of the rebounding load off Miller. But he's plenty capable of cleaning the glass, too. For the season he averages 10.3 points and 6.6 rebounds per game.
G Mike Miles: Miles hasn't played in the last two games, and while others have picked up the slack, the Horned Frogs are much better with their sophomore guard. Just a reminder — he leads the Horned Frogs with 15.6 points per game, grabs 3.9 rebounds, has a team-high 75 assists and while he's only making 36.6 percent of his shots, he's well-defended on nearly every play.
Texas Tech
F Bryson Williams: The Sooners figured out a way to slow down the Red Raiders' hottest inside player on Wednesday, doubling him with a guard on the ball side practically every time Williams caught the ball. In fact, he shot just seven times. Now, great players will have a game like that, and you can bet TCU is breaking down that tape intently. So, Williams and Red Raiders must adjust.
G/F Kevin McCullar: He wasn't quite himself on Wednesday against OU, scoring 12 points. But the things he does consistently well outside of scoring weren't quite there either — two rebounds, one assist, two steals and, most notably, four turnovers. The Red Raiders count on McCullar for quality ball possession. They'll be looking for him to get back to that on Saturday.
G/F Terrence Shannon Jr.: He scored 11 points against Oklahoma on Wednesday, and given that he only played 17 minutes, he was efficient — 3-of-6 shooting and 4-of-4 at the free-throw line. He was only one of two Red Raiders to make a 3-pointer (Adonis Arms was the other). Assuming he's healthy, it will be his fourth straight game since missing the Big 12-SEC game with Mississippi State. He has now scored 20 points in his last two games.
Key storylines
TCU
In a month, we'll know if TCU is NCAA Tournament-worthy for the first time since 2018. The Horned Frogs are doing enough to impress ESPN's Joe Lunardi. Not only have the Horned Frogs been in Bracketology for more than a month, they're not even close to the bubble. The Horned Frogs may not finish the Big 12 season over .500, but they have enough cushion in their overall record to finish with 18 or 19 wins by the Big 12 Tournament. The remaining schedule is grueling though. After facing Texas Tech, the Horned Frogs have another game with Texas Tech and Baylor, and two more with Kansas, the latter a result of COVID postponements. There's still work ahead, but head coach Jamie Dixon has managed to adapt to the high turnover of his team and, to this point, turn it into a winner.
Texas Tech
So what was Wednesday's loss? A loss to a desperate Oklahoma team that needed a win? A one-off for a Red Raiders team playing its second straight road game? Or a sign of something deeper? The last might be a bit too early to speculate about. What we do know is that what makes this team so good — its unique and consistent size and versatility — can sometimes be its downfall. The fact that the Red Raiders are not a solid 3-point shooting team puts it at a disadvantage when it falls behind like it did against the Sooners. If there's good news for Texas Tech it is this — they've followed up their previous five losses with a win. This team gets up off the mat quickly.
Fun fact
As many Texas Tech and TCU fans know, current TCU forward Micah Peavy played for Texas Tech last year.
Prediction
Texas Tech 73, TCU 63. Mike Miles was a game-time decision against Oklahoma State. I'm making this prediction assuming he'll play. Texas Tech has a versatile rotation and that defense can give the Horned Frogs fits in the paint and on the perimeter. Don't be surprised to see Tech use that token full-court pressure that has yielded good results at times this season. TCU will have a 'let's steal one' mindset, but I think the Red Raiders take care of business.
You can find Matthew Postins on Twitter @PostinsPostcard.