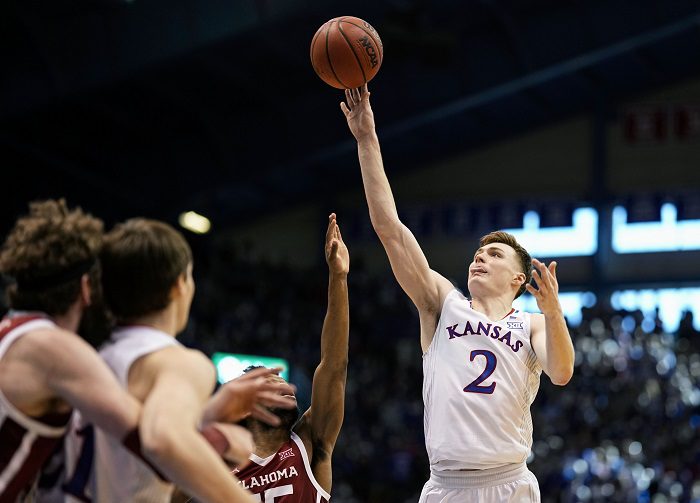 The Kansas Jayhawks defeated the Oklahoma Sooners, 71-69, in a Big 12 men's basketball game at Allen Fieldhouse in Lawrence, Kansas, on Saturday. 
No. 8 Kansas (20-4, 9-2 in Big 12) played a tight one with Oklahoma (14-11, 4-8), just like their first meeting in Norman, Oklahoma, last month, which Kanas won by three points.  
The Jayhawks appeared to have control down the stretch, up by eight points with 1:32 left, before the Sooners had a chance to tie or win on a Jordan Goldwire fadeaway jumper with two seconds left. But, when it didn't fall, Kansas escaped with the win — and remained a game up on the field in the Big 12 standings.  
Jalen Wilson led Kansas with 22 points and nine rebounds. Christian Braun had 18 points and eight rebounds. Ochai Agbaji and David McCormack each scored 11 points, though Agbaji played 38 minutes and McCormack played 18 minutes. Kansas shot 53 percent from the field.  
Oklahoma's Jordan Goldwire ended up leading the Sooners with 20 points. Tanner Groves had 19 points (including four 3-pointers), Elijah Harkless had 12 points and Jalen Hill had 10 points. Oklahoma was attempting to break the longest losing streak of any Big 12 team at a conference venue. But, for the 21st straight time, the Sooners fell at Allen Fieldhouse. 
Here are our three thoughts from the game.  
Welcome Back, Zach 
Kansas freshman Zach Clemence had been out for the past nine games with an injury. His return was well-timed for the Jayhawks on Saturday.  
He played just nine minutes, and he only scored three points. But, that one basket was HUGE — a 3-pointer where the Sooners just left him alone and he gave Kansas the lead for good at the time. It was part of an 15-2 run that allowed the Jayhawks to take control of the game, though the Sooners certainly tested that in the final minute. 
He also had three rebounds. But it was his defense down the stretch on Oklahoma forward Tanner Groves that was his biggest contribution. In place of David McCormack inside, he slowed Groves to a crawl, and up until that point Groves had been the biggest thorn in Kansas' side (and we'll go through that below).  
Clemence did a terrific job of giving the Jayhawks quality minutes on Saturday, most of which you only noticed if you watched the game.  
The Tanner Groves Nightmare (Nearly) Returned 
Back on March 20, 2021, Tanner Groves, then with Eastern Washington, had 35 points, five rebounds and three blocks in the NCAA Tournament against Kansas. The Eagles pushed the Jayhawks to the edge.  
So, when Groves decided to transfer to Oklahoma, the Jayhawks, relatively intact from last season, had a chance to show Groves how things work in Big 12 play. Kansas held Groves to eight points and five rebounds on Jan. 18 in Norman. Kansas probably felt all was right in the world again.  
Then came Saturday and Groves' first — and likely only — visit to Allen Fieldhouse. What is it about that place that brings out the best in everyone? 
Groves had 19 points, four rebounds and five assists for the Sooners. For the first 30 minutes, Groves was the most dangerous player on the floor. Then Clemence came along and slowed him down. Fortunately, Jordan Goldwire picked up the slack late 
Despite the loss, that's the kind of game the Sooners need from Groves every night as they try to stay alive in a quest to reach the NCAA Tournament. Groves just needed to find a way to not disappear in a game where the Sooners clearly had a chance to win. 
Christian Braun's Little Things 
In my game preview I made the point that Kansas guard Christian Braun always seems to one or two 'non-box score' things that helps Kansas win. Now, he had a great game, scoring 18 points and eight rebounds. His late floater helped Kansas build a two-possession lead and showed off his impressive body control off the drive.  
But there was one play that stuck out. With a little more than five minutes left, the Sooners had the ball on their end with two seconds left on the shot clock. Oklahoma was inbounding the ball and needed an open player fast. Kansas had a huge mental lapse and left Elijah Harkless wide open underneath the basket. It was an easy pass and an easy lay-up. Only Braun came down from his assignment and made a clean block of the shot behind Harkless.  
At the moment, it was a big play. Oklahoma could have made it a one-point game. Instead, the Jayhawks went on a mini-run to push their lead to six points.  
It really is the little things in games like that, and few Big 12 players do those little things better than Braun.  
You can find Matthew Postins on Twitter @PostinsPostcard.