Baylor Bears
Baylor vs. Texas Tech Basketball: Preview and Prediction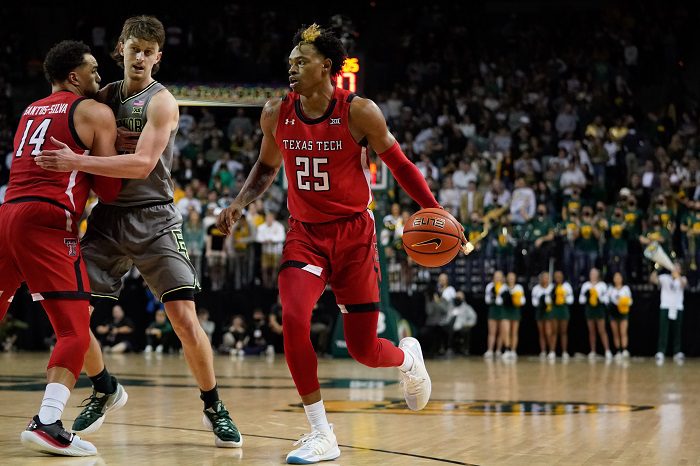 Here is everything you need to know about the Baylor Bears and the Texas Tech Red Raiders in our Baylor vs. Texas Tech Big 12 men's basketball preview.
Game Info
8 p.m. Central Time, Wednesday, Feb. 16, 2022, United Supermarkets Arena, Lubbock, Texas.
TV: ESPN2
Records: Baylor: 20-4 (8-3 in Big 12); Texas Tech: 19-6 (8-4 in Big 12).
Ranking: Baylor: No. 7 (Associated Press); Texas Tech: No. 11 (Associated Press).
Last game: Baylor: def. Texas, 80-63 (Feb. 12); Texas Tech: def. TCU, 82-69 (Feb. 12).
Previous meeting: Texas Tech 65, Baylor 62 (Jan. 11).
Key players
Baylor
F Flo Thamba: The senior is about to see a jump in playing time in the wake of the injury to Jonathan Tchamwa Tchatchoua. For the past two seasons, Thamba and 'Everyday Jon' have worked in tandem, with Thamba starting and Tchamwa Tchatchoua coming off the bench. Because of that, Thamba only plays about 17 minutes per game. On Saturday against Texas he played 30 minutes. Entering the Texas game he averaged 4.8 points and 4.7 rebounds. He has 12 points and 11 rebounds against Texas. The Bears will need more from him, especially on the glass.
G Adam Flagler: He poured in 20 points for the Bears in the win over Texas, with four 3-pointers. He's not shooting at quite the percentage he was a year ago as the Bears' first guard off the bench. But, the fact is he's connected on 12 3-pointers in his last four games and has three games of 20 or more points in Big 12 action. He's averaging right at 13 points per game and when he gets hot from the arc, good luck slowing him down.
F Jeremy Sochan: Without Tchamwa Tchatchoua the Bears used Sochan more as the center on Saturday to give Thamba a bit of time to rest. Sochan ended up with five points and five rebounds before fouling out. The freshman has embraced every role the Bears have given him this season, and NBA scouts will be interested to see how he responds to more time in the paint. He's seen by some teams as a potential first-round pick, if he decides to leave college after this season.
Texas Tech
F Terrence Shannon Jr.: The junior had 20 points against TCU on Saturday, and it was one of his most efficient outings of the season, shooting 7-of-9 from the field and 4-of-5 from the free throw line. It was just his second game of 20 or more points this season, with the other coming against West Virginia. The next step in his progression is to put together that kind of game against a ranked Big 12 team, which he hasn't done yet. But one gets the feeling its coming.
F Bryson Williams: Now that's more like it. Williams had 16 points and four rebounds against TCU, a game after Oklahoma held him to just five points. Since Big 12 play began, the Oklahoma game is the only game in which he's failed to score at least 10 points. The bounce back against TCU gets him back to where the Red Raiders need him for the final few weeks of the regular season.
F Kevin McCullar: He suffered a high-ankle sprain against TCU. He has seven points and an assist against the Horned Frogs, and typically he is one of the Red Raiders' most productive players on the floor, whether it's on offense or defense. If he can't play on Wednesday night, that leaves the Red Raiders without their primary ball handler and their best defender.
Key storylines
Baylor
The Bears' season now hinges on how it can move forward without Jonathan Tchamwa Tchatchoua inside. While the Bears have the talent to do it, they now have to get LJ Cryer back from injury, and a team that at one time looked like one that could go 10 players deep now looks like one that can go about eight. Still, they're eight quality players and the Bears still have the capacity to win the Big 12 regular season title, especially if they're able to sustain the level of play they had against Texas. It's still a tough road, though. Along with Texas Tech, the Bears will have to face Texas and Kansas again.
Texas Tech
If you're Texas Tech, you can't look ahead to Saturday, when the Red Raiders made the trip to Austin to face Texas for the second time this season. Texas Tech is third in the Big 12, and while it's unlikely they can catch Kansas at the top, a win over Baylor would give the Red Raiders a season sweep of the Bears and put them in a tie for second in the Big 12. If you're thinking ahead to next month and the Big 12 Tournament, a second-place finish means playing one of the winners from the first-round games. It could end up being a better draw. Plus, after this week, the Red Raiders have a more forgiving schedule than the Bears. This one is important.
Fun fact
Texas Tech has a 79-59 record in the all-time series and has a 46-21 record at home.
Prediction
Texas Tech 67, Baylor 63. Baylor won't have 'Everyday Jon' and with a high ankle sprain, the Red Raiders are unlikely to have McCullar at full strength, if he plays at all. With both teams dealing with missing players, I suspect the home team has a slight advantage.
You can find Matthew Postins on Twitter @PostinsPostcard.