Baylor Bears
Big 12 Basketball Power Rankings: Kansas Reclaims No. 1 Spot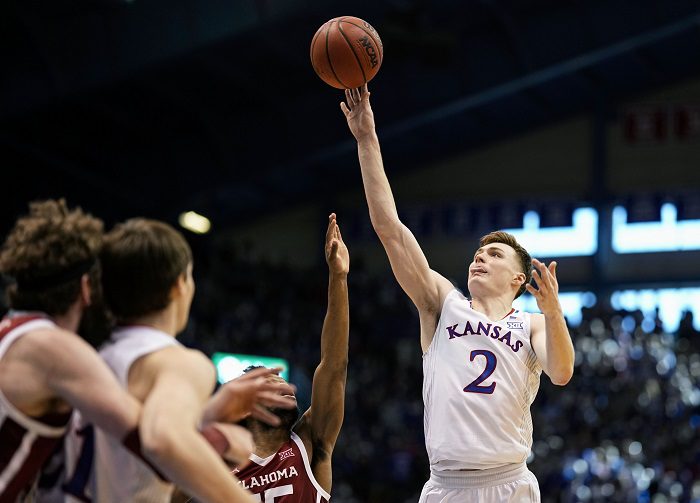 The Kansas Jayhawks moved back to No. 1 in the Heartland College Sports Big 12 men's basketball power rankings after Week 14 of the 2021-22 season.
Our Power Rankings will appear every Monday.
1. KANSAS (20-4, 9-2) (Last Week: 2)
Losses like Texas on the road are going to happen in the Big 12. Near-losses like the one against Oklahoma at Allen Fieldhouse are going to happen, too. Ochai Agbaji seems to have entered a bit of a trough offensively. Fortunately, the Jayhawks have plenty of weapons to help out, chief among them Jalen Wilson. Beware Oklahoma State — the Cowboys have been a kryptonite of recent vintage.
2. TEXAS TECH (19-6, 8-4) (Last Week: 1)
What an interesting week. The Red Raiders go to Norman and lose to a desperate Oklahoma team and then return home and dismantle TCU in the second half (after the Red Raiders fell behind at halftime). Everyone in the Top 4 had a common opponent this week, so you have to look at the quality of the loss as much as the quality of the win. And Tech's loss to OU was definitely worse than Kansas' loss to Texas. Tech has a 'prove it' week against Baylor and Texas, two teams they've already beaten this season.
3. BAYLOR (21-4, 9-3 in Big 12) (Last Week: 4)
A week that Baylor needed, especially the win over Texas at home. Everyone played at a high level for the Bears in that victory over the Longhorns. But the loss of Jonathan Tchamwa Tchatchoua only compounds LJ Cryer's inability to get back on the floor. Head coach Scott Drew has adjustments to make with a rematch against Texas Tech looming.
4. TEXAS (18-7, 7-5) (Last Week: 3)
The Longhorns beat Kansas at home and then fell hard to Baylor on the road. This is a high-level defensive team and a middling, inconsistent offensive team that just doesn't have enough time to figure out the chemistry needed to be consistent at this point in the season. But, at this point, they're the fourth-best team in the league. Texas just has to avoid a downturn because there's ONE team that, at least for now, has the same amount of losses and COULD catch them, though it's unlikely.
5. KANSAS STATE (13-11, 5-7) (Last Week: 5)
Kansas State lost to Baylor, as expected. Then, Kansas State beat Iowa State, coming back from double digits to send the game to overtime and then winning in overtime. It now sounds like the Wildcats are a borderline NCAA Tournament team, per ESPN's Joe Lunardi. You read that and it seems bizarre, but no Big 12 team has played more one-possession games in Big 12 play and the Wildcats have five Quad 1 wins.
6. TCU (16-6, 5-5 in Big 12) (Last Week: 6)
That win over Oklahoma State was solid. That loss to Texas Tech, especially that second half, was ugly. And Mike Miles was back, too. The Horned Frogs are about to enter a real tough stretch that could make or break their NCAA Tournament hopes. The Horned Frogs are not yet a lock for March Madness.
7. OKLAHOMA (14-11, 4-8) (Last Week: 9)
The Sooners got a great win over Texas Tech, and they could have — and perhaps should have — made it two straight wins over Top 10 teams before losing to Kansas. The Sooners are fighting for their NCAA Tournament lives, and this week presents more opportunities to build their case, starting with Texas on Tuesday.
8. OKLAHOMA STATE (12-12, 5-7) (Last Week: 8)
For a team that doesn't have anything to play for, these Cowboys keep playing hard. OSU split for the week, with a loss to TCU and a win over West Virginia. Up next? Kansas, a team they seem to befuddle at least once per season.
9. WEST VIRGINIA (14-10, 3-8) (Last Week: 10)
The Mountaineers split for the week, beating Iowa State at home to break their long losing skid and then falling hard to Oklahoma State on the road. What does head coach Bob Huggins do at this point? That's anyone's guess. Games with Kansas State and Kansas await this week. The Mountaineers feel more and more like an NIT team these days, but there is opportunity to influence the NCAA Tournament committee.
10. IOWA STATE (16-9, 3-9) (Last Week: 7)
The Cyclones fall all the way to the bottom with two losses to West Virginia and Kansas State. I like what the Cyclones did moving Aljac Kunz into the starting lineup in Saturday's game. Perhaps that yields some results down the line. I'm not that concerned about the Cyclones' NCAA Tournament hopes, given they have seven Quad 1 wins. But getting to 20 wins by March 13 would leave me less concerned.
You can find Matthew Postins on Twitter @PostinsPostcard.