Baylor Bears
Five Takeaways from Week 14 of the Big 12 Men's Basketball Season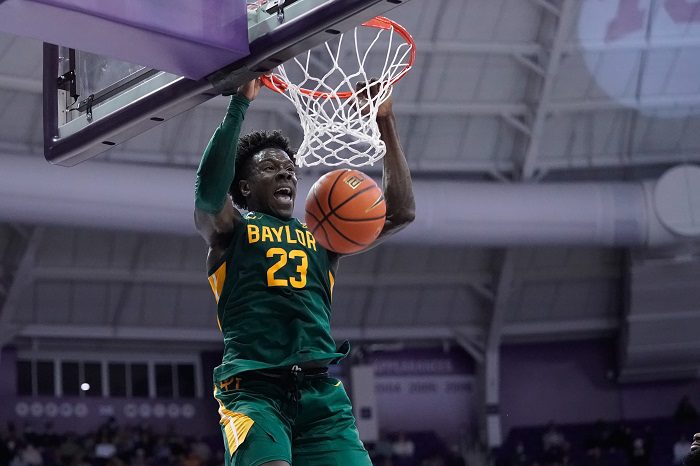 The Big 12 Conference is done with Week 14 of the 2021-22 men's basketball season. So let's dive in and check out our five takeaways for the week.
Baylor Without 'Everyday Jon'
The loss of forward Jonathan Tchamwa Tchatchoua is a big one for Baylor. He's not your traditional big man. But he fits what Baylor wants perfectly. He doesn't need the ball in his hands to make things happen. He does all the little things you want your players in the paint to do. And, he's as respected a player on the roster.
That's what makes his injury so difficult for Baylor moving forward. He's this season's Mark Vital. He does a lot of the non-box score things Vital did last year. But, JTT developed into a better scorer this year and was averaging nearly 10 points per game.
In the moment on Saturday, Baylor pushed ahead and won by 17 over Texas. But teams tend to do that in the moment. Now, what does Baylor do, beginning with Wednesday's game at Texas Tech?
First, more Flo Thamba. We got that on Saturday. He played 30 minutes against Texas and had a double-double. Thamba has played in a tandem with JTT the last two years, so I'm not sure that Thamba's production from Saturday is sustainable. My guess is he'll be playing closer to 25 minutes per game now, and not the 17 he's used to. Can he handle that? This is a player head coach Scott Drew was really high on three years ago when I first asked him about Thamba (Drew seemed either legitimately surprised or impressed that I knew who Thamba was). He thought Thamba had a huge ceiling. It's time to see if that's the case.
Next, more Jeremy Sochan and Kendall Brown inside. Drew used Sochan at the 'five' on Saturday, so you can expect more of that. Sochan has a leaner body, but he showed some toughness inside on Saturday. Brown is better on the wing, honestly. But, he's going to have to log some time inside on defense. He just needs to hold his ground and then crash the glass.
Third, keep the guards productive. Adam Flagler and James Akinjo had great games against Texas. Dale Bonner gave them quality minutes. The Bears are hoping that LJ Cryer, their best 3-point shooter this season, can return soon. Last year's team was built around quality perimeter play, and they have the tools to do that.
Finally, it's time for Matthew Mayer to play like the NBA Draft pick some project him to be. He's going to get extra minutes. It's time for him to be more valuable.
It's not about ONE player bridging the gap without 'Everyday Jon.' It's the whole team. It's about being adaptive and not being afraid to try new things to figure out the path forward. Fortunately, Drew is a coach that isn't afraid to adjust. I mean, just a few years ago you couldn't get his team out of a 1-3-1 zone. Now, they barely play any zone.
The Big 12's Ides of March
I think it's safe to say that Baylor, Kansas, Texas, and Texas Tech are in the NCAA Tournament. From there, it's ANYONE'S guess.
The remaining five teams — Iowa State, Kansas State, Oklahoma, TCU, and West Virginia — are all, curiously, better than .500 overall, but .500 or worse in Big 12 play. Their overall records, plus their NCAA NET ratings — helped by their Big 12 brethren — are going to keep them in the race for March Madness as long as they remain .500 or better.
All five of these teams have at least three games left against each other. Plus, three of them have at least one game left against Oklahoma State, which can't play in the postseason but seems to have no problem mucking up the works (ask West Virginia). Right now, the Big 12 feels like a seven-bid league, no matter who claims the last three spots.
But no two teams could have more of a bearing on what happens than TCU and West Virginia. Why? Two reasons.
First, TCU and West Virginia have to play each other twice down the stretch, thanks in part to rescheduled games due to TCU's earlier COVID-19 pause. I see a sweep by either as unlikely, but what if one does sweep the other? It's fascinating to think about, especially if you're WVU and you're sitting on 14 overall wins, whereas TCU has 16 at the moment.
Second, TCU and WVU are a game, or even two games, behind the field, due to the pause. Both have stretches remaining where they'll have to play three games in a week. TCU's final stretch is brutal — six games in 13 days, bookended with games against WVU. TCU also has to play Kansas twice in three days. From Feb. 19 to Feb. 26, WVU plays four games in eight days.
Amid all of this is the understanding that the Big 12 teams' NCAA NET ratings range from No. 6 (Baylor) to West Virginia (No. 69) as of Sunday. So, basically, every game in the Big 12 is a Quad 1 game, home or road. It's one of the reasons I still believe that Iowa State will make it to the NCAA Tournament (the Cyclones have seven Quad 1 wins right now) and it's why Kansas State remains a bubble team in the eyes of some (the Wildcats have five Quad 1 wins).
That's also the biggest differentiator between TCU and WVU at the moment. TCU has four Quad 1 wins. WVU has two.
So, if you're looking for some great, desperate basketball the next few weeks, look no further than the bottom half of the standings. Everyone is STILL playing for something.
Baylor's Future
Keyonte George paid the Bears a visit on Saturday.
The Baylor Class of 2022 signee is the No. 4 recruit in the country. He scored 40 points in a game for IMG Academy the other night. Next season is scary to think about if you're the Big 12 because the Bears can pair him with Langston Love, who is out of the season with an ACL tear, along with Kendall Brown and Jeremy Sochan, assuming the NBA doesn't tempt them. Oh, and LJ Cryer. The Bears are gonna be fine, folks.
Pack's Latest Milestone
Kansas State guard Nijel Pack is having an All-Big 12 First Team selection kind of season. During the Wildcats' mid-week loss, Pack broke a school record.
And then, against Iowa State, he extended the streak to 27 games.
By the way, he is now tied for the scoring lead in Big 12 games with Kansas guard Ochai Agbaji at 19.8 points per game.
I don't have a vote, but I do put together an All-Big 12 team for this site and there's no question in my mind that unless something insane happens the next few weeks that Pack will be on the first team.
Three Games That Intrigue Me This Week
Oklahoma State at Kansas, Monday: It doesn't matter how good or bad these teams are, there's just something about this game that allows OSU to give KU fits.
Baylor at Texas Tech, Wednesday: It will be Baylor's first test without JTT. Will LJ Cryer be back?
Texas Tech at Texas, Saturday: Oh, so THIS is happening again?
You can find Matthew Postins on Twitter @PostinsPostcard.