Baylor Bears
Iowa State, Baylor Comfortably in Top Ten of Women's AP Top 25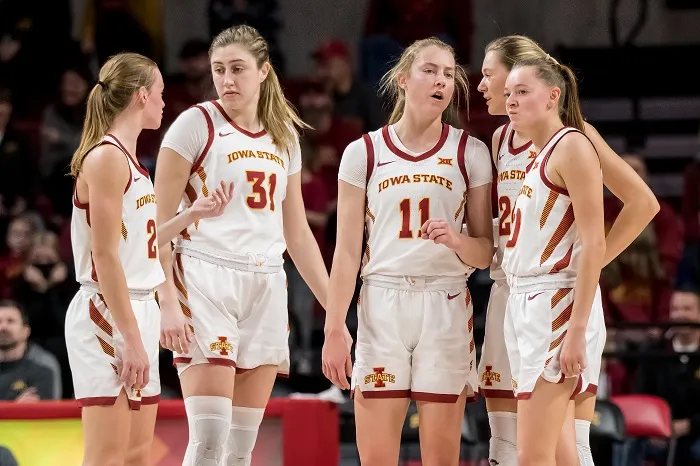 The Iowa State Cyclones and the Baylor Bears are back-to-back in the Top 10 of the newest AP Top 25 Women's Basketball Top 25 released on Monday.
Two other Big 12 teams were in the Top 25, while one other received votes.
The ranked Big 12 teams include:
Iowa State at No. 6 (the Cyclones were No. 9 last week).
Baylor at No. 7 (the Bears were No. 10 last week).
Texas at No. 14 (the Longhorns were No. 16 last week).
Oklahoma at No. 15 (the Sooners were No. 12 last week).
Kansas received 18 votes.
Iowa State (21-3, 10-2) played just one game last week, and it was a relatively easy win over TCU, 93-70. Now, the Cyclones have a big week ahead against two ranked teams, a stretch that could determine whether the Cyclones have a chance to win or share the Big 12 regular-season title. Iowa State will be at Texas on Wednesday and then host Oklahoma on Saturday.
Baylor (18-5, 8-3) won both of its games last week, beating Kansas State, 95-50, and West Virginia, 75-57. Baylor plays TCU twice this week, with games in Waco on Wednesday and in Fort Worth on Saturday.
Oklahoma (20-4, 9-3) lost its only game of last week, falling to Texas, 78-63. That loss snapped a four-game winning streak. The Sooners start the week by hosting Texas Tech on Wednesday, followed by the aforementioned road tilt with the Iowa State Cyclones on Saturday.
Texas (17-6, 7-5) broke a three-game losing streak with two wins last week, a 61-56 win over Texas Tech and its 78-63 win over Oklahoma. The Longhorns host Iowa State on Wednesday and then travel to West Virginia for a contest on Sunday.
The entire poll featured No. 1 South Carolina, No. 2 Stanford, No. 3 Louisville, No. 4 NC State, No. 5 Indiana, No. 6 Iowa State, No. 7 Baylor, No. 8 Arizona, No. 9 Michigan, No. 10 UConn, No. 11 LSU, No. 12 Tennessee, No. 13 Maryland, No. 14 Texas, No. 15 Oklahoma, No. 16 Georgia Tech, No 17 Florida, No. 18 Ohio State, No. 19 Notre Dame, No. 20 BYU, No. 21 Georgia, No. 22 Iowa, No. 23 Virginia Tech, No. 24 North Carolina and No. 25 Florida Gulf Coast.
You can find Matthew Postins on Twitter @PostinsPostcard.