Baylor Bears
Kansas Leads Four Big 12 Teams in AP Men's Top 25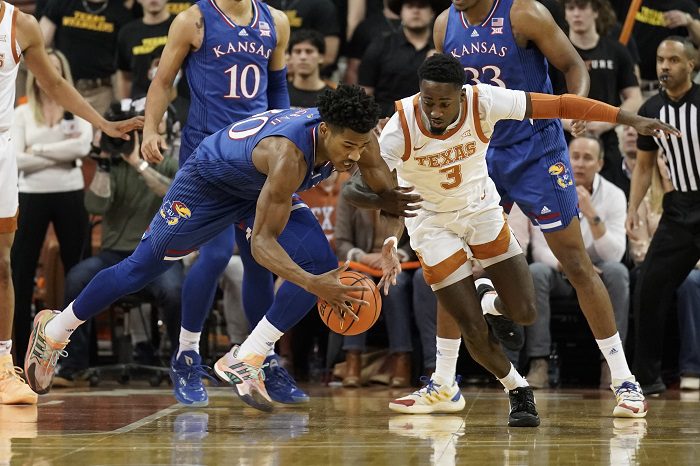 Four Big 12 teams, led by Kansas and Baylor, are among the Top 20 teams in the Associated Press Men's Basketball Top 25, released on Monday.
Meanwhile, No other Big 12 teams are receiving votes.
The AP Top 25 included the following Big 12 teams:
No. 6 Kansas (The Jayhawks were No. 8 last week).
No. 7 Baylor (the Bears were No. 10 last week).
No. 11 Texas Tech (The Red Raiders were No. 9 last week).
No. 20 Texas (The Longhorns were No. 20 last week).
Kansas (20-3, 9-2 in Big 12) remains in the lead in the Big 12 despite a 79-76 loss to Texas last Monday. The Jayhawks followed that up with a 71-69 victory over Oklahoma at home. The Jayhawks prepare to host Oklahoma State on Monday, followed by a road trip to West Virginia on Saturday.
Baylor (21-4, 9-3) is in second place in the Big 12 but picked up a game after a 2-0 week in which the Bears defeated Kansas State, 75-60, and Texas, 80-63. Baylor lost forward Jonathan Tchamwa Tchatchoua in the Texas game. The Bears are at Lubbock on Wednesday to face Texas Tech, followed by a Saturday home game with TCU.
Texas Tech (19-6, 8-4) split its games last week, falling to Oklahoma, 70-55, and then beating TCU, 82-69. The Red Raiders have two more big matchups this week. They host Baylor on Wednesday and then travels to Texas on Saturday for a renewal of that rivalry.
Texas (18-7, 7-5) started last week with its 79-76 victory over Kansas at the Erwin Center, one that appeared to signal that Texas had figured things out offensively. But that positivity was short-lived, as the Longhorns fell to Baylor, 80-63, on the road. Texas is at Oklahoma on Tuesday and then hosts Texas Tech on Saturday.
The entire poll featured No. 1 Gonzaga, No. 2. Auburn, No. 3 Arizona, No. 4 Kentucky, No. 5 Purdue, No. 6 Kansas, No. 7 Baylor, No. 8 Providence, No. 9 Duke, No. 10 Villanova, No. 11 Texas Tech, No. 12 Illinois, No. 13 UCLA, No. 14 Houston, No. 15 Wisconsin, No. 16 Tennessee, No. 17 USC, No. 18 Ohio State, No. 19 Michigan State, No. 20 Texas, No. 21 Murray State, No. 22 Wyoming, No. 23 Arkansas, No. 24 UConn and No. 25 Alabama.
You can find Matthew Postins on Twitter @PostinsPostcard.