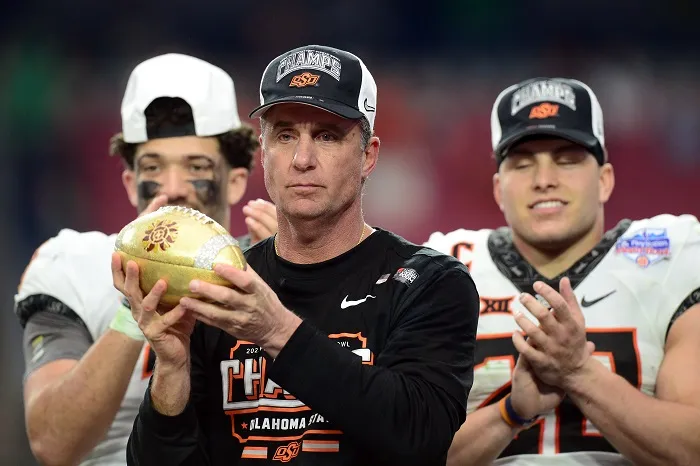 After Super Bowl Sunday, we are now officially in full offseason football mode. Of course, for college football fans, the offseason started over a month ago after the College Football Championship game.
With the offseason comes desperate hot takes, and flashy headlines to get that precious click. I admit that I am guilty of that myself during the heat of the summer, but I at least try and put some logic into my takes to make them believable.
Last week I happened to be scrolling through Twitter and saw that 247Sports released their top 15 college football coaches.
While I don't agree with the list, I must say that at least somebody was brave enough to put their name on their work instead of hiding behind 247Sports. For that, I will show some respect, however, there is one Big 12 head coach who should be added to this top 15 list and his name is Mike Gundy.
Gundy took over the reins at Oklahoma State back in 2005 and has been in charge ever since. In fact, he has been in Stillwater so long that Iowa head coach Kirk Ferentz (No. 15) is the only FBS coach in the country who has been at a school longer than he has.
Iowa State head coach Matt Campbell is on the list at 14, and while he has done an impressive job turning around the ISU program, I am a little shocked to see him here ahead of Gundy. The Cowboys' head coach did the exact same thing over a decade ago in Stillwater and has created a new standard at Oklahoma State.
Keep in mind that when Gundy took over back in 2005, Oklahoma State football was not what it is today. Back then they were lucky to go to a bowl game and now if Oklahoma State doesn't make one, Mike would be on the hot seat faster than you could say hot seat.
Over the last seven seasons, Mike Gundy has won at least ten games four times. Last season, Oklahoma State finished the regular season with an 11-1 record and played in the conference title game. While they fell short, they did win the Fiesta Bowl to get to 12 wins.
Meanwhile, look at a coach like James Franklin who now coaches at a blueblood program like Penn State. He has been there for eight full seasons and has won ten or more games just three times. What about Mark Stoops who has been at Kentucky for nine years? He has won ten games just twice during his time in Lexington. While I understand that Oklahoma State is a better program, keep in mind who built it in the first place: Gundy did.
I could go on about this topic but there was another coach who I was surprised to see in the top ten. That of course was Baylor head coach Dave Aranda. Look, I think Dave is a solid coach and he is getting plenty of love because he just led the Bears to a Big 12 championship but maybe it is a bit premature to throw him into the top ten and ahead of Mike Gundy. I am not hating on the man by any means, but I don't want to put too much stock into one season and the man has been a head coach for only two years. 
To some, leaving Gundy off this list may not mean much, but to me, it is a complete joke. Oklahoma State is fresh off a 12-win season and was about a yard shy of playing in the college football playoff. The program in Stillwater isn't dead and hasn't been skipping a beat. They are here to stay and so is the man who built that program from the ground up.
Oklahoma State isn't a school that sends ten players to the NFL every year or gets all the five-star recruits, yet they continue to be one of the most consistent programs in all of college football. Why? Because Mike Gundy is a damn good football coach and sometimes people forget about where the program was before he got there. Mike Gundy isn't just the head coach at Oklahoma State, he is Oklahoma State football and with the conference changing things up, the Cowboys look to be one of the powers of the new-look Big 12.