Baylor Bears
Baylor Finalizes New Contract With Football Coach Dave Aranda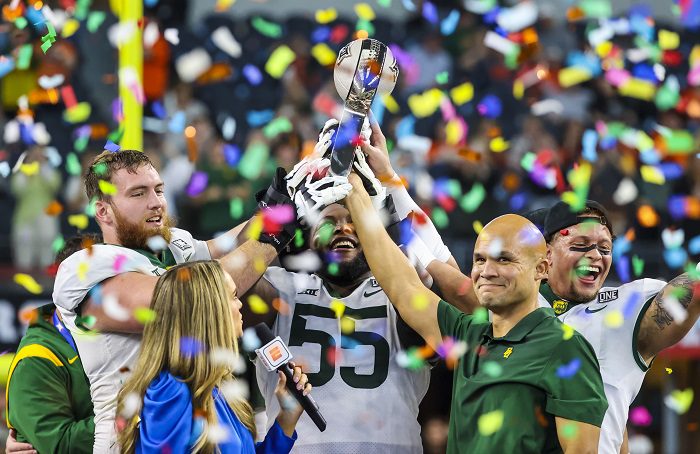 The Baylor Bears have extended football coach Dave Aranda, in an announcement from the University on Tuesday morning.
The new deal extends Aranda through 2029, but since Baylor is a private institution, financial terms of the deal were not disclosed.
"My family and I are truly appreciative of the tremendous support we have received from Mack, President Livingstone, and the entire Waco community," Aranda said. "We are both incredibly grateful and proud to call Baylor our home. I look forward to continuing the work we've started on and off the field in the years to come."
Aranda took over from Matt Rhule, who left for the Carolina Panthers after the 2019 season. He had a tough first season with the Bears, going 2-7, but then led Baylor to wins in the 2021 Big 12 Championship and the Sugar Bowl, finishing with a 12-2 record, the most wins in program history. This all comes despite Baylor being picked to finish eighth in the conference in the preseason media poll.
Meantime, Director of Athletics Mack Rhoades said, "I am incredibly grateful for Dave's outstanding leadership of our football program and student-athletes through his commitment to Preparing Champions for Life. Dave has brought unprecedented success to our football program both on and off the field. He has brought tremendous national exposure and acclaim to our institution and the greater Waco community. We look forward to the future with Dave, his wife, Dione, and their children and the continued growth of our football program, student-athletes, and fan support under his exceptional leadership. Dave is, without question, one of the most brilliant minds in college football across the country."
Under Aranda, Baylor has also received 10 All-America honors from the five publications with cornerback Jalen Pitre leading the way.
Aranda and the Bears begin their defense of their Big 12 Championship by opening up the 2022 season by hosting Albany on Saturday, Sept. 3.