Baylor Bears
Big 12 Women's Basketball Power Rankings: Baylor Rises, Oklahoma Falls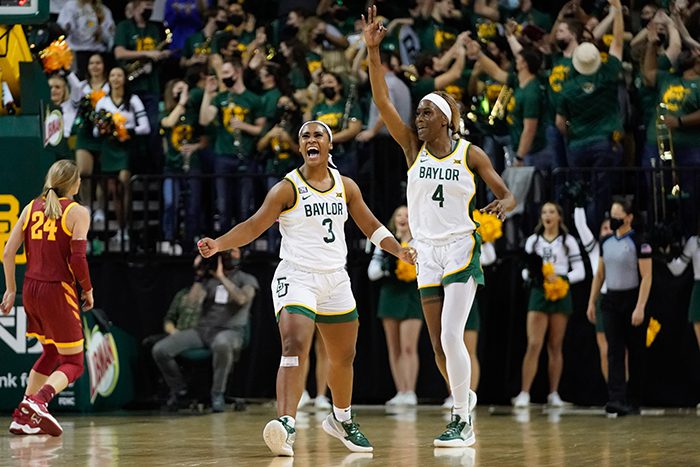 The Baylor Bears move to No. 1 in the Heartland College Sports Big 12 women's basketball power rankings for Feb. 15. Our Power Rankings will appear every Tuesday. 
1. BAYLOR (19-5, 9-3; Last Week: 2) 
Baylor has now won nine of its last 10 games, with the only loss a one-point loss to Oklahoma. The starting five has finally found a groove, and the Bears are getting what they can out of their bench. The rest of Baylor's schedule looks very manageable, with just one ranked opponent ahead — Iowa State.  
2. IOWA STATE (21-3, 10-2; Last Week: 3) 
Iowa State returned after a week off and handled TCU easily, 93-70. That's what an expected No. 2 seed in the NCAA Tournament should do. Now, it's a big week for Iowa State, perhaps its biggest of the season to this point — Wednesday at Texas and Saturday at home against Oklahoma.  
3. TEXAS (17-6, 7-5 in Big 12; Last Week: 6) 
After a three-game losing streak, the Longhorns bounced back with wins over Texas Tech and, more importantly, Oklahoma, giving Texas its fourth win over a ranked team this season. It was the most impressive offensively the Longhorns have looked in more than a month. And it comes at an opportune time with Iowa State coming to town on Wednesday.  
4. OKLAHOMA (20-4, 9-3) (Last Week: 1) 
The Sooners had a week off before facing Texas on Saturday and then … the Sooners had a complete power outage in the second half of their loss to the Longhorns. Texas held the Sooners 25 points below their season average. Now, they're a game back with six league games left to play. The Sooners get a shot at Iowa State on Saturday. 
5. KANSAS (17-5, 8-4; Last Week: 5) 
Since the Jayhawks' loss to Iowa State, they've won five straight games, with the last coming against its in-state rival, Kansas State. With West Virginia and Texas Tech ahead, Kansas could edge closer to 20 wins. While Kansas still has games against four ranked teams ahead, it looks like a NCAA Tournament team.  
6. KANSAS STATE (17-8, 7-6; Last Week: 4) 
Kansas State lost both games last week, and the Wildcats have now lost four of their last six games since reaching the AP Top 25 for the second time this season. The Wildcats are in a slide, and they're going to have to fight through it with Oklahoma State, Texas and Oklahoma ahead.  
7. OKLAHOMA STATE (8-14, 3-10; Last Week: 10) 
Finally, some good news for the Cowgirls, as they beat TCU and Texas Tech last week to get out of last place in the power rankings.  
8. WEST VIRGINIA (11-11, 4-8; Last Week: 7) 
The Mountaineers suffered two losses last week to Kansas and Baylor. Without KK Deans, WVU is still trying to figure things out. Can they find a way to win enough games to stay at .500 or better?  
9. TEXAS TECH (9-14, 2-10; Last Week: 9) 
The Lady Raiders have now lost seven straight. Vivian Gray is putting together great games every night, and so is Taylah Thomas. But the Lady Raiders haven't been able to get over the hump of winning a game in nearly a month.  
10. TCU (6-15, 2-10; Last Week: 8) 
TCU took a pair of huge hits against Oklahoma State and Iowa State last week. At this point, the Horned Frogs are trying to avoid being the No. 10 seed in the Big 12 Tournament next month.   
You can find Matthew Postins on Twitter @PostinsPostcard.