Big 12 News
Iowa State, Oklahoma No. 2 Seeds in Latest NCAA Women's Bracketology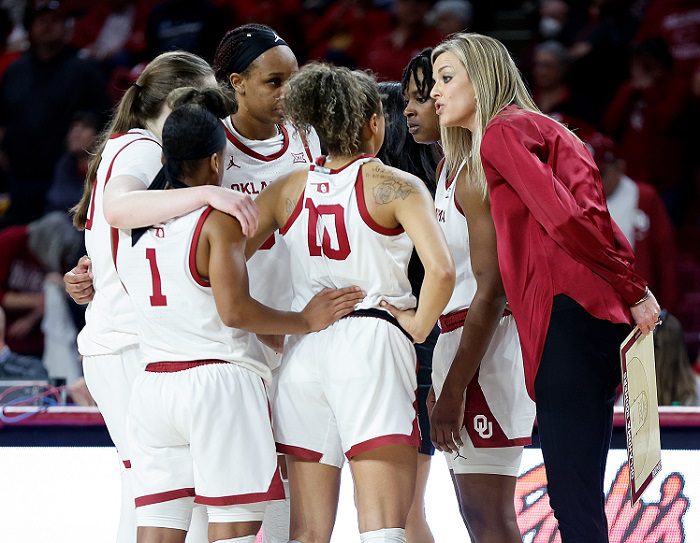 Iowa State and Oklahoma are both No. 2 seeds in the NCAA Women's Basketball Tournament in ESPN's latest Bracketology, released on Tuesday.
This is a big week for Iowa State, which faces Texas on Wednesday and Oklahoma on Saturday. Winning both games would probably lock the Cyclones into a No. 2 seed, regardless of what happens the rest of the way. It would certainly give them more control of their destiny in the Big 12 regular-season race, too.
More curious is Oklahoma, which moved up a seed line despite losing to Texas on Saturday. Baylor and Texas have remained Top 4 seeds going into the mid-week games. 
The Big 12 held steady with six teams in the projected field. The SEC now leads with nine teams tournament, while the ACC has eight teams and the Pac 12 has seven teams. The Big Ten also has six each.
Other Takeaways
Moving up: Oklahoma moved up to a No. 2 seed. But Kansas, which is on a five-game winning streak, moved up to a No. 9 seed.
Moving down: Kansas State, which just a few weeks ago was a Top 4 seed, is now a No. 7 as they have lost three of their last four games and have the week off before their next game on Saturday.
Holding steady: Baylor, Iowa State and Texas all held steady at the same seeds they were at in the last update on Friday.
How the bracket looks for the Big 12 as of Feb. 15:
Bridgeport Region
No. 2 Iowa State vs. No. 15 Holy Cross
Greensboro Region
No. 2 Oklahoma vs. Mercer
Wichita Region
No. 4 Texas vs. No. 13 UNLV
No. 7 Kansas State vs. No. 10 Duke
Spokane Region
No. 3 Baylor vs. No. 14 Illinois State
No. 9 Kansas vs. No. 8 UCF
Future Big 12 members
Wichita Region
No. 5 BYU vs. No. 12 Boston College/Oregon State winner
Spokane Region
No. 9 Kansas vs. No. 8 UCFYou can find Matthew Postins on Twitter @PostinsPostcard.