Big 12 News
Three Big 12 Teams Remain in Top 10 of USA Softball Top-25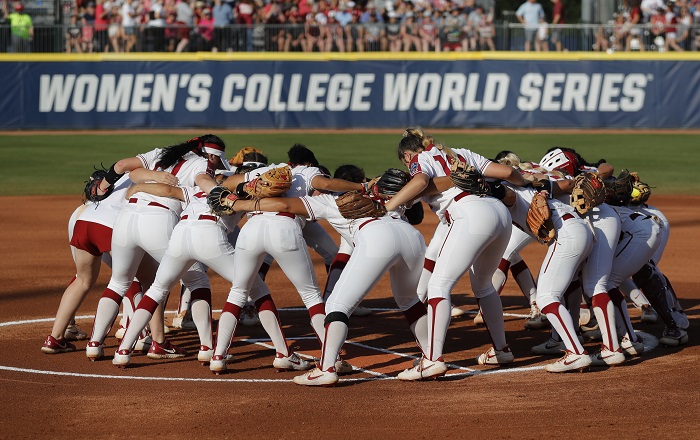 We have one weekend of College Softball under our belts and the field has changed just a bit after the first tournaments of the year wrapped up.
USA Softball dropped the first Top 25 Poll on Tuesday, and the top three of Oklahoma, Alabama, and UCLA remained the same.
Oklahoma was absolutely dominant in their first five games, outscoring their first five opponents by a combined score of 40-1. One of those opponents was No. 3 UCLA who the Sooners beat 4-1 on Saturday night.
True freshman Jordyn Bahl got the start against the Bruins and dazzled with a 14-strikeout effort in the first complete game of her career. Her effort in that game earned her National Pitcher of the Week honors.
Oklahoma State had a bit of a hiccup in game two of the 2022 season, dropping the contest 4-0 to then 18th-ranked Duke. The Blue Devils moved to 14th after their impressive win over the Cowgirls, but OSU didn't fall too far. After rattling off three straight wins to finish their weekend at 4-1, OSU comes in at No 7 this week.
Probably the most shocking upset of the weekend was the Texas Longhorns dropping a game to Florida Gulf Coast, losing 6-4 on Friday. However, the Longhorns rallied to finish their weekend strong, including a 10-2 revenge win over FGCU. Texas is now ranked ninth, dropping just one spot after starting the season ranked eighth.
No other team in the Big 12 is ranked, but it is worth noting that Iowa State did receive one vote after beginning their season 4-1.
The entire Top 25 is as follows, courtesy of USA Softball:
Oklahoma (5-0)
Alabama (4-0)
UCLA (4-1)
Florida (4-0)
Washington (5-0)
Florida State (4-0)
Oklahoma State (4-1)
Virginia Tech (5-0)
Texas (4-1)
Arkansas (3-2)
Arizona (3-1)
Clemson (3-1)
Oregon (5-0)
Duke (4-1)
Tennessee (4-0)
Michigan (3-2)
Missouri (3-2)
Georgia (5-1)
Kentucky (4-1)
Louisiana (5-0)
Arizona State (3-2)
LSU (4-2)
Northwestern (4-1)
UCF (3-1)
Auburn (5-0)