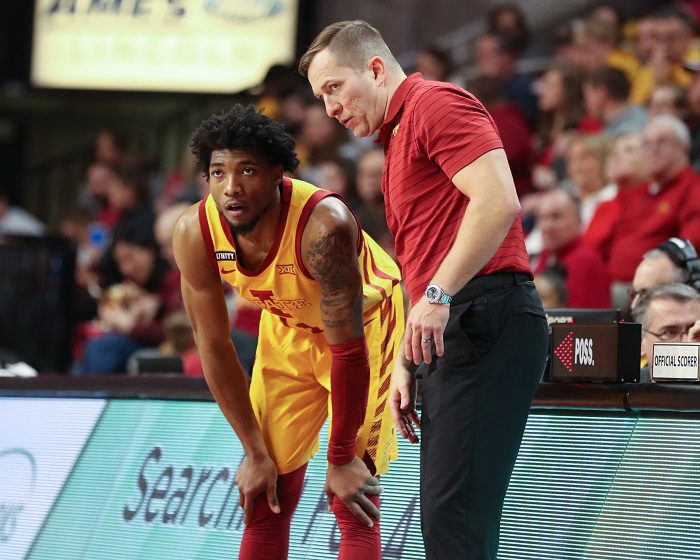 The Iowa State Cyclones defeated the TCU Horned Frogs, 54-51, in a Big 12 men's basketball game at Schollmaier Arena in Fort Worth, Texas, on Tuesday.
Iowa State (17-9, 4-9 in Big 12) snapped a three-game losing streak with the victory, as Izaiah Brockington led the way with 20 points, seven rebounds and three steals. Tyrese Hunter added 15 points. The final margin of victory was the Cyclones' biggest lead of the game.
TCU (16-7, 5-6) was led by Eddie Lampkin, who had 16 points, and Emanuel Miller, who had 14 points. The Cyclones held TCU guard Mike Miles, the Horned Frogs' leading scorer, to just three points and no field goals.
Here are our three thoughts from the game.
Tyrese Keeps Rising
Iowa State's Tyrese Hunter is already a quality guard in the Big 12. To me he's the favorite to be the Big 12 Freshman of the Year. But when you start looking ahead to next season, I see a star on the rise.
Hunter finished with 15 points and three assists on Tuesday. Right now, he's had to adjust to scoring at the college level and managing the offense as the point guard. That's a heady transition for any first-year college player, and Hunter has done it the right way. When I watched him earlier this season, it was clear he was more focused on running the offense properly than looking for his shot, especially as Izaiah Brockington and Gabe Kalscheur were off to hot starts.
Now, he's looking for his shot and to pass in equal measure. I think he's made that progression a bit quicker than I expected. Next year, when Brockington is gone, Hunter becomes this team's No. 1 scoring option, in part because he'll have the ball in his hands every possession and I think he'll improve his shot, especially from the 3-point line. The key at that point will be to make sure he has the players around him so he can keep dishing out assists.
But if I'm putting together an All-Big 12 Preseason First Team next fall, Hunter is on my short list.
Bracketology Thoughts
Entering the game, both ESPN and CBS had updated their Bracketology fields. ESPN had Iowa State clearly on the bubble as one of the last four teams in and playing in a 'First Four' game. CBS had Iowa State solidly in the field as a No. 9 seed. TCU was a No. 9 seed at ESPN and a No. 7 seed at CBS.
So how did Tuesday's result impact things?
For Iowa State, beating TCU was its eighth Quad 1 win, one of the more significant metrics to determine the 68-team field. Much has been made the past few days about Iowa State being in last place in the Big 12. Well, I wrote on Monday that every game in Big 12 play is a Quad 1 or a Quad 2 game, so there are chances for Iowa State to improve its case. But the committee created the Quad system in the NET rating for a reason — to better recognize quality wins, both home and road. Iowa State was one of three teams as of Tuesday night with eight or more Quad 1 wins.
The other two? Baylor and Kansas. If Iowa State reaches 20 wins, I don't care about their conference record, and the committee shouldn't either.
For TCU, this was a tough loss, even though it would have only been a Quad 2 win for the Horned Frogs. They have to find ways to steal some wins because they only have four Quad 1 wins right now. Like Iowa State, I think if TCU can get to 20 wins, they'll make it into the NCAA Tournament. Plus, I wrote earlier this week that TCU and West Virginia will have the most influence on which of these bubble teams make the field because they have more games remaining against the field, including two against each other.
The Horned Frogs have to stay on it. But, like the Cyclones, they have a bit of a cushion because of their good overall record.
Eddie Lampkin's Moment
One of the under-the-radar stories around TCU basketball entering the season was the physical transformation of Eddie Lampkin, the Horned Frogs' 6-foot-11 center who didn't have much of an impact last season. He was listed at 295 pounds, so in the offseason TCU challenged him to transform his body, and he did. Now, listed at 268 pounds, Lampkin's game is really starting to come around.
Going into Tuesday's game he had averaged 10 points and nine rebounds in his last four games. Against Iowa State he had 16 points and nine rebounds, the former a career high. With 4:01 left Lampkin drove Iowa State's George Conditt IV to the basket, finished off the layup and then gave the 'Jordan Shrug' to a teammate as they went to the media time out.
I'm not sure if Lampkin knew he had that in him. But it's clear his transformation has allowed him to be a bigger contributor for TCU this season and beyond. He's a bit different from the typical Big 12 big man these days, who are usually more mobile and don't play with their back to the basket as often. His game is more old school, but he has a good feel for getting behind defenders and working his way into rebounding position without drawing fouls.
There is plenty of evidence to suggest his game is rounding into what TCU had hoped for at the start of the season.
You can find Matthew Postins on Twitter @PostinsPostcard.