Baylor Bears
Top Five From Week 14 of Big 12 Women's Basketball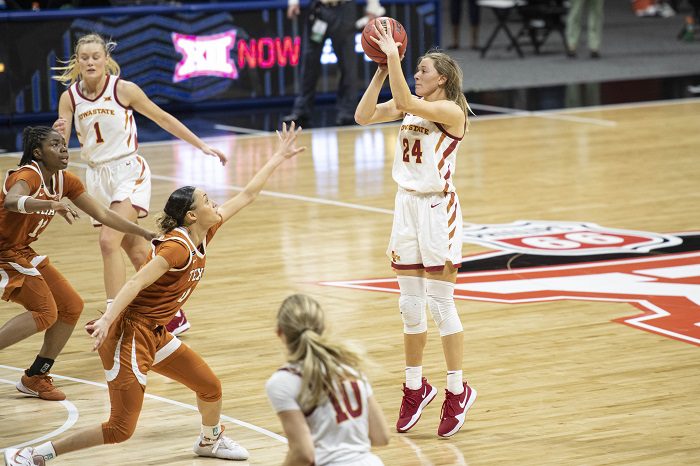 The Big 12 Conference is done with Week 14 of the 2021-22 women's basketball season. So let's dive in and check out our five takeaways for the week.  
Iowa State's Big Week, Part 2 
About a month ago, I wrote here that Iowa State faced a big week ahead. At the time, the Cyclones were undefeated in the Big 12 and were preparing to face Texas and Baylor back-to-back. It was their opportunity to test themselves against who most saw as the league's top two teams.  
Then, of course, Ashley and Aubrey Joens went into COVID-19 protocols. Both missed the Texas game, and the Cyclones lost by double digits. Ashley Joens returned and played in the Baylor game, but the Cyclones lost that game, too.  
Now, it's a month later, and the Cyclones face another big week once again. The Cyclones face Texas on Wednesday and then face Oklahoma on Saturday.  
Sure, Texas is well behind Iowa State in the Big 12 standings, but with the Cyclones now at the top of the Big 12 after Texas defeated Oklahoma on Saturday, and with Baylor just a game back, a loss to Texas would put the Cyclones in a real bind going into the game with the Sooners, whom the Cyclones beat in their first meeting more than a month ago.  
With one more meeting with Baylor ahead, the Cyclones need to win at least one of these games. Winning both puts them on a track where they could at least earn a share the Big 12 crown for the first time since 2000.  
Ashley Joens Record Check 
Time for some math as we check in on Iowa State's Ashley Joens and her pursuit of the Cyclones' all-time scoring record (as of Feb. 14): 
Career Points Scored in Iowa State History: 
1. Angie Welle (1999-02) — 2,149 
2. Bridget Carleton (2016-19) — 2,142 
3. Ashley Joens (2019-present) — 2,138 
Points remaining to pass Welle — 12 
Hate to tell the folks up in Ames, but history will probably happen in Austin, Texas, on Wednesday night in a Top 25 matchup where the Cyclones want to avoid a sweep by the Longhorns. Her huge game against TCU (32 points) on Saturday nearly assures it.  
The sad part? It's a matchup of Top 15 teams that will be on the Longhorn Network. So good luck getting to see it.
The Big 12's Top 4 
The NCAA Tournament Selection Committee released its Top 16 teams last Thursday and, for the second straight time, the Big 12 found itself with four teams in the Top 16 — Baylor, Iowa State, Oklahoma and Texas. 
Getting a Top 4 seed in the NCAA Women's Tournament carries a bit more gravity than in the NCAA Men's Tournament. Why? If you're a Top 4 seed in the women's even, you're hosting first- and second-round games. You get a home-court advantage, unlike last season when all of the games were in the San Antonio area due to COVID-19.  
The question right now is whether all four can remain in the Top 16. The Big 12 women's race isn't quite the gauntlet that the Big 12 men's race is, but these four teams have plenty of games left against one another, games that not only could determine the Big 12 regular-season winner, but also determine which of these quality teams drops out of the Top 16 and ends up having to travel for the first- and second-round.  
The Big 12's Top 4 would love nothing more than to be able to stay home for the tournament's first weekend.
What's Up with Kansas State? 
The Wildcats have a week off to think about the past couple of weeks, where they've lost three of their last four games. So, what's up with a team that was in the Top 25 just a couple of weeks ago? 
Well, first, teams are paying as much attention as possible to center Ayoka Lee. I realize that's 'Duh' analysis, but it's having an impact. Let's compare her numbers in the Wildcats' one win over Texas Tech to her average in the three losses to Iowa State, Baylor and Kansas: 
Texas Tech: 31 points and seven rebounds; 
Iowa State, Baylor and Kansas: 12.6 points and nine rebounds.  
The Cyclones, Bears and Jayhawks were clearly able to do things to affect Lee offensively. It's about pushing her out of her comfort zone and making her take shots she's not effective at … yet. Iowa State was quite adept at it.  
This is where you would expect Lee's teammates to show up, right? 
In the three losses, Lee shot a combined 40 percent. Her teammates shot a combined 32.1 percent. In fact, their 29.1 percent shooting against Kansas was the worst of the three losses. And before you ask, the supporting cast attempted nearly as many shots in each of those three games (48 vs. ISU, 47 vs. BU, and 48 vs. KU).  
In the one victory, Lee shot 80 percent and her teammates shot 44.4 percent. Her teammates did that on 11 fewer opportunities than the average in the three losses.  
You have to look at the volume, too. Lee took 32 percent of her team's shots in the three losses and took 29.4 percent in the one victory. Her teammates took 68 percent of the shots in the three losses and took about 70 percent of the attempts in the one victory.  
How does that hold up over the season? Lee shoots 57.2 percent from the floor and has taken 428 shots, which is 28.4 percent of the Wildcats' total shot volume. Her teammates shoot 35.7 percent and take the remaining 71.6 percent of the shots.  
The Wildcats shoot … 41.9 percent from the floor. That's below the median between Lee and the rest of her teammates.  
The connection lately is a simple one. Lee is one of the most efficient offensive players in the league and defenses know this. When Lee is efficient, as she was against Texas Tech, she pulls everyone up. When she isn't efficient, as she was in the three losses, her teammates aren't as efficient.   
Now the Wildcats get a week to figure out how to work that out.  
Three Games I'm Intrigued by This Week 
Iowa State at Texas, Wednesday: Can Iowa State even the score now that the Cyclones full strength?   
Kansas at Texas Tech, Saturday: Kansas fancies itself a NCAA Tournament team. The Jayhawks need to win a game like this.   
Oklahoma at Iowa State, Saturday: Another chance for Iowa State to prove it's ready to claim a Big 12 regular-season title.    
You can find Matthew Postins on Twitter @PostinsPostcard.