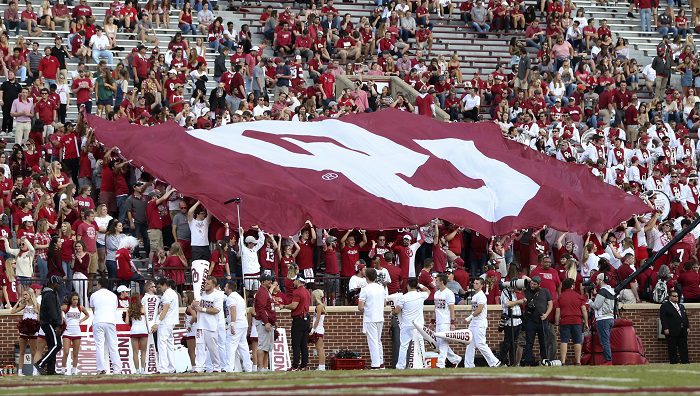 As most of the college football world is aware, Oklahoma picked up former-UCF quarterback Dillon Gabriel in the aftermath of Caleb Williams hitting the transfer portal and ultimately reuniting with his head coach Lincoln Riley at USC.
Gabriel was a star at UCF, throwing for over 8,000 yards and 70 touchdowns in 26 games for the Golden Knights. Now, Gabriel will be the next starting quarterback in Norman, following in the footsteps of legends like Baker Mayfield and Kyler Murray. His former teammate, McKenzie Milton seemingly took a shot at Gabriel's new home in an interview on 96.9 The Game, a sports radio show in Orlando, Florida.
While discussing name, image, and likeness and the addition of UCF to the Big 12, Milton had this to say about his former team in comparison to other places.
"When you have great fan experiences, great experiences on campus and it's lucrative, that's the best recruiting pitch possible," Milton said. "Would you rather be in Orlando, Florida, or somewhere in the Midwest? It's kind of a no-brainer."
"Go ahead and say Lincoln, Nebraska, I dare you," said radio host Mike Bianchi.
"What about Norman, Oklahoma?" Milton replied.
When this exchange made its way to the Twitter Army that is Sooner Nation, Milton doubled down on his quote in a response on Twitter.
"Not shade y'all it's fact," McKenzie wrote. "There's a reason Orlando is the fastest growing city in comparison to these other places. I'm sorry but the only recruiting pitch [that] these blue bloods have is that they are just that. No one is jumping out of their seat to move to Lincoln or Norman."
Milton ended his college career at Florida State, notably one of the top party schools in the country, and was one of the great stories of the 2021 season when he returned to action after a gruesome injury in 2018 that nearly cost Milton his leg.
It's worth noting that Milton not only shared the UCF locker room with Dillon Gabriel, but was also a quarterback recruit from the state of Hawaii, just like Gabriel. It will be interesting to see what Gabriel has to say, if anything, about his former teammates comments.