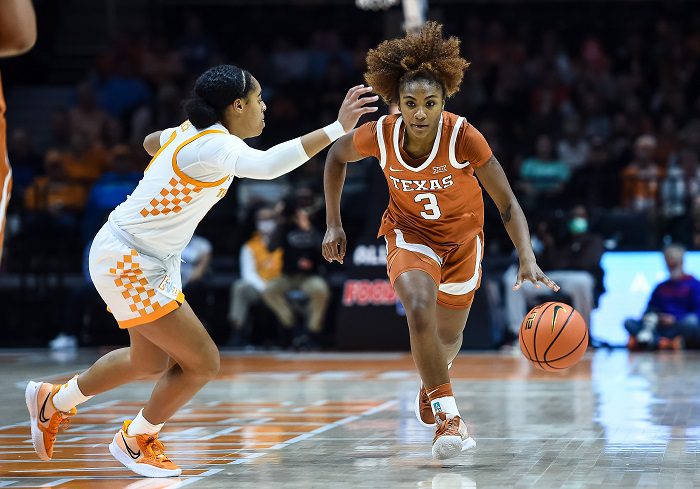 The Texas Longhorns defeated the Iowa State Cyclones, 73-48, in a Big 12 women's basketball game at the Frank Erwin Center in Austin, Texas, on Wednesday.
The Longhorns (18-6, 8-5 in Big 12) wrapped up a nine-game stretch in which they played seven ranked teams in Big 12 action, going 4-3 in those games. The Longhorns swept the Cyclones for the season series and have now won five straight against ISU. Rori Harmon led Texas with 20 points, nine assists and six steals. Audrey Warren added 16 points and four steals.
The Cyclones (21-4, 10-3) missed a chance to further take control of the Big 12 race, and Texas held Ashley Joens to 18 points. She eventually broke the all-time scoring record at Iowa State, but it took her well into the fourth quarter to finally pass Angie Welle, thanks to Texas' dogged defense. Emily Ryan added 11 points.
Here are our three thoughts from the game.
Iowa State Counts to 48
With Ashley and Aubrey Joens back in the lineup on Wednesday night, the expectation was that the rematch with Texas would be closer than the 66-48 loss Iowa State took without their two sisters.
Actually, it was worse. In fact, ISU scored the same amount of points on Wednesday night that it did against Texas last month. In doing so, Texas has given teams that may face Iowa State in the NCAA Tournament a recipe to beat the Cyclones.
It's actually pretty simple. Press in the full-court. Doggedly pursue Ashley Joens to the point of face-guarding. And force turnovers.
That's how Texas plays defense every night. But they paid particular attention to Joens, using DeYona Gaston and Audrey Warren alternately to defend her (though in the second half it was clearly Warren's gig and she was terrific).
Texas' overall defensive pressure forced 19 turnovers and turned those into 20 points.
This strategy only works if you have the personnel to do it. Texas does. They had the perfect tandem to defend Joens. Gaston is a strong, physical defender who can work Joens on the block, while Warren has the toughness to stay with Joens on the perimeter. Meanwhile, Texas guard Rori Harmon harassed Emily Ryan all night — just as she did last month — and Lexi Donarski was a non-factor.
Texas made Iowa State passive and tentative with their defense. That's how you beat them.
The Texas Rotation is (Close To) Working
A couple of weeks ago Texas head coach Vic Schaefer had some pointed criticism for his team, or for some members of his team. He was tired of some of his players, for lack of a better word, freelancing when he wanted them to do certain things. He even mentioned that was having trouble with a senior. When he said this, he had just one player sitting next to him — senior guard Joanne Allen-Taylor, who at this point is playing the best of any Longhorn.
The next game, against Texas Tech, Schaefer made some tweaks. He moved a sophomore, Shay Holle into the starting lineup, and went back to DeYona Gaston to tandem with Lauren Ebo at forward. He rounded out the lineup with Allen-Taylor and his freshman point guard, Rori Harmon.
The results, so far, have been favorable. Holle earned a starting nod because of her energy off the bench. She's continued that as a starter, and on Wednesday she looked as comfortable as she's been since she joined the starting lineup. She scored six quick points in the first quarter and was decisive in driving to the basket on a fast break.
In fact, the starting five has had good chemistry since Schaefer made the change. Four of the five starters on Wednesday had at least eight points. The move slid Audrey Warren and Aliyah Matharu to full-time sub status, but the move seems to have agreed with Warren, who has come off the bench some this season. Coming off her 21-point game against Oklahoma on Saturday, she had another big game against Iowa State, and helped defend Ashley Joens all night. He's a high-energy player, like Holle.
The one player who hasn't quite adjusted yet is Matharu, who is Texas' leading scorer and best 3-point shooter, But she has, at times, played sporadic minutes — sometimes due to foul trouble. She hasn't cracked double figures since the full-time change, though she had 17 points off the bench against Baylor on Feb. 4. She had just five points on Wednesday.
Texas is pointing in the right direction, and if Matharu can get back to being more consistently productive, the Longhorns could be hard to deal with down the stretch.
The Big 12 Race
It was an interesting night in the Big 12. With Iowa State losing and Baylor winning, the two teams are essentially tied at the top with three losses (Baylor has played one fewer game than ISU). Oklahoma's loss dropped the Sooners a game behind, and now Texas is two games back. So Saturday's game between Iowa State and Oklahoma gets more critical for Iowa State. If the Cyclones lose that game, then Baylor could take the lead with a win over TCU, a team the Bears just beat. Iowa State still has to play Baylor on Feb. 28. If the Cyclones want THAT game to matter, they need to win on Saturday.
You can find Matthew Postins on Twitter @PostinsPostcard.