Baylor Bears
Three Thoughts on Texas Tech's 83-73 Win over Baylor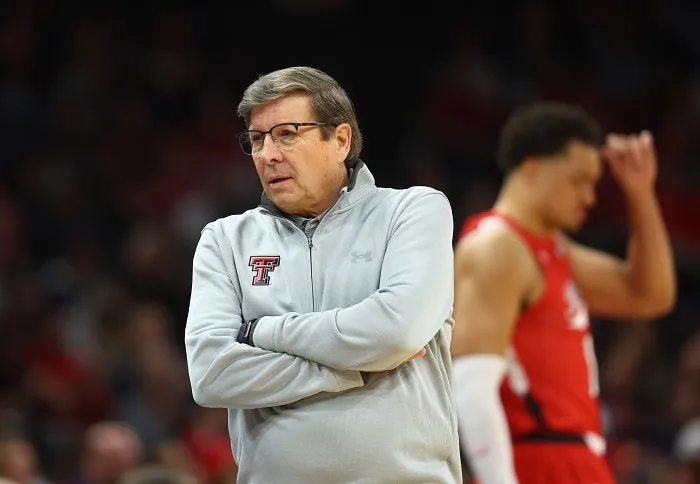 The Texas Tech Red Raiders defeated the Baylor Bears, 83-73, in a Big 12 men's basketball game at United Supermarkets Arena in Lubbock, Texas, on Wednesday.
Texas Tech (20-6, 9-4 in Big 12) got a double-double out of Kevin Obanor, the first of his Texas Tech career, as he scored 21 of his 23 points in the second half. He also collected 13 rebounds. Three other Red Raiders were in double figures, as Tech bounced back from shooting 33 percent in the first half and outscored Baylor 51-34 in the second half.
Baylor (21-5, 9-4) played its first game without forward Jonathan Tchamwa Tchatchoua and commanded the first half before Tech's defense limited the Bears' effectiveness in the last 20 minutes. Three Bears scored in double figures — James Akinjo (18 points), Adam Flagler (14 points) and Matthew Mayer (13 points).
Here are our three thoughts from the game.
Remaking Baylor
Without Jonathan Tchamwa Tchatchoua, Baylor head coach Scott Drew knew he had to make adjustments.
In the starting lineup, Drew went with just two 'guards,' James Akinjo and Adam Flagler. Three forwards, Flo Thamba, Kendall Brown and Matthew Mayer rounded out the starting lineup. But, Brown and Mayer both have guard skills.
Drew brought in Jeremy Sochan off the bench, along with LJ Cryer, who finally got back into the lineup on a minutes restriction.
Drew had his offense spread the floor as much as possible to give his playmakers room to operate. That helped Akinjo and Mayer the most, who combined for 17 first-half points. Baylor stayed aggressive, shot 50 percent and made six 3-pointers. The best sight for Drew had to be Cryer running home a couple of 3-pointers.
Drew worked his lineup with four guards, too, especially once the Bears' frontcourt was in foul trouble. By early in the second half, Thamba and Brown each had three fouls.
Of course, it's hard to do anything consistently against Texas Tech's defense for 40 minutes. Baylor ran into that in the second half. But, at least in the first half, the Bears convinced me they have a plan for life after 'Everyday Jon.' Now they have to execute it … for 40 minutes.
Tech's Beautiful Balance
After watching the Iowa State-Texas women on Wednesday night, the Texas Tech men reminded me just how much balance matters.
Texas beat Iowa State by focusing on defending Ashley Joens and pressing the heck out of her teammates, and it worked. Because of that, Joens and the Cyclones didn't have a release valve on offense when her offense was slow to pick up.
Tech started slowly in the first 20 minutes. They were shooting 33 percent from the floor. But, in the second half, the Red Raiders picked it up and it's because they found a balance on offense that Baylor found hard to defend.
Sure, Kevin Obanor had the flashy game — that fourth 3-pointer of the second half is still boucing on the rim — but four different Red Raiders scored at least 10 points. That included Bryson Williams (17 points), Adonis Arms (15 points) and Terrence Shannon Jr. (14 points).
At one point, Baylor dusted off its old 1-3-1 zone defense in an attempt to try and slow the Red Raiders down. It didn't work. In part, it didn't work because the Red Raiders had well-established their offensive balance by that point.
And if Texas Tech continues to do that, the Red Raiders will be hard to beat.
Are They 'Magic Eight' Teams?
Earlier on Wednesday, I wrote a short piece about Sports Illustrated picking both the Bears and Red Raiders as part of their 'Magic Eight' teams. It was SI's way of saying that it felt the Bears and the Red Raiders were two of the likely eight teams to make the Elite Eight.
On display Wednesday night were the reasons each team could make it to the fourth round of the NCAA Tournament.
For Baylor, their guards will likely carry them if they can get that deep in the Tournament. Both James Akinjo and Adam Flagler had good games. LJ Cryer scored six points in 15 minutes, but as he gets off his minutes restriction, he'll get more time and produce more points. As long as the Bears can keep their big men out of foul trouble, they have the ingredients to at least get to the second week of the tournament.
As for Texas Tech, the defense is elite. That's obvious. But, as pointed out above, the Red Raiders have grown into a balanced offense. In fact, going into Wednesday's game, six of their players average eight points per game. With that defense and the offensive balance, they could replicate what they did in 2018, when they reached the Elite Eight — or what they did in 2019, when they reached the national championship game.
You can find Matthew Postins on Twitter @PostinsPostcard.