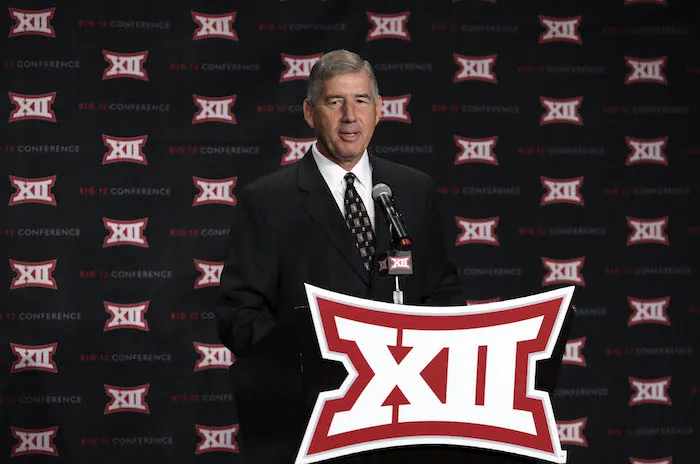 Going into Big 12 media days last season, there wasn't a whole lot of breaking news. Honestly, it was a little dull compared to previous years and for once nobody was talking about expansion or conference realignment.
Even Big 12 Commissioner Bob Bowlsby made a joke about it during his press conference. Little did we know at the time that there was a lot going on behind closed doors.
Not too long after media days, the shocking news came out that Texas and Oklahoma were off to the SEC. Of course, we at Heartland College Sports were in shock like everyone else because nobody outside of a select few people was aware that it was even a possibility.
After the news came out, everyone immediately praised the almighty SEC conference and commissioner Greg Sankey. Of course, it didn't help that Paul Finebaum became more insufferable than ever before blabbing nonsense on the SEC Network, which is owned by ESPN, but I will get to them in a second.
While the SEC got the spotlight, the Big 12 was left in the dark. In fact, many people including myself wondered if there even would be a Big 12 Conference in a few years. As the days passed, more questions surrounded the conference, and thankfully soon enough the Big 12 did something that changed their future.
The conference added four new schools with Houston, Cincinnati, UCF, and BYU. While it does hurt losing two blueblood programs such as Texas and Oklahoma, the addition of those four schools helped put the Big 12 back on solid ground for years to come.
Last week, ESPN's Adam Rittenberg wrote an article on ESPN+ talking about how the new-look Big 12 is ready to thrive. If you don't have an ESPN+ subscription, don't worry because you aren't missing much, but unfortunately, I do have to pay for it to get live sports that I cover. Would I rather spend my five dollars elsewhere? Sure, however I don't really have a choice until some other company steps into the streaming world. 
There is no point for me to do a deep dive on Adam's take in the article because I don't care that he wrote it and it's not a bad piece at all. Unfortunately, he failed to mention the fact that his employer played a huge role in the Big 12 breaking up. Adam mentioned that there was once doom and gloom over the Big 12 Conference. Well, do you know who helped write that narrative? Look no further than his employer.
Last year Big 12 Commissioner Bob Bowlsby released a letter alleging ESPN worked to "destabilize" the Big 12 as Texas and Oklahoma planned an exit to the SEC. Of course, ESPN sent a response denying any such thing happened. Then again, remind me who owns the SEC Network? Oh, that's right ESPN does. Why would ESPN ever admit to doing such a thing? First of all, you know they had something to do with it and were sneaking around people's backs behind closed doors. It's all about money and with those subscription numbers falling by the hour, ESPN will do whatever it takes to get ahead even if that means completely destroying a conference.
I don't think I need to say much about ESPN anymore because most of the people who visit this site have grown tired of ESPN due to the lack of their actual coverage of sports. Turn on the TV and flip to ESPN now and you will see two things. Lebron James talk and sports anchors making corny jokes and lines begging for you to like them. Not all the talking heads are bad, but about 95% of them are. By the way, do we really need a show like Get Up! or First Take anymore? Sure, they put a studio on a river, but does it really matter what the background looks like when the show is complete garbage? 
My point of this whole thing is that don't listen to those talking heads at the big network and their ratings prove I am not alone. Most fans don't, especially college football fans. They don't care about you, the team you cheer for, or the conference they are in.
No matter what comes out of a place like ESPN, remember who helped start the whole "Big 12 Conference" is dying narrative, and believe it or not Stewart Mandel didn't start it. It was ESPN and now when I see an article like Adam's come out is it supposed to make us all feel better about the conference? The Big 12 was just fine before ESPN started tampering and now they want to pat us on the back and tell us everything is going to be okay. 
I, for one, am not okay with it. In fact, it pisses me off more than some of you can imagine. Think of a fireman starting a fire in a field and then telling the world, "Hey everyone, this field is on fire!" and then being the one to let the entire world know that he put out the fire. It shouldn't work like that, because ESPN started the fire, and it is something that they will never put out.