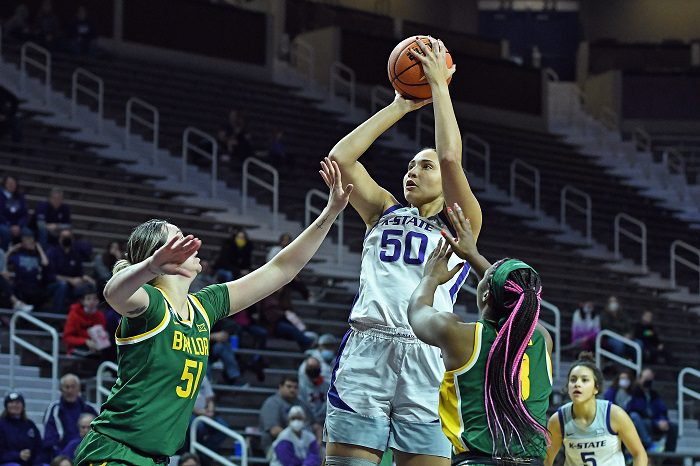 K-State Women's basketball star Ayoka Lee has had quite the 2021-22 season, including her 61-point performance against Oklahoma back on January 23 that set the NCAA Women's Division-I record for points scored in a game.
Her list of accolades from the 2020 and 2021 seasons are absolutely stunning, and if you haven't seen her play, its well past time that you tuned in.
In fact, a billboard in Kansas City has gone up, telling you to watch her play in the Big 12 Championship tournament on March 10-13.
Check out the billboard on I-35 just south of downtown Kansas City, courtesy of Brenda VanLengen's Twitter page.
Lee will undoubtedly be named an All-American after her 2021 season, on top of already being named a three-time ESPN.com National Player of the Week this season, 2021-22 National Player of the Year Honorable Mention by SI.com, and 2021 WBCA All-America Honorable Mention among a dozen other distinguishments.
Ayoka Lee ranked fourth in the nation with 23.8 points per game, shooting 57.2% from the field. Her Wildcats are 17-8 and look like a dangerous team for anyone who will face them in the Big 12 tournament or the NCAA tournament next month.