Baylor Bears
Ochai Agbaji and Kendall Brown Back-To-Back In NBA Mock Draft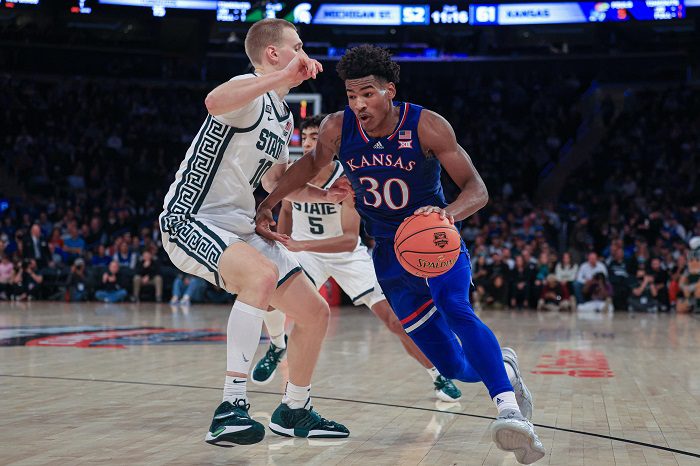 Ochai Agbaji and Kendall Brown were back-to-back lottery selections in the latest NBA Mock Draft put together by The Athletic on Thursday.
Agbaji, a guard for Kansas, and Brown, a forward for Baylor, were two of three Big 12 players taken in the first round. The other was Baylor forward Jeremy Sochan.
Sam Vecenie gamed out each pick for the first two rounds, and Agbaji ended up with Memphis at No. 12, which would put him on a team that features former TCU guard Desmond Bane. Vecenie wrote the pitch on Agbaji is simple:
"He's a 20-points-per-game scorer for an elite team, and he defends and hits 40 percent from 3."
Brown went to the Atlanta Hawks at No. 13. Brown is just a freshman and he can return to the Bears next season. But, Vecenie explained that many teams are intrigued by his athleticism and his potential as a two-way player on the wing. This pick would put Brown on the same team with former Oklahoma product Trae Young.
Sochan, like Brown, is a freshman. Vecenie projected him at No. 19 to San Antonio. Many scouts see Sochan as a project with plenty of upside.
The only big 12 player taken in the second round was Kansas guard Christian Braun, who went No. 39 overall to Portland, which would put him on the same team with former Texas forward Greg Brown III.
Two former Big 12 players were taken in the second round. Former West Virginia forward Oscar Tshiebwe, who is now with Kentucky, went No. 46 to Detroit. And, former Oklahoma guard Alondes Williams, who is now at Wake Forest, went No. 49 to Boston.
You can find Matthew Postins on Twitter @PostinsPostcard.