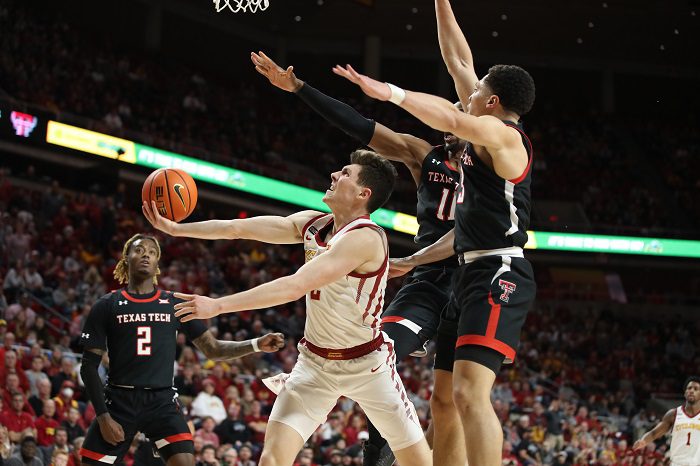 Iowa State is off the bubble in the latest NCAA Bracketology at ESPN, as the Cyclones' win over TCU on Tuesday boosted its standing in the projected 68-team field.
Before the game with the Horned Frogs, the Cyclones were considered one of the 'Last Four In,' putting them firmly on the tournament bubble. With the win, the Cyclones moved off the bubble and into the 'Last Four Byes,' where it joined Oklahoma. The Sooners were there in the last release on Tuesday, and its loss to Texas didn't change that.
The Cyclones have eight Quad 1 wins, among the most in the country, and that's keeping the Cyclones in the Bracketology conversation. The Cyclones are under .500 in league play entering Saturday's game with Oklahoma. That could be a huge matchup to see if either the Cyclones or Sooners slip back onto the bubble.
Lunardi's latest 68-team field has seven Big 12 teams in the field. Selection Sunday is on March 13.
Other takeaways:
Moving up: Kansas moved up to a No. 1 seed in the East Region after spending the past two cycles as a No. 2 seed. Texas Tech also moved up to a No. 2 seed after its win over Baylor on Wednesday. Texas moved back up to a No. 4 seed after its win over Oklahoma. Iowa State is a No. 10 seed now that it is off the bubble.
Moving down: Baylor fell to a No. 3 seed for the first time since Bracketology began in November, as a result of its loss to Texas Tech. TCU dropped from a No. 9 to a No. 10 seed after its loss to Iowa State.
Holding steady: Oklahoma held steady as a No. 11 seed.
Bubble: Kansas State remained on the bubble. As of now, the Wildcats are the fifth team left out of the field of 68. Kansas State faces Oklahoma State on Saturday.
How the bracket looks for the Big 12 as of Feb. 18:
West Region (San Francisco)
No. 2 Texas Tech vs. No. 15 Long Beach State
East Region (Philadelphia)
No. 1 Kansas vs. No. 16 Cleveland State
No. 10 TCU vs. No. 7 Iowa
Midwest Region (Chicago)
No. 4 Texas vs. No. 13 South Dakota State
No. 10 Iowa State vs. No. 7 Colorado State
No. 11 Oklahoma vs. No. 6 Arkansas
South Region (San Antonio)
No. 3 Baylor vs. No. 14 Montana State
Future Big 12 members
East Region (Philadelphia)
No. 5 Houston vs. No. 12 North Texas
You can find Matthew Postins on Twitter @PostinsPostcard.