Big 12 Previews
Iowa State vs. Oklahoma Women's Basketball: Preview and Prediction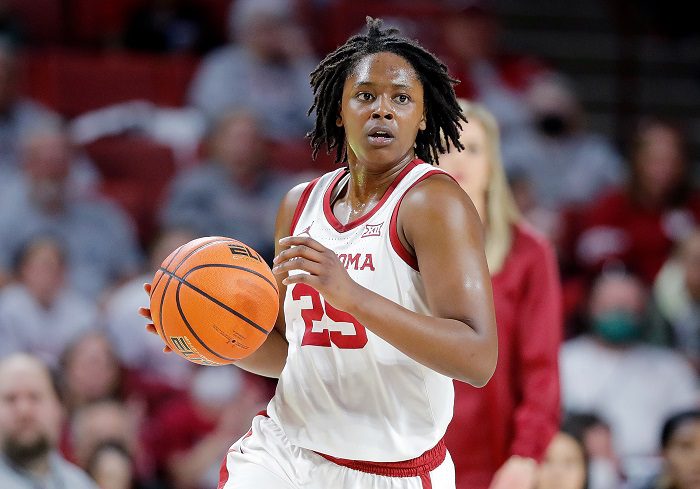 Here is everything you need to know about the Oklahoma Sooners and the Iowa State Cyclones in our Oklahoma vs. Iowa State Big 12 women's basketball preview.
Game Info
6 p.m. Central Time, Saturday, Feb. 19, 2022, Hilton Coliseum, Ames, Iowa.
TV: Big 12/ESPN+
Records: Oklahoma: 20-5 (9-4 in Big 12); Iowa State: 21-4 (10-3 in Big 12).
Ranking: Oklahoma: No. 15 (Associated Press); Iowa State: No. 6 (Associated Press).
Last game: Oklahoma: lost to Texas Tech, 97-87 (Feb. 16); Iowa State: lost to Texas, 73-48 (Feb. 16).
Previous meeting: Iowa State 81, Oklahoma 71 (Jan. 5).
Player to Watch
Oklahoma
F Madi Williams: She is one of the most important pieces on this high-scoring Sooners team. She's coming off a 16-point game against Texas Tech, but for the season she averages 18.4 points and 7.8 rebounds per game. She is one of the most consistent players in the conference, even as her teammate, Taylor Robertson, gets more attention for her 3-point shooting. Williams has scored in double figures in every game this season. She shoots 47.4 percent from the floor and 72.6 percent from the free-throw line. She also averages more than a steal per game. She's hard to handle on both ends.
Iowa State
G/F Ashley Joens: She became Iowa State's all-time leading scorer in Wednesday's loss, a bittersweet milestone for the most productive player in ISU history. She scored 18 points in that game, and while her scoring average has taken a step back this season — 19.8 points this season instead of 24.2 points last season — it's only because other players like Emily Ryan and Lexi Donarski have become more productive. Joens is more than happy to facilitate that, as she averages more than two assists per game. But the Cyclones need her scoring and her rebounding — she leads the team with 9.2 per game — every night.
Key storylines
Oklahoma
The Sooners haven't played their way out of a Big 12 regular-season title yet, but they have certainly hurt themselves by losing their last two games. Oklahoma fell to Texas on the road but falling to Texas Tech on Wednesday really hurt. The Sooners average 83.5 points per game, second-best in the nation. But Oklahoma's defense can be lacking at times. In the Tech game, the Sooners gave up 20 or more points to three players, including 35 to Vivian Gray. The Sooners give up 76.4 points per game on defense, and that can be a liability for a team that has aspiration of reaching the second weekend of the NCAA Tournament.
Iowa State
The Cyclones still control their own destiny as they try to win their first Big 12 regular-season title in 20 years. But the Cyclones have made the path harder for themselves. Their three losses in league play are the pair to Texas and one to Baylor, and the Cyclones must play Baylor again on Feb. 28. The Cyclones are tied with the Bears at the top, so for that game to matter, the Cyclones need to keep winning. After playing OU, the Cyclones face Kansas and Texas Tech before Baylor. Guard Emily Ryan has grown into one of the best point guards in the country. But, the Cyclones cannot afford for guard Lexi Donarski to have another game like she did against Texas on Wednesday, when she failed to score.  
Fun fact
Madi Williams and Emily Ryan were the leading scorers in their last meeting. Williams had 26 points for Oklahoma, and Ryan had 22 points for the Cyclones.
Prediction
Iowa State 74, Oklahoma 69. Iowa State's only loss at home was to Texas when Ashley and Aubrey Joens didn't play.
You can find Matthew Postins on Twitter @PostinsPostcard.