Big 12 News
Sugar Bowl Set to Move Date to New Year's Eve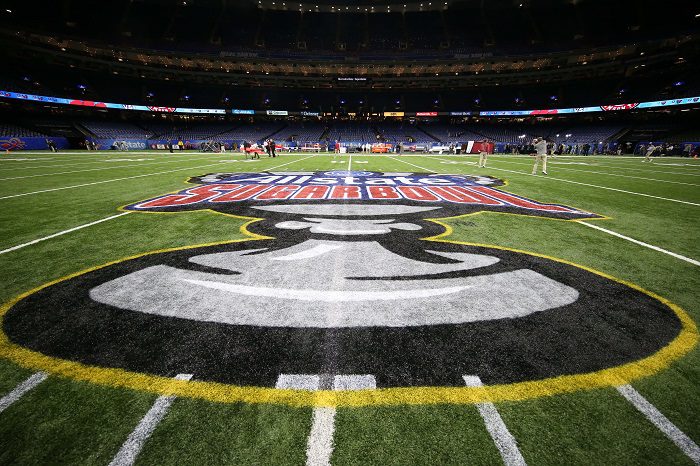 Several teams in the Big 12 have grown tired of noon kickoff times during the regular season, but now it sounds like its going to extend into the postseason as well.
The Big 12's premiere bowl location, the Allstate Sugar Bowl, was scheduled for January 2, 2023, but has been moved to December 31, 2022, with a noon ET kickoff. While moving the game to New Year's Eve is a nice touch, having to make it to the stadium by 11:00 a.m. CT is a real bummer.
Here is an official statement from the Sugar Bowl, with an explanation for the rescheduling.
"With the recently expanded NFL schedule, there is an additional week of Monday Night Football, which conflicts with our scheduled January 2nd Sugar Bowl this year," said Allstate Sugar Bowl CEO Jeff Hundley. "In talks with our conference partners, the Big 12 and the SEC, as well as with ESPN and the College Football Playoff, all parties agreed that a December 31 game made more sense. With New Year's Eve being a Saturday, we hope it will provide more fans the opportunity to attend the game without work conflicts."
The New Year's Eve date for this year's game will be played on the 50th anniversary of the first Sugar Bowl played on New Year's Eve. The first 38 Sugar Bowls were played on New Year's Day (or Jan. 2 when New Year's Day fell on a Sunday).
The 39th Sugar Bowl, which saw No. 3 Oklahoma defeat No. 5 Auburn, 40-22, was the first of four in a row that was played on New Year's Day. The only other Sugar Bowl to be played on this date was in 1995, when Virginia Tech defeated Texas, 28-10, in the 62nd Sugar Bowl.
With the NFL schedule being prolonged, this could be the new trend going forward and yet another subtle change to the landscape of college football.