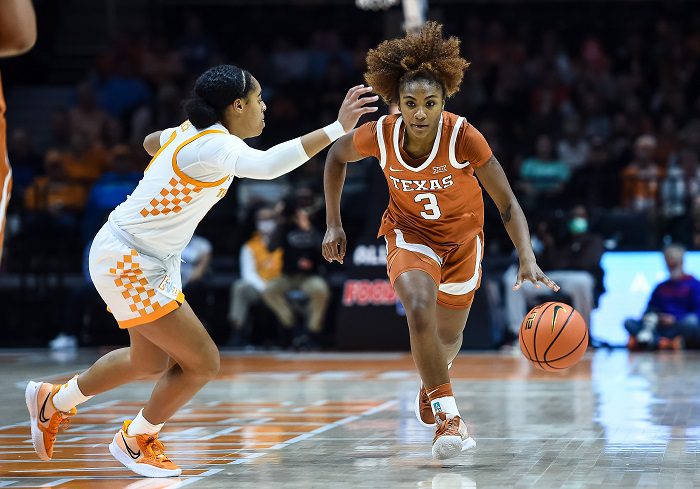 The Texas Longhorns received a big boost from their win over Iowa State as they moved to a No. 3 seed in the latest NCAA Tournament Women's Bracketology at ESPN.
The latest projected 68-team field included six Big 12 teams, with Texas the only one to make a move up in seeding.
The Longhorns were a No. 4 seed entering Wednesday's game with Iowa State, and after Texas dismantled the Cyclones, that was enough to move them to a No. 3 seed line.
Iowa State, led by Ashley Joens, remained a No. 2 seed, but they face another big showdown with Oklahoma on Saturday, one that could, potentially, drop the Cyclones a seed line with a loss.
Selection Sunday is March 13.
Other Takeaways:
Moving up: Texas was the only Big 12 team to move up a seed.
Moving down: Kansas State, which hasn't played a game this week, fell again in seeding, this time to a No. 8 seed. The Wildcats face Oklahoma State on Sunday, as K-State tries to bounce back from losing three of its last four games.
Holding steady: Baylor, Iowa State, Oklahoma and Kansas all held steady. Baylor and Iowa State, which are tied for the Big 12 lead, were both No. 2 seeds.
How the bracket looks for the Big 12 as of Feb. 15:
Bridgeport Region
No. 2 Baylor vs. No. 15 Jackson State
No. 9 Kansas vs. No. 8 Utah
Greensboro Region
No. 2 Iowa State vs. No. 15 Boston University
Wichita Region
No. 3 Oklahoma vs. No. 14 Troy
No. 8 Kansas State vs. No. 9 South Florida
Spokane Region
No. 3 Texas vs. No. 14 Mercer
Future Big 12 members
Wichita Region
No. 5 BYU vs. No. 12 Boston College/Oregon State winner
Greensboro Region
No. 9 Creighton vs. No. 8 UCF
You can find Matthew Postins on Twitter @PostinsPostcard.