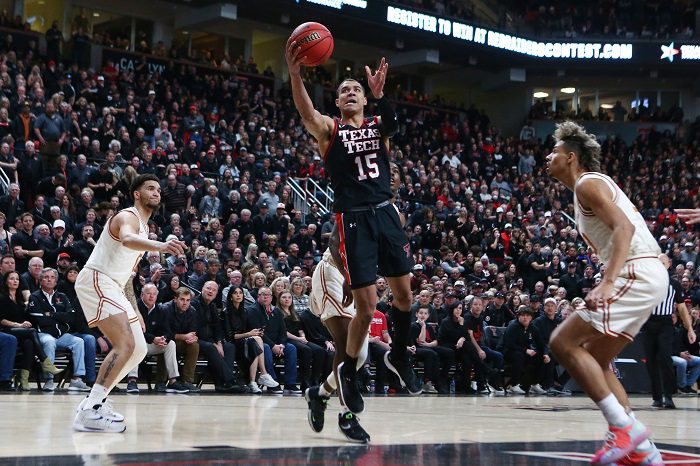 Here is everything you need to know about the Texas Tech Red Raiders and the Texas Longhorns in our Texas Tech vs. Texas Big 12 men's basketball preview.
Game Info
11:30 a.m. Central Time, Saturday, Feb. 19, 2022, Frank Erwin Center, Austin, Texas.
TV: ABC
Records: Texas Tech: 20-6 (9-4 in Big 12); Texas: 19-7 (8-5 in Big 12).
Ranking: Texas Tech: No. 11 (Associated Press) Texas: No. 20 (Associated Press).
Last game: Texas Tech: def. Baylor, 83-73 (Feb. 16); Texas: def. Oklahoma, 80-78 (Feb. 15).
Previous meeting: Texas Tech 77, Texas 64 (Feb. 1).
Player to Watch
Texas Tech
F Kevin Obanor: The Oral Roberts transfer had his best game as a Red Raider on Wednesday, as he scored 23 points and had 13 rebounds for his first double-double of the season. But, it was his 31st career double-double. He had an incredible second half, scoring 21 of his 23 points. After the game Obanor told reporters that "it could have been easy to just to put my head down" after that first half. He could have been talking about his three games before Baylor, where he scored a combined 10 points and grabbed a combined 10 rebounds. But his track record — 10.3 points and 5.2 assists — shows you he's a player to watch.
Texas
F Timmy Allen: When Allen plays well, Texas plays well. Allen had 20 points for the Longhorns against Oklahoma, but it was just his second game of at least 20 points this season. He's done that in two of his last three games. Allen is more than scoring. He's Texas' leading rebounder (6.5 per game) and its best interior defender. But, in terms of filling up the basket, he has failed to score in double figures in four of his last six games, putting more pressure on the Longhorns' guards to score. The Longhorns need Allen to get back to being the player he was in January, when he regularly scored in double figures.
Key storylines
Texas Tech
The Red Raiders are brilliant on defense and balanced on offense. When it comes to scoring defense, the Red Raiders are No. 17 in the country, giving up 61.3 points per game. When it comes to field-goal defense, the Red Raiders are No. 14 at 38.6 percent. If you watched the second half of Wednesday's win over Baylor, you saw how Texas Tech frustrates opponents with its 'no-middle' defensive scheme. Offensively, the Red Raiders have six players that are averaging at least eight points per game. Most of those players are similarly sized, which makes it hard for defenses to switch without leading to mismatches. Texas Tech has five games remaining, but only one game is against a ranked opponent — Texas. The Red Raiders could climb as high as a No. 2 seed in the Big 12 Tournament, especially now that they have swept Baylor.
Texas
Texas head coach Chris Beard has carried to Texas the defense-first philosophy he and current Texas Tech head coach Mark Adams crafted in Lubbock. The Longhorns are No. 2 in scoring defense, giving up 57.6 points per game. Courtney Ramey has become the Longhorns' perimeter defensive stopper, regularly drawing the opponent's best guard. That led to his exceptional night defending Kansas guard Ochai Agbaji, when he held the presumed Big 12 Player of the Year to 11 points. Texas is not a high-scoring team, despite the 80 points it scored in overtime against the Sooners. The Longhorns average 68.9 points per game and are not among the Top 50 scoring teams in the country.
Fun fact
Texas announced on Thursday that there were no more public tickets available for Saturday's game and remaining tickets would only be sold to Texas students with a 'Big Ticket' athletic pass. According to the Austin American-Statesman's Brian Davis, tickets could be found on StubHub for as high as $1,235.
Prediction
Texas 67, Texas Tech 66. Texas has lost just one home game this season. The Red Raiders are 2-5 on the road this season and 2-4 in the Big 12. It will be absolute zoo once again, especially if the Red Raider fans can find their way in.
You can find Matthew Postins on Twitter @PostinsPostcard.