Big 12 News
Four Big 12 Teams in NCAA Top 16 Seed Tournament Reveal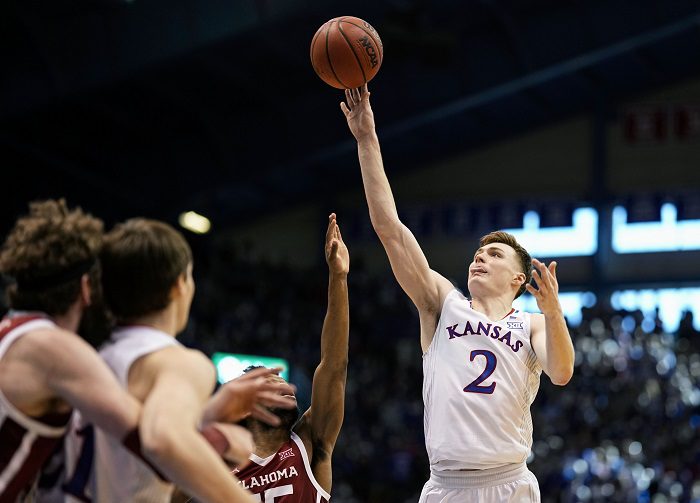 The Big 12 had four teams in the NCAA Men's Tournament Top 16 Seed reveal on Saturday, marking less than a month until Selection Sunday on March 13.
Kansas, Baylor, Texas Tech and Texas all made the Top 16, with Kansas leading the way as the Big 12's only No. 1 seed.
The Jayhawks, who lead the Big 12 race, were installed as the projected No. 1 seed in the East Region, which would have the Jayhawks going to Philadelphia for the Sweet 16. The committee put the Jayhawks in the same region with No. 2 seed Kentucky — which would be a potential Big 12-SEC Challenge rematch in the Elite Eight — No. 3 seed Villanova and No. 4 seed Wisconsin.
Kansas was the final No. 1 seed over Baylor and Kentucky, according to tournament committee chair Tom Burnett.
"You could make a case for all three teams, as Baylor has more Quadrant 1 wins than anyone and Kentucky doesn't have any losses outside of the first quadrant," Burnett said. "Some head-to-head games involving those three teams certainly was a topic of conversation but as things stand today, we have Kansas with a slight edge."
The Bears were a No. 2 seed. The committee put the Bears in the South Region, which means they would go to San Antonio for the Sweet 16. Arizona was the No. 1 seed in the region, while Tennessee was No. 3 and Providence was No. 4.
Texas Tech ended up as a No. 3 seed in the Midwest Region, which means the Red Raiders would head to Chicago for the Sweet 16. Auburn was the No. 1 seed, Purdue the No. 2 and UCLA the No. 4. The Bruins reached the Final Four last season.
Texas — which played Texas Tech on Saturday — ended up as a No. 4 seed in the West Region, which would mean a trip to San Francisco for the Sweet 16. The Longhorns could end up with a rematch with the No. 1 overall seed, Gonzaga. Duke was the No. 2 seed and Illinois was the No. 3 seed.
NCAA Men's Tournament Top 16 Reveal
(Top 16 as of Feb. 19)
West Region (San Francisco)
1. Gonzaga
8. Duke
12. Illinois
16. Texas
Midwest Region (Chicago)
2. Auburn
7. Purdue
10. Texas Tech
14. UCLA
South Region (San Antonio)
3. Arizona
5. Baylor
11. Tennessee
15. Providence
East Region (Philadelphia)
4. Kansas
6. Kentucky
9. Villanova
13. Wisconsin
You can find Matthew Postins on Twitter @PostinsPostcard.
**Want to win a $20 gift card? Go sign up here and join our conversation! The best poster each week wins a gift card to your favorite establishment!**