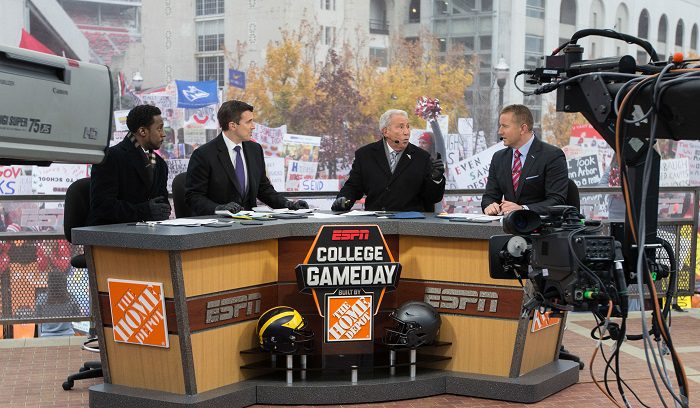 The Doak Walker Award ceremony was held at SMU on Friday with ESPN's Lee Corso, Chris Fowler, and Kirk Herbstreit there to emcee the event. The award, which is presented annually to the nation's best running back, was won by Michigan State running back Kenneth Walker. That was not the only headline from the night, however.
Talk about the upcoming college season came up, including the matchup between SMU and TCU, and Herbstreit mentioned that the rivalry game could be a College Gameday featured game.
The matchup will serve as a homecoming for new TCU head coach Sonny Dykes, who spent the last five season as SMU's head coach.
Corso, however, did not agree with Herbstreit's idea, saying there is "no way Gameday is going to TCU vs. SMU."
It is interesting to note that the TCU – SMU game was listed on ESPN's list of Top 10 Must-Watch 2022 Non-Conference Games.
SMU has never been involved with College Gameday as the home team. They have twice been featured as the road team, first in a 2011 matchup in Houston and again in 2019 when they played Memphis.
ESPN has been to Fort Worth twice for TCU games, with the most recent time being in 2017 for a matchup between the No. 8 ranked Horned Frogs and the No. 23 ranked West Virginia Mountaineers.
This year's matchup between the two rivals will be on September 24th. There are a few other games that day that could compete for ESPN's attention. Some of the notable matchups include Wisconsin hosting Ohio State, Tennessee hosting Florida, and North Carolina hosting Notre Dame.