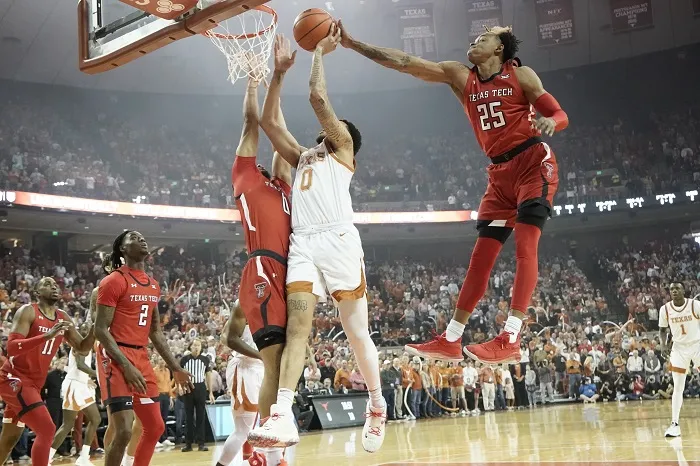 The Texas Tech Red Raiders defeated the Texas Longhorns, 61-55, in a Big 12 men's basketball game at the Frank Erwin Center in Austin, Texas, on Saturday.
Texas Tech (21-6, 10-4) remains tied for second in the Big 12 with Baylor, which defeated TCU earlier on Saturday. The Red Raiders picked up another critical tiebreaker when it comes to Big 12 Tournament seeding. The Red Raiders are now 5-1 against Kansas, Baylor and Texas, with sweeps over Baylor and Texas (19-8, 8-6).
The win gives the Red Raiders the inside track to second place, and thereby the No. 2 seed, in the Big 12 Tournament, assuming they can win out. Bryson Williams led the Red Raiders with 17 points, while Clarence Nadolny scored 14 points and Adonis Arms added 10 points. The Red Raiders won the game without Kevin McCullar, who missed the game with a sprained ankle.
Texas is in fourth place by itself in the Big 12, which would lead to the No. 4 seed at the Big 12 Tournament in Kansas City on March 9-12. Andrew Jones led Texas with 20 points, but he was the only Longhorn in double figures.
Both teams were included in the NCAA's Top 16 seeding preview on Saturday, with Tech seeded as a No. 2 and Texas seeded as a No. 4. Those are preliminary, of course. Selection Sunday isn't until March 13.
Saturday's game was sold out, but it was clearly a split crowd, as thousands of Red Raiders fans found their way into the game, even though Texas cut off ticket sales to the public at mid-week. But, at one point after Jones had an air-ball 3-pointer, you could hear 'air ball' chants in the arena.
The heightened rivalry between Texas and Texas Tech is due in large part to the coaching changes at both schools, with former Red Raiders head coach Chris Beard moving to Texas and his top assistant, Mark Adams, taking over the Red Raiders.
Here are our three thoughts from the game.
That Texas Tech Defense
Part of the reason writers like me believe the Red Raiders can go far in the NCAA Tournament is that it's clear they can win games a number of ways. Yes, their defense is their calling card. But the Red Raiders have the offensive capability, too. Three Red Raiders were in double figures, and none of them were named Terrence Shannon Jr.
But, Texas Tech's defense was terrific, especially in the second half. Texas was shooting less than 25 percent deep into the second half. Around that time, Texas forward Timmy Allen had just two points (he finished with six points and fouled out). Texas shot less than 30 percent for the game and committed 14 turnovers. Texas actually shot two percent better from the 3-point line than it did from the field. Without that late 9-0 run — and the three Texas Tech turnovers that went with it — the Red Raiders probably would have won by 10 or more.
Texas Tech's defense, more than anything, can ensure that Texas Tech will play in the NCAA Tournament's second weekend.
Trust Andrew Jones
Jones is wrapping up his sixth season at Texas. It's been an incredible journey. He's conquered leukemia and he's come back and reclaimed All-Big 12 status. Down the stretch, he's the guy the Longhorns need to turn to.
Jones scored 20 points on Saturday. That included four 3-pointers. He and Courtney Ramey were the only Longhorns with 10 or more shot attempts. Twitter user Christian Corona did the math on what Jones' day meant to Texas.
Jones is averaging just 10.4 points for the season, in part because Texas has really spread out its offense. But he's hit double figures in each of the last five games and is averaging 15 points per game during that stretch.
Texas needs to trust in Jones down the stretch. He was part of last year's Big 12 Tournament championship team. He wants to find a way to go out on top.
A Third Meeting in KC?
It's entirely possible the Longhorns and Red Raiders could see each other again in Kansas City in a semifinal or championship game. Both teams are good enough to do it.
If the tournament started today, it would have to be a championship game matchup, as Texas Tech would be a No. 2 seed and Texas would be a No. 4 seed. That means Texas would have to beat Kansas — which the Longhorns have done, and Texas Tech would have to beat Baylor — which the Red Raiders have done twice.
If you watched Saturday's game, you heard ESPN's Fran Fraschilla say it a number of times — "It sounds like we're in Kansas City."
It would be fitting to see the Longhorns and Red Raiders duke it out one more time. And, since I'll be in KC this year, I'm rooting for it.
You can find Matthew Postins on Twitter @PostinsPostcard.