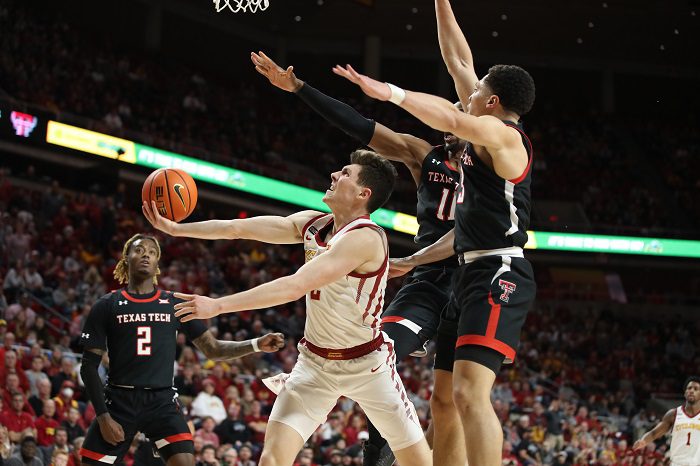 The Big 12 Conference is done with Week 15 of the 2021-22 men's basketball season. So let's dive in and check out our five takeaways for the week.
Don't Worry About Iowa State
I did plenty of radio last week — Big 12 This Morning on Sirius/XM, Miller and Condon on KXNO in Des Moines and our own Heartland College Sports Weekly radio show. Everyone asked me about Iowa State. The question was basically, "Are the Cyclones getting to The Dance?"
My answer each time was yes. So, thanks to Iowa State for making me look like I knew what I was talking about last week.
My logic was simple. Yes, the Cyclones have an under-.500 record in Big 12 play, and I tend to believe it will still be under-.500 when the Big 12 Tournament starts. But thanks to its plethora of Quad 1 wins — ISU's win over TCU made it eight — the committee should look favorably on the Cyclones. Only Baylor and Kansas have more than ISU in the Big 12 (nine each), and as of Sunday the Cyclones are fifth in the country in that category.
So, the Cyclones went out and beat both TCU and Oklahoma. The Cyclones have three non-ranked teams left — West Virginia, Kansas State and Oklahoma State — followed by the finale with Baylor. Now, it's the Big 12, so you don't sleep on anyone. But, the Cyclones can reach 20 overall wins by simply going .500 in those last four games, and I could see them winning at least one game in Kansas City.
To me, as long as Iowa State gets to 20 wins, Cyclones fans should rest easy. It might be a First Four game, mind you, but ISU will get in.
Worry About TCU
As for TCU, the Horned Frogs have issues now. TCU has lost three straight games and while they haven't been on the ESPN Bracketology bubble in weeks, that could be coming. Why? Well, blame COVID-19.
TCU's COVID pause led to the postponement of two games, one of them against Kansas. The Big 12 did them no favors by scheduling the Horned Frogs for back-to-back games with the Jayhawks in a three-day period.
In a 13-day period, starting with TCU's home game on Monday with West Virginia, the Horned Frogs have to play six games in 13 days, four of which are against ranked teams (Texas and Texas Tech are in there, too). The other two are against WVU.
Now, if TCU can steal one or two of those games against ranked teams, well, that changes the math entirely. But let's say the Horned Frogs lose to all four ranked teams. Then their only chances for wins are against West Virginia, and that would still only get the Horned Frogs to 18 wins going into Kansas City.
As comfortable as I feel with Iowa State, I don't feel that way about TCU. There's a path for the Horned Frogs to play their way out this thing.
C'mon, Kansas State
I do a weekly mailbag for Big 12 basketball. Guess which question I get asked the most?
Bruce Weber, usually followed by the word, 'Why?'
There is a significant contingent in Manhattan that wants him gone. I get it. The two years after the departures of Barry Brown Jr., Kamau Stokes and Dean Wade weren't great, and a lot of that is on Weber. He didn't have the rest of that roster prepared, in my opinion. Those players weren't developed enough.
He deserves credit for what he's done this season. He tapped into the transfer portal, and while none of those moves were flashy they've all worked. Nijel Pack's development has been incredible. The decision to put both he and Markquis Nowell on the floor at the same time was smart. Weber has also loosened the reins on this team to shoot the 3-pointer (it helps that his players can hit them).
That's what made the loss to Oklahoma State on Saturday all the more awful.
Kansas State has played its way onto the NCAA Tournament bubble. In fact, the Wildcats are tied for fifth in the conference. Weber's players are clearly playing their butts off for him. Weber even said the Wildcats can make some noise in the tournament.
So, you can't lose a game like that, not to a team you're evenly matched with.
It's not JUST the loss. It's the fact that, because the game was in Stillwater, that was actually a Quad 1 game for K-State. The Wildcats only have four of those wins. K-State could use some more.
I don't have any skin in the game. But Weber's job security is one of the most intriguing storylines heading into March. I contend that Weber needs to get the Wildcats to the NCAA Tournament to keep it. If that's the case, you can't lose that game.
The $2 Million Fish Fry
On Friday night West Virginia head coach Bob Huggins hosted a fish fry in Morgantown. Yep, you're reading that right. A fish fry. A good, old-fashioned fund-raising fish fry. I wasn't there, but I'm assuming it was like the ones I used to go to growing up in East Texas. In fact, Huggins said that he got the idea from a church fish fry he went to in Manhattan, Kansas, during his one season at Kansas State.
Before the fish fry, Huggins said that it could pass the $2 million mark for the first time, with the money going to the Norma Mae Huggins Endowment at the WVU Cancer Institute, named for his mother, and to the Remember the Miners Flagship Scholars Program.
"Thank about that? At a fish fry?" Huggins said.
Huggins invited two people to Friday's event — Kansas head coach Bill Self and Dave Portnoy of Barstool Sports.
Huggins cleared that goal on Friday night, thanks in part to a $500,000 donation from Portnoy. In fact, Huggins raised $2.5 million, and perhaps patrons were happy to see Huggins become a finalist for the Naismith Basketball Hall of Fame earlier in the day.
In 10 years, the fish fry has raised $16.5 million, according to wboy.com. Huggins' ultimate goal is to build a cancer hospital in Morgantown.
Huggins didn't get his bonus, though. Huggins gets a $25,000 bonus every time he beats Kansas, a bonus he donates to the cancer endowment. But, Huggins has raised $150,000 that way. I'll do the math for you. That's six wins over Kansas.
Three Games That Intrigue Me This Week
West Virginia at TCU, Monday: Two desperate teams and only one can win. It could be a tone-setter for the Horned Frogs.
Oklahoma at Texas Tech, Tuesday: Desperation for the Sooners. After a huge week for Texas Tech, do the Red Raiders let up just a bit?
Kansas at Baylor, Saturday: Baylor's last stand when it comes to any hope of defending its Big 12 regular-season crown.
You can find Matthew Postins on Twitter @PostinsPostcard.